NBA Division Odds: Teams with the Best Betting Value
by George Monroy - 1/28/2015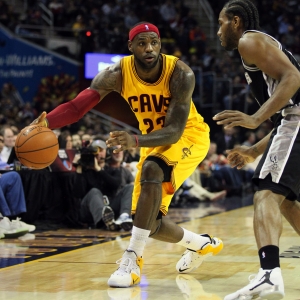 The NBA All-Star break is roughly two weeks away, and with the season already past its halfway mark now is the perfect time to revisit the each division's updated futures odds and figure out if there is any value in wagering on or against a team to win its division. All odds come from Sportsbook.ag.
Central Division
Chicago: -180
Cleveland: +140
Chicago has a three-game lead over Cleveland nearly 50 games into the season, but both teams seem to be headed in opposite directions at the moment. The Cavaliers are in the middle of a seven-game winning streak and may have turned the corner after LeBron James took two weeks off in early January to rest is injury-plagued body.
Chicago, on the other hand, seems to have hit a wall after starting off the season on a strong note and has dropped seven of its last 11 games. The word around the NBA is that coach Tom Thibodeau's hard-nosed disciplinarian act is beginning to wear thin and that he is losing the attention of his team-and all that is not even mentioning Derrick Rose's will-he-or-wont-he-play drama. Wagering on Cleveland at +140 to win the Central division is beginning to look like a solid play.
Southeast Division
Atlanta:-3000
Washington: +1000
Atlanta has been playing on a completely different level than the rest of the division. The squad is on a 16-game win streak, has covered 15 straight games and has won 30 of 32 games. Washington is definitely a contender in the east, but the team probably does not have much value to win the Southeast Division at +1000 with a 30-15 record and seven-game deficit behind the Hawks. Atlanta has a team that is perfectly constructed to play together. Even though they lack a traditional superstar, expecting them to collapse would be a mistake.
Southwest Division
Memphis: +250
Dallas: +260
Houston: +280
San Antonio: +280
The Southwest division is the tightest race in the league with four teams-all of which who are in playoff contention-separated by five games or less. Memphis is currently in the lead with a 32-12 record, while Houston, Dallas and San Antonio all come in a few games behind with 14, 15 and 17 losses, respectively. San Antonio and Dallas are not necessarily trying to capture their division crown and each simply wants to make the playoffs with a healthy squad. Memphis and Houston are the two teams in the division that care about seeding, and wagering on either would be the best way to go.
Pacific Division
Golden State: -3000
Los Angeles (Clippers) +1000
Los Angeles has won nine of its last 12 matchups and is beginning to come on strong after a slow start to the season. The squad is currently eight games behind the red-hot Golden State Warriors and would need to go on an extended winning streak to actually catch their division rival. Los Angeles has suffered three straight early postseason exits, and they must understand the importance of seeding in the Western Conference, so there is some value in wager on coach Doc Rivers to keep his team motivated. The trouble for the Clippers, however, is that Golden State is playing at a championship level with players that are capable of scoring 37 points in a single quarter. The Pacific division is Golden State's to lose.
Read more articles by George Monroy