NBA Draft Betting: Props Odds and Predictions for No. 1 Pick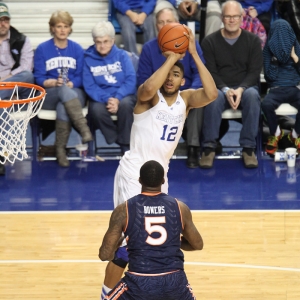 The big news coming out of the 2015 NBA Draft Lottery was the Los Angeles Lakers moving into the No. 2 spot and the New York Knicks' continued misfortunes as they fell into the No. 4 pick-which might as well be on a different planet when it comes to sure-thing prospects. Kentucky and Duke's Karl-Anthony Towns and Jahlil Okafor are the marquee names heading into the draft as most experts expect both to be impact NBA players at the very least. The draft may still be over a month away, but with the NBA Finals not being played for another week, let's take a closer look at a few draft prop bets provided by Top Bet.
Who Will Be Selected No. 1 Overall in the 2015 Draft?
Karl-Anthony Towns: -600
Jahlil Okafor: +300
D'Angelo Russell: +1500
Minnesota is taking one of the big men with its No. 1 pick, so there is very little chance that Russell will pass anyone over the next few weeks. The Timberwolves have a plethora of wing players and need a traditional center that can play with his back to the basket (Towns) or a "stretch-five" center that can shoot from long range and provide a burst of offense from outside of the paint (Okafor).
Towns is the huge favorite to go No. 1 because of his athleticism and the "higher ceiling" that most NBA experts are already projecting for the young prospect. However, do not sleep on Okafor leapfrogging the Kentucky standout over the next few weeks simply because he is more "NBA-ready" and is a better fit for Minnesota's offensive style. There has already been talk of Minnesota showing interesting in former Duke player. Prediction: Okafor going first is not a farfetched scenario-there is value at +300 and none on Towns at -600 because of the heavy price. Take Okafor.
Frank Kaminsky Draft Pick Position
Over 13.5: +120
Under 13.5: -150
Kaminsky is the type of prospect (excellent college player who may not succeed in the NBA) that would have fallen to the late first round or early second a few years ago. However, in today's small-ball, analytics-driven league, Kaminsky has an elite skill that most teams covet-a big man that can stretch the floor with his shooting. The "stretch four" has been a trendy NBA position over the last few years-forwards that can shoot the 3-and the next evolution of the game will see everyone talking about the "stretch five". Teams like Golden State and Houston control the league with their aversion toward mid-range shots, and Kaminsky will be a hot commodity. Prediction: Take the "under". Kaminsky will probably be scooped up by Denver at No. 7, and he will almost certainly not fall past Miami at No. 10 or Phoenix at No. 13.
Which Player Will Be Drafted First?
D'Angelo Russell: -230
Emmanuel Mudiay: +170
Mudiay is a largely unknown commodity-he skipped college to play in China-and no team in Top 5 has the luxury of gambling with their picks. There is a slight chance that Philadelphia could do something crazy with the No. 3 spot (isn't that what the 76ers do?), but with fans growing frustrated about the team's continued tanking and drafting players that do not play, Mudiay is too much of a risk. Russell is the safe choice, and there has already been talk that he should go No. 1. New York needs a home run type of pick after last year's embarrassment of a season, and outside of Towns or Okafor, Russell is the closest a team can come to producing one. Prediction: The price is not fantastic, but expect Philadelphia or New York to take Russell before Mudiay.
Will Towns and Okafor be selected No. 1 and No. 2 overall?
Yes: -240
No: +180
Minnesota needs a big man and roster-wise must select one of the two prospects. Los Angeles is a different story. The organization historically loves a dominant center, but with Julius Randle returning to the lineup and Kevin Love hanging in the free-agency air, there are already rumblings that the Lakers could opt to go with a wing player instead. The NBA is a point guard's league, and every contender, at the moment, has a game-changing player handling the ball. The Lakers overthinking things and taking Russell over a center would not a farfetched scenario to imagine. Prediction: Betting on the "No" would a good-old-fashioned gamble, and sometimes that can be fun. Los Angeles, however, loves a franchise big man and will not pass up the possibility of getting one.
Read more articles by George Monroy