2015 NBA Draft Odds & Expert Betting Picks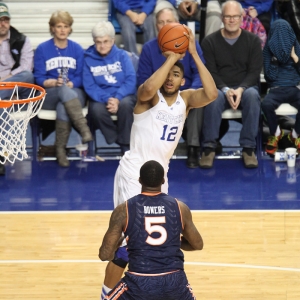 Of the four drafts in the major American sports leagues, the NBA's is my favorite. Major League Baseball's and the NHL's are full of guys I've generally never heard of and may never again. Those are total crapshoots. The NFL's is a ratings bonanza for the NFL, but I get rather tired of Mel Kiper and Co. by Day 3 and you never see major player trades during that draft.
The NBA is a different story. You pretty much have to have a superstar to win a title in that league, and you almost always are only going to get one in the draft. There's an occasional star who switches teams via free agency (LeBron James) or trade (James Harden), but for the most part you have to "grow" your own guy. Plus, we should see plenty of wheeling and dealing at Thursday night's draft at Brooklyn's Barclays Center, shown on ESPN. Some names you hear might be available: Denver's Ty Lawson (pretty much everyone on the Nuggets really), Sacramento's DeMarcus Cousins, Chicago's Joakim Noah and Taj Gibson, Minnesota's Anthony Bennett (a bust but the No. 1 overall pick just two years ago), Brooklyn's Joe Johnson and Deron Williams, Indiana's Roy Hibbert (if he exercises his player option), Detroit's Brandon Jennings, Phoenix's Eric Bledsoe and Golden State's David Lee among many more.
Here are some draft night props from Bovada, BetOnline and 5Dimes and my thoughts.
Who Will Be No. 1 Overall Pick?
This apparently is a done deal and will be Kentucky big man Karl-Anthony Towns to Minnesota, adding yet another really nice young piece to a team that could be very good in a couple of years. All the media out of Minnesota are saying this it he pick, and it makes sense because the Wolves were terrible on defense last year and Towns can slot right into the power forward spot and make a difference on that end immediately. Towns apparently is a great kid with an equally good worth ethic and seems genuinely excited about playing in Minnesota. So no surprise he's the -1200 favorite. The only other guy up for debate was Duke big man Jahlil Okafor (+800).
Who Will Be No. 2 Overall Pick?
This also looks like a done deal -- Okafor is the -800 favorite. The Lakers would prefer Towns (+1000) but won't have that option. Okafor should be a great low-post offensive threat from Day 1 -- assuming Kobe Bryant passes him the ball -- but needs to work on rebounding and defense. But he'll be a better scorer than Towns likely ever will be. I should mention the Lakers are trying to pry Cousins out of Sacramento and certainly would have to give up this pick to do so (among other things). But it will be Okafor.
Who Will Be Drafted First: Russell Vs. Porzingis?
It's Ohio State guard D'Angelo Russell (-400) vs. Latvian forward Kristaps Porzingis (+300), who some believe has the most upside in the draft but also really raw (and thin) and not ready to contribute next season. The 76ers hold the No. 3 spot and they need guards in the worst way, especially after trading off Michael Carter-Williams this past season. You hear talk that unpredictable GM Sam Hinkie might take Porzingis, but how can he take another big man with Nerlens Noel, Joel Embiid and Dario Saric already in the fold? True, Embiid might miss a second straight season because of foot troubles an Saric won't come over from Europe until at least the 2016-17 season. But you can't ask Sixers fans to wait on another major project. Russell can help next year. Some say he's the next Harden. That Russell goes No. 3 is -260 and not +180. Flip-flop those numbers for Porzingis. I say Russell does go third to Philly.
Who Will Be Drafted First? Mudiay vs. Winslow
It's prep star point guard Emmanuel Mudiay (+110), who played in China instead of at SMU this past season, against Duke freshman swingman Justise Winslow (-140), whose stock skyrocketed in the NCAA Tournament. Winslow has an "over/under" draft spot of 5.5 while Mudiay is at 6. The Knicks pick fourth. They could use a point guard so Mudiay would fit but some wonder if he is suited for the triangle offense. Would Phil Jackson instead go with Porzingis? I don't see any mock drafts where Winslow is the pick. The Magic, at No. 5, don't need Mudiay or Winslow because they are set at their positions. I'm taking Mudiay first here, landing in New York, and under 5.5, with Winslow going seventh to Denver.
Will The Raptors Make A Draft-Day Trade?
Bovada is based in Canada, so that's why this prop. No is -200 and yes +150. Raptors GM Masai Ujuri is definitely not gun-shy about shaking things up and recently said: "We're open for business." Toronto has flopped in the first round of the playoffs the past two seasons. The Raptors hold only the No. 20 pick and Ujuri has said he would like to get a second-rounder. I don't see Ujuri trading off his current roster Kyle Lowry, DeMar DeRozan or Jonas Valanciunas but everyone else likely could be had. Backup point guard Greivis Vasquez himself has said Houston and Minnesota are interested in him. How about some deal for the Wolves' Anthony Bennett? He is Canadian. I say Toronto does make a moderate deal on Thursday.
Want free sports betting picks? Doc's Sports has you covered - get $60 worth of picks free from any of Doc's Sports expert handicappers. Click here for free picks (new clients only).
Read more articles by Alan Matthews