NBA Handicapping: How to Bet on Knicks Games the Rest of the Season
by Trevor Whenham - 1/13/2015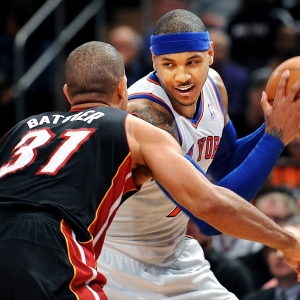 You know how you know for sure that a team is in bad shape? When you can show a picture of their starting lineup without any comment on social media and everyone knows that it is a hilarious joke. The New York Knicks are such a farce right now that when you see their starting lineup all you can do is laugh. It's hilarious - unless you are a Knicks fan. They have lost 15 in a row and 25 of their last 26, yet they don't particularly seem to be underachieving given the team they are putting on the court each day. Betting against this team has been a good idea on a regular basis. So, is that likely to continue to be the case, or can this team shake off their issues and play better? Here's a look at seven factors to consider when looking at the future of this team in the second half of the season:
Shumpert and Smith deals essentially mean season is over: By trading away two significant contributors without getting significant contributors in return, a team is unquestionably signaling that their real effort this season is over. They will be using a combination of young assets and warm bodies to fill out the roster the rest of the way - and the latter is more likely than the former because a lack of young talent is one of many problems with this team. Sometimes a team can make a big deal that should sabotage their season and they can react very positively instead - like the Raptors after trading Rudy Gay last year. This is not one of those situations, though.
Derek Fisher not really to blame: Let me be clear - Fisher was a terrible coaching hire, and it was very unlikely that he was going to be able to succeed in this role. He has not been good by any means, but he deserves a break because there was almost no chance he could be good. He was given a roster that didn't make sense, and he is forced to work in the shadow of the legendary Phil Jackson. He's trying to coach like Jackson would - even though he is sticking with an offensive system that might not be relevant anymore and which certainly doesn't match the personnel he has. Jackson has been horrible in his role and has handicapped Fisher beyond any chance of success.
Melo can't be counted on: Every team that flirted with signing Carmelo Anthony this summer should be thrilled that they failed. His attitude has been lousy, and his health continues to be a concern - enough of one that the season could be lost. It seemed like a bad idea to try to build a franchise around Anthony before, and that is especially true now. Anthony will not be the salvation this year - he might not even play again - and he may not be the salvation again at any point.
What's the future?: It is hard to be optimistic about the future of this team. They are really going to struggle to attract free agents given the lack of assets, the uncertainty of Melo, and the ridiculous mess around coaching and management. The players currently on the team know just how bleak things are now and likely into the future, and that is going to make it very tough to be motivated. The Sixers are just as bad as the Knicks on paper, but they have a plan and prospects, and it's clear that brighter days are on the horizon. The players are responding, and they are playing pretty well lately. New York doesn't have that.
Crowd has given up: The crowd has completely given up on this team. The premium seats sit empty, and the stands are full of people who look like attending the game is some kind of cruel torture - which it is. A lack of crowd support drains what has often been a significant home-court advantage - and makes it even harder to imagine this team getting on track.
Bright side: There is a bright side to this - the all-time losing streak record is in play. At least that would be something to remember about this season. The upcoming schedule isn't as tough as it could be, but it is still tougher than this team would need to win with any consistency.
ATS performance: At 13-26-1 ATS this is the worst team in the league to bet on. Or, to put a more positive spin on it, they are the most profitable team in the league to bet against. In fact, only betting on Atlanta has been more profitable than betting against New York has been. They have covered just one spread in their last eight games, so they are too bad to offer any value despite the fact that the public has completely deserted them.
Read more articles by Trevor Whenham