2015 Super Bowl Opening Point Spread and Totals Line
by Trevor Whenham - 1/19/2015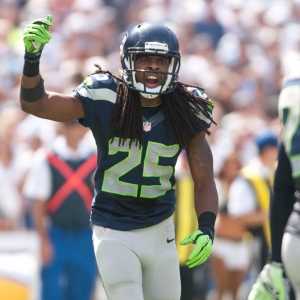 This is a different type of Super Bowl than we often see. These are two titans facing off - teams that the public both really likes and which many people expected to be here before the season even started. The defending Super Bowl Champion against the only quarterback ever to play in six Super Bowls. It's hard to get more chalky than that. In these playoffs we have gotten used to large, lopsided spreads. With the Super Bowl opening point spread and totals line it's very clear that large spreads are not what is to be expected here. This game is tight, and early line movement would suggest that people aren't exactly sure what to expect.
The line for Super Bowl XLIX opened as a pick'em. The Patriots got a lot of early betting action - not a surprise when you combine their absolute destruction of the Colts with Russell Wilson's absolutely awful 57 minutes. That early line has moved the number as high as 1.5 points. None of the movement is particularly dramatic, though, and it's not likely to last. The further we get away from the championship games, the less people will focus on them and the more they will actually look at the matchup. What we have seen so far is just a knee-jerk reaction. Seattle is actually pretty familiar with this - last year they scraped by the 49ers in the NFC Championship Game while Denver was the convincing winner in the AFC. Denver opened as an underdog but was quickly bet down to the favorite. That obviously didn't have much of an impact on how the game turned out.
What was most interesting about the line yesterday was how it adjusted as the AFC Championship Game played out. I looked at the line after the NFC Championship Game, and Seattle was -3 against the AFC Champion. The latter game hadn't kicked off yet, but most people expected it to be New England. The matchup wound up being just what people expected, yet the line shifted by 4.5 points. That's a huge move in a short time and a clear indication that emotion and short-term thinking is in play here in a big way.
To further get a sense of how meaningless this early number is, just look at the bet distribution in the first day of action. As of early Monday afternoon (Eastern Time), more than three-quarters of all bets placed on the Super Bowl had been on the Patriots. Now, New England is a very public team, and they could easily get a majority of the action. Do you honestly believe, though, that the defending Super Bowl Champions, who have been a heavily-touted favorite to win the Super Bowl all season, will draw less than 25 percent of the action in this game when all is said and done? Their last performance was ugly, but that's just nonsensical. The action will level out to some extent, and the line will fluctuate a bit as a result. Given how it has started off and the movement it has shown, though, it seems very unlikely that we will see a significant move here barring a major development on one side or the other - a number of less than a field goal one way or the other seems likely at kickoff.
There is a chance in the short term, though, that a development could really swing things - like, for example, if Richard Sherman's obvious arm injury turned out to be serious enough to keep him out of the game. Sherman is such a visible and popular player that the public would react (too) strongly to any news on his front.
As is often the case with the Super Bowl because the public loves to play the "over," the books tried to open the total as high as they could. It opened at 49 or even 49.5 in most places, but the early action - mostly from sharps - was heavily on the under, and it has fallen as low as 48. That's no surprise, and it is very unlikely to keep falling as the public is likely to unleash their typical torrent of cash on the over - especially given how strong New England looked with the ball and how vulnerable Seattle's previously-flawless defense looked at the hands of a great but injured quarterback.
Doc's Sports is offering new clients free Super Bowl picks from any handicapper on our Advisory Board. This special offer does not require a credit card, and you will never have to deal with a salesman. Click here to get your free $60 NFL picks credit today.
Read more articles by Trevor Whenham