The Simpsons Next Character to be Killed Off Betting Odds and Predictions
by Raphael Esparza - 1/19/2015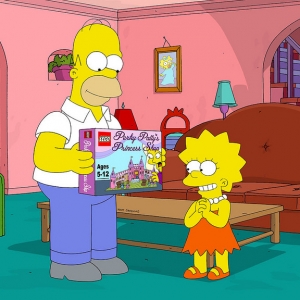 Our friends over at Paddy Power have posted one of the most outrageous categories I have seen in a long time. Yes, boys and girls you can wager on which character will be killed off next on the Fox cartoon show "The Simpsons". During my four days of Simpsons marathon research in my office, I have tallied some interesting betting angles and have nailed down three possible deaths coming up in Springfield.
The last time "The Simpsons" had a death on the program was in 2013 when Edna Krabappel died. She was actually killed off because the voice of Krabappel (Marcia Wallace) passed away. It was 13 years before that when another big character, Maude Flanders, wife of Ned Flanders, was killed off on Feb. 13, 2000. If you are tallying up the characters which have died, excluding "Tree House of Horror" episodes, there are 14 characters that have died, and seven of them have been male and seven of them have been female.
Next Character To Be Killed Off – Provided by Paddy Power
Reverend Lovejoy: 5-1
I'm shocked that Reverend Lovejoy is the favorite and really shocked that Grandpa Simpson is not even listed. I would be really surprised if Reverend Lovejoy gets killed off.
Barney Gumble: 8-1
Great value for someone who is always drinking on the show, and getting 8-1 in my eyes is a steal. Excessive alcohol use leads to approximately 88,000 deaths and 2.5 million years of potential life lost (YPLL) each year in the United States, so with these stats I will have a ticket on Barney Gumble.
Groundskeeper Willie: 8-1
This is one of my favorite characters, and I just don't see Groundskeeper Willie getting the ax. Groundskeeper Willie has strong ties with Principal Skinner and Bart Simpson, so I believe he is safe.
Sideshow Bob: 10-1
It's no secret that Sideshow Bob has it in for Bart Simpson, but that storyline got old quick. It wouldn't shock me to see Sideshow Bob go sailing, and at 10-1 I believe he has outstanding value. I will definitely have a ticket on Sideshow Bob even though the voice of Sideshow Bob, Kelsey Grammer, has said that he will not be killed off. Last time I checked he wasn't a writer for the show.
Comic Book Guy: 12-1
If I had to choose which Simpsons character would be killed off, Comic Book Guy (aka Jeff Albertson) would not be one of my choices. Hank Azaria voices Comic Book Guy, and I highly doubt an Azaria voice will get the ax.
Monty Burns: 12-1
In my eyes Monty Burns should have died seasons ago, and I believe he has died in episodes before. Yes, his odds are "Excellent," but with him being the role of corporate America, Mr. Montgomery 'Monty' Burns will be on the show until it ends.
Otto Mann: 12-1
The only way I see them killing Otto Mann is in a bus accident, but since that could be to 'real' for the wimpy parents of America, Otto Mann stays alive. He should be higher in odds like 30-1 or 40-1 because even if he did get killed off it wouldn't make a big splash in the ratings.
Apu Nahasapeemapetilon: 16-1
he is probably one of the most beloved characters on the Simpsons. And if they killed him, who would run the Kwik-E-Mart? Apu in my eyes is safe, and here is another character that should be around 30-1 or 40-1.
Patty Bouvier: 16-1
Selma Bouvier: 16-1
Write up for both sisters! If you kill one twin you have to kill both twins, this is the television rule of killing off characters! But I'm shocked that lung cancer hasn't killed off Marge's twin sisters for how much they smoke.
Moe Szyslak: 20-1
Bartenders are usually safe from death on TV, and I believe Moe is pretty much as safe as the family of the Simpsons. Azaria voices Moe Szyslak, and again I highly doubt an Azaria voice will get the ax. Who would serve Barney and Homer their beers at Moe's Tavern? Hello! The Tavern is named after him!
Waylon Smithers: 20-1
A bit shocked at this high betting number! Waylon Smithers is in love with Mr. Burns, but that is why I believe killing him off would be great for ratings. Is he one of my top three choices to be killed off? No, but at 20-1 I was really contemplating throwing a couple of bucks on Smithers.
Krusty the Clown: 25-1
Can't believe I can get 25-1 on Krusty the Clown, and I believe the oddsmakers are totally wrong on this. It's no secret that Bart Simpson idolizes Krusty, and with them regularly teaming up on many episodes this would make sense. Krusty the Clown going bye-bye would be huge for ratings, and his death could be mentioned on many new episodes.
Chief Wiggum: 40-1
Chief Wiggum is about as safe as any of the major characters because he is in law enforcement. Especially with the times we are in now, there is no way they will kill off Chief Wiggum. He should be 100-1!
Maggie Simpson: 40-1
These odds should be much higher just because Maggie Simpson is a baby. And I do believe she is the only baby on the show. If they kill off Maggie Simpson, I will become a St. Louis Cardinals fan! Not happening!
Mayor Quimby: 40-1
Killing Mayor Quimby will do nothing for the show and nothing for ratings. If they do kill off Mayor Quimby, it will be at the hands of Fat Tony. However, since Fat Tony isn't on the list, Mayor Quimby is safe.
Milhouse Van Houten: 40-1
This could be interesting! Milhouse is Bart Simpson's best friend, and he is in love with Lisa Simpson. The storylines, if Milhouse goes sailing, would be very intriguing, but again Milhouse is a kid, and I just don't see the writers taking that angle. But wow, that could spice up the show and the whole Simpsons family.
Nelson Muntz: 40-1
Nelson is the bully at Springfield Elementary School, and if one kid deserves to get the ax it's him. There is no way they will kill off a kid, especially Nelson, because who will say one of my favorite TV lines, "HA HA!" Nelson you are safe because of your age.
Dr. Hibbert: 50-1
One doctor on the show means this doctor is safe! Here is another character that if they kill off wouldn't do anything for ratings.
Ned Flanders: 50-1
Ned Flanders should be millions to one just because the writers already killed off his wife. No way they kill Ned Flanders because who will raise the kids Rod and Todd? Save your money and do not throw down any action on Mr. Flanders.
Bart Simpson: 100-1
I would say every character in the Simpsons family is safe, and if I set these odds Bart Simpson would be much higher than 100-1.
Lisa Simpson: 100-1
Yes, I believe all the family of the Simpsons are safe, but if I had to pick one family member to be killed off it would be Lisa. I'm not saying I dislike Lisa Simpson, but the writing angles and ratings would be massive.
Marge Simpson: 100-1
Homer Simpson: 200-1
I will include Marge and Homer in the same writeup! As I was typing this up all I can think about is that one episode in 'All in the Family' when Edith died. That was all the talk for months, and I'm not saying to kill off Marge but if you are looking for a bang episode that would be the way to go. It won't happen, but talk about a WOW factor. Both are safe, and I believe Homer is probably one of the safest characters on TV today.
After plenty of hours of research, handicapping and talking to kids on the playground, I have narrowed it down to three possible characters that could get the ax. These characters are in order as No. 1 is my favorite to mortgage down your house on. (Of course this article is for entertainment purposes only!)
1. Krusty the Clown 25-1
2. Sideshow Bob 10-1
3. Barney Gumble 8-1
Follow Esparza on Twitter at @StraightBetTalk or @VSIdocsports
Doc's Sports is offering $60 worth of Raphael Esparza member's picks absolutely free – no obligation, no sales people – you don't even have to enter credit card information. You can use this $60 credit any way you please for any sport Esparza releases picks for. Click here for more details and take advantage of this free $60 picks credit today.