Worst Quarterbacks in Super Bowl History
by Robert Ferringo - 1/28/2015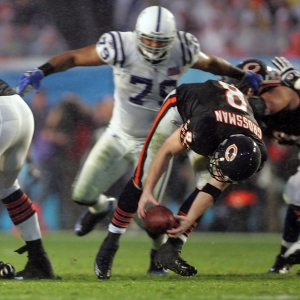 The Super Bowl is a career-defining moment for every football player that has suited up in The Big Game. This is especially true for quarterbacks, each of whom has carved a line in their obituary out with their play under the brightest spotlight in American sports.
But fate is fickle when it comes to deciding which quarterbacks get their chance at immortality. Excellent quarterbacks like Phillip Rivers, Bernie Kosar, Warren Moon and Dan Fouts never got their chance to play in the Super Bowl. Yet journeymen, draft busts and career backups like Tony Eason, Jeff Hostetler and Trent Dilfer each had their moment in the sun.
Below is a list of the Top 10 worst Super Bowl quarterbacks of all time. This isn't a list of the signal callers that had the worst performances in the title game. Instead, it's my subjective assessment of who are the worst guys ever to start a Super Bowl.
Nineteen quarterbacks have appeared in multiple Super Bowls, accounting for 58 total starts. That leaves 38 other signal callers that started in just one Super Bowl in their careers. From that group we have our list of 10 weak - though not altogether worthless - signal callers.
Some of the guys listed below were Pro Bowlers. (But then again, Andy Dalton is allegedly a Pro Bowler, so what does that tell you?) And all of these guys obviously played well at important times during the seasons in which they made it to the Super Bowl. But on the whole this group is pretty comical when you consider the totality of their careers against the fact that they were prime players in The Greatest Sporting Event In The United States.
Here is a look at the 10 worst Super Bowl staring quarterbacks of all-time:
(* Denotes the quarterback won a Super Bowl.)
Honorable Mention: Neil O'Donnell (Super Bowl XXX, 1995-96 Pittsburgh Steelers)
This buck-toothed beauty actually had a better career than people may have realized. He played for 13 years and has a respectable 81.8 career quarterback rating to go along with a nearly 2-to-1 touchdown-to-interception ratio. But, really, he is the definition of mediocre. And when you stack O'Donnell up with the all-time greats that have played in The Big Game he deserves at least to be mentioned on this list.
10. Jim McMahon* (Super Bowl XX, 1985-86 Chicago Bears)
I know that The Punky QB has a career record of 67-30 and is one of the most beloved athletes in Chicago sports history. But the fact is that McMahon really wasn't very good. He has a career rating of 78.2 and 100 touchdowns to 90 interceptions. He hung around for 15 years, 10 as a starter in the league, but he only played in more than 10 games five times. He was perpetually injured and hung over, and if he hadn't been fortunate enough to be backed by the greatest running back and defense in NFL history then we would've long ago forgotten about McMahon.
9. Stan Humphries (Super Bowl XXIX, 1994-95 San Diego Chargers)
Humphries, like McMahon, can lean on an oddly impressive 50-31 record as a starter to validate his quarterbacking career. He is in the Chargers Hall of Fame and was 47-29 in his career as San Diego's top gun. But Humphries completed just 56.9 percent of his career passes and tallied just 89 touchdowns to go with 84 interceptions. His career passer rating was just 75.8, and according to Pro Football Reference his career is most similar to that of David Carr, Elvis Grbac and Jake Delhomme (another guy that was nearly an honorable mention on this list).
No. 8. Chris Chandler (Super Bowl XXXIII, 1998-99 Atlanta Falcons)
Chris Chandler stuck around in the NFL for 17 years! I will admit that the guy could spin it a bit. But there's also a reason why his 152 career starts came for eight different teams. Chandler was another guy that was just constantly injured. He never started 16 games in a single season. And while his base numbers are decent - 79.1 rating, 170 TDs, 146 INTs and 58.1 completion percentage - the fact is that if you discount the 13-1 mark he posted during Atlanta's Super season then his career record as a starter is just 54-84. That's a .391 winning percentage, and the only other season he had a winning record was his rookie year at 9-4.
No. 7. Tony Eason (Super Bowl XX, 1985-86 New England Patriots)
Eason was a member of the famed 1983 draft class and was taken directly after Jim Kelly (and before both Ken O'Brien and Dan Marino). Eason wasn't terrible when he played. But the guy couldn't beat out Steve Grogan's neckroll and started just 51 of 90 career games in a scant eight-year career. He was just 28-23 as a starter and really only held that title for three years. He had a couple solid years in 1984 and 1986. But his weighted career approximate value ranks in the 2,500s, according to Pro Football Reference. Oh, and we can't forget that he is the only starter in Super Bowl history to not complete a pass in the game, going 0-for-6 in New England's drubbing at the hands of McMahon's Bears.
No. 6 Joe Kapp (Super Bowl IV, 1969-70 Minnesota Vikings)
I can't say that I ever saw Kapp twirl. But based solely on the numbers he is easily one of the worst NFL quarterbacks to ever make it to the Super Bowl. I am a little torn since Kapp was good enough to be inducted into the CFL Hall of Fame. But that's really the only thing keeping him from being in the top three on this list. Kapp only played four NFL seasons. He completed just 48.9 percent of his passes and had a rating of just 55.1. Kapp through 64 interceptions to dwarf his 40 touchdowns, and if you disregard his Super Bowl year he went just 12-20 as a starter. Kapp may have led the Vikings to a title game appearance, but he wasn't exactly sharp in doing so. He threw just one touchdown to four INTs during three playoff games, including two picks in the championship.
No. 5. Doug Williams* (Super Bowl XXII, 1987-88 Washington Redskins)
Williams deserves credit for his incredible performance in Super Bowl XXII as well as for the groundbreaking feat of being the first black quarterback to start the Super Bowl. But the fact is that Williams was a dud. He completed less than half of his career passes (49.5 percent) and managed just a 100-93 TD-to-INT ratio. The guy managed just 17 career starts with the Redskins, and that includes his playoff run, and he bounced between the NFL and USFL during the 80s. Williams was lightning in a bottle as a replacement for Jay Schroeder in the 1987 postseason. But he went just 38-42 in his career, and outside of that second quarter against the Broncos he really never did much of anything.
No. 4. Vince Ferragamo (Super Bowl XIV, 1979-80 L.A. Rams)
Ferragamo really had one of the strangest careers of any of the quarterbacks on this list. He became the first quarterback in the NFL to start in the Super Bowl in the same season in which he made his first start. Of course, he completed just 48.2 percent of his passes with 5 TDs and 10 INTs that year. But hey, he was good enough to play in the Super Bowl. Ferragamo had an outstanding follow-up season, throwing 30 touchdowns and posting an 89.7 rating. But then things went off the rails. He played the 1981 season in the CFL, leading Montreal to a 3-13 record while throwing 7 TDs and 25 interceptions. He went back to the NFL the next year and put forth one more mediocre season in 1983. But then he broke his hand three games into the 1984 season and was out of the league within two years. This burst onto the scene out of nowhere to nearly win a championship (the Rams were actually beating the Steelers going into the fourth quarter of that game) and then flamed out just as quickly.
No. 3. Trent Dilfer* (Super Bowl XXXV, 2000-01 Baltimore Ravens)
Dilfer was a terrible quarterback and now makes his hay as a mediocre analyst for ESPN. He was the No. 6 overall pick in the 1994 draft by Tampa Bay and basically turned out to be a bust. His career was blessed by playing with two of the best defenses of all-time - the late-90's Bucs and the 2000 Ravens. Despite that he still went just 58-55 in his career as a starter. And those 58 wins had little to do with Dilfer's play. He completed just 55.5 percent of his passes overall and just 43.7 percent of his postseason throws. Dilfer had a career rating of just 70.2 and threw more interceptions (129) than touchdowns (113). Here is all you need to know about Dilfer's career: every time some analyst, writer, or football fan is looking for proof that a team can win a Super Bowl with its defense and running game as long as the quarterback just doesn't make mistakes to blow up, they think of Dilfer.
2. David Woodley (Super Bowl XVII, 1982-83 Miami Dolphins)
Woodley led the Dolphins to the Super Bowl in the strike-shortened 1982 season and became the youngest quarterback to start in The Big Game. But he was awful. Woodley didn't complete a pass in the second half of Miami's 27-17 loss to Washington and was out of the league three years and 18 starts later. Woodley retired with a 65.7 rating, 48 TDs to 63 INTs, and a feeble 52.8 completion percentage. History best remembers him as That Guy that bridged the gap between Bob Griese and Dan Marino in South Beach, and the former eighth-round pick is still one of the more unlikely Super Bowl starters ever.
1. Rex Grossman (Super Bowl XLI, 2006-07 Chicago Bears)
Grossman is not only the worst Super Bowl starter in history he is one of the worst quarterbacks I have ever seen. The Sex Cannon is an absolute turnover machine. And, frankly, it is absolutely astounding that the Bears were able to make it to The Super Bowl with him under center. His patented play was to lean back on his left foot and throw the ball up for grabs about 20 yards down the field. Not surprisingly, Grossman threw a pick-six in both the NFC Championship Game and the Super Bowl and had five turnovers during in Chicago's playoff run that year.
Grossman is somehow still employed in the NFL despite a 71.4 career rating and 56-to-60 touchdown-to-interception ratio. Grossman has completed just 55.2 percent of his passes overall and is an absolute disaster waiting to happen every time he drops back with the football in those teeny, tiny, little munchkin hands. He has only started more than seven games twice in his 11-year career. In those two seasons he posted a combined 56 turnovers in 29 games.
I will go to my grave believing that the Bears would've won the Super Bowl that year if they had started Brian Griese in the playoffs. Instead they went with The Sex Cannon and treated us to the worst Super Bowl starting quarterback in NFL history.
Doc's Sports is offering $60 worth of member's picks absolutely free - no obligation, no sales people - you don't even have to enter credit card information. You can use this $60 credit any way you please for any handicapper and any sport on Doc's Sports Advisory Board list of expert sports handicappers. Click here for more details and take advantage of this free $60 picks credit today .
Read more articles by Robert Ferringo