2016 Atlanta Hawks Predictions and NBA Futures Betting Odds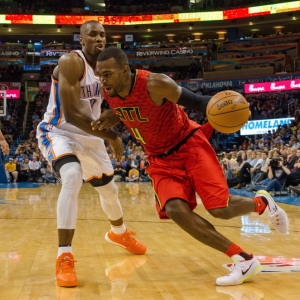 Times have officially changed in Atlanta. They made a good run the last few years but were never quite good enough. Now Al Horford has bolted in free agency and Jeff Teague has been shipped out of town, so the core of that contender is gone and we are dealing with a whole new team here. It would be tough to argue that this is a better team than they had in their recent glory days. The question, though, is whether this is a good enough team to make the playoffs and potentially do a little damage when they get there.
2016 Atlanta Hawks Betting Storylines
It's a whole new core here. Teague was traded away for a lottery pick because the team seemed to trust Dennis Schroder more in key times. Schroder along with Paul Millsap and Kent Bazemore are the new heart of this team.
They are complemented by the addition of Dwight Howard. Many are saying that Howard returning home is the biggest free agent acquisition the team has ever made. Those people obviously forget that it is 2016 and not 2010. That's not to suggest that Howard isn't good or useful, it's just that he isn't what he once was by any means. How willing Howard is to take an elder statesman role on this team, and how effectively he can co-exist in a frontcourt with Millsap, will determine how this experiment turns out. You could probably put me on the less-optimistic side of the curve, though. He has shown a tendency to pout and a lack of consistent effort in recent years. Let's just say it - he was a big baby in Houston. That isn't going to fly on this team. It all boils down to one thing in the end, though - Howard at this point is no Horford. Combine that with the challenge that I'd take Teague over Schroder on a day-to-day basis, and you have downgrades in the two most important spots on the court for the way this team operates. Not ideal.
Kent Bazemore is an interesting case this year. He will be the focus of much more attention than he has been in the past after signing a four-year, $70 million contract in the offseason. The small forward is talented, but his shooting from beyond the arc fell off a cliff last year after the all-star break. He is certainly capable of earning the contract and more. His confidence showed some fragility last year, though, and now it will be interesting to see what the added pressure of the big deal will have on him. Some guys thrive, while others really don't. The team needs him to step up and perform.
Mike Budenholzer, the head coach, is as good as it gets in the league. He was Coach of the Year two seasons ago and will win that award again before he retires. Budenholzer, the team president, has fearlessly taken a risk with this team. He is a defensive-minded coach, and now the team is more defensively focused than ever. The coach has no excuse now.
2016 Atlanta Hawks Additions and Departures
Howard was the marquee addition. They added Taurean Prince, the forward from Baylor, in the Teague trade soon after Prince was drafted 12th overall. He's a nice prospect, but he isn't going to contribute at a high level right away. They also added DeAndre Bembry, a small forward from Saint Joseph's, with their own pick in the first round. Both guys will have succeeded this year if they can break into the rotation in any meaningful way by the end of the year. The team also added Jarrett Jack on a one-year deal for more than $6 million.
2016 Atlanta Hawks Futures Odds and Trends
The Hawks were 42-39-1 ATS last year, so they were essentially a break-even betting proposition. They went "under" 44 times in 82 games, though, so there were some small profits to be made on totals. They were 4-6 ATS in the playoffs but the under was hit a nice seven times in the 10 games.
Atlanta Hawks Futures Odds
NBA title odds : +10000
Eastern Conference title odds : +2500 (fourth choice)
Taurean Prince ROY Odds : +2500
2016 Atlanta Hawks Predictions and Futures Odds Picks
Budenholzer doesn't send bad teams onto the court, and that isn't going to change. For my taste, this isn't as good of a team as it was last year, but then I'm not a Howard believer anymore and I don't love when teams take the air out of the ball like this one is built to do. They are certainly in the mix to win their division, though, and I don't imagine them finishing any worse than third in the group. Cleveland is the clear class of the East, with Boston and Toronto the only teams within spitting distance. Atlanta is unquestionably in the next group, though, and seems to be in little danger of not making the playoffs. They might not do much once they get there, but they will get there.
Get free picks from any Doc's Sports handicapper - there is no obligation for this offer and no credit card required. Just sign up for an account, and you can use the $60 in free picks for any Doc's Sports Advisory Board handicapper and any sport. Click here to get started now.
Read more articles by Trevor Whenham