2016 Big Ten Tournament Predictions and NCAA Basketball Odds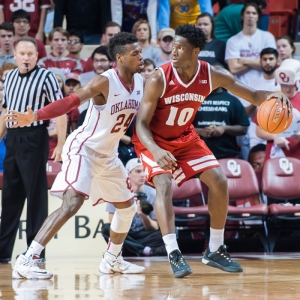 For the impressive depth and talent that the Big Ten has produced in college basketball over the past decade, the Big Ten Tournament has been fairly predictable. The No. 1 seed has won the title in four of the last six seasons. And either the No. 1 or the No. 2 seed has cut down the nets in 14 of the 17 years that the conference has crowned a tournament champion.
That's really good news for this year's two top seeds, Indiana, the surprise regular-season champions, and Michigan State, last year's runner-up and the favorite heading into this season's tourney.
The Big Ten Tournament opens on Wednesday, March 9, and will conclude on Sunday, March 13. The games will be held in Bankers Life Fieldhouse in Indianapolis. Here is Doc's Sports 2016 Big Ten Conference preview and predictions (with odds courtesy of Sportsbook.ag):
The Favorite: Michigan State (+130)
I don't know that anyone in the country has been better than Michigan State over the past month. They have won 10 of 11 games, only falling in overtime at Purdue on Feb. 9. It isn't just that the Spartans are winning: they are devastating opponents. Michigan State's last 10 wins have come by an average of 21.7 points per game, and they have four wins in that time of over 30 points. The Spartans have no clear weakness. Denzel Valentine is one of the best players in the country and an NBA-caliber go-to guy. Guards Eron Harris and Bryn Forbes are talented, experienced players that are capable of hitting a lot of big shots. Deyonta Davis is a future star in the post, and the Spartans have an assorted compliment of glue guys, stretch fours, and pesky guards that they use to supplement their core. It is tough to see this team losing this week or again for the rest of the year.
The Contender: Indiana (+300)
Tom Crean deserves to be the national coach of the year. He has done an amazing job while guiding the Hoosiers to just their second outright Big Ten regular-season title in over 20 years. Indiana was able to overcome a slow start and the loss of one of their best players, James Blackmon, to post an outstanding 15-3 mark in league play. In some ways, the Blackmon injury helped this team. They started sharing the ball better on offense and, more importantly, they improved their effort on defense. Senior Yogi Ferrell was the starting point guard on Indiana's last regular-season title team in 2013. He is the unquestioned leader. Stud freshman Thomas Bryant gives them a dominating post presence. The rest of the Hoosiers all seem to be between 6-6 and 6-8, and they all shoot threes. Indiana has a lot of confidence, and they should have a strong home-crowd advantage as they look to keep their outstanding effort going.
The Dark Horse: Maryland (+500)
There's no other way to say it: the Terps have been the biggest disappointment in the Big Ten this year. Maryland entered the season as one of the favorites to win the national championship and they were installed as one of the preseason Big Ten favorites. But the Terps were never a factor in this race, and at this point its clear that they have been overvalued and overrated. Melo Trimble is one of the best point guards in the country. They have two nice wing compliments in Rasheed Sulaimon and Jake Layman and two strong post players in Robert Carter and Diamond Stone. But this team has no chemistry, and they are erratic from the perimeter. Maryland has just two wins over Top-30 teams this year and has gotten handled on the road. But they have undeniable talent and experience. They also have a favorable draw, and if they can beat Wisconsin they would face Michigan State in the semifinals. Win that and the Terps would have a ton of confidence going into the final.
The Spoiler: Wisconsin (+1000)
If the Terps were the league's biggest disappointments then Wisconsin was by far the Big Ten's biggest surprise. A midseason coaching change and some off-the-court controversy couldn't slow down a team that was enduring a significant rebuild. The Badgers started the year just 9-9. But a mid-January win over Michigan State sparked an 11-2 run down the stretch. Juniors Nigel Hayes and Bronson Koenig have been excellent. The Badgers don't have the goods to make a serious run in this tournament. But they have a vulnerable Maryland team waiting for them in the quarterfinals and then would have a rubber match with Michigan State in the semifinals. Either opportunity would provide an opportunity to bust this bracket. And given how much the Badgers have exceeded their expectations it's tough to doubt they could pull it off.
Early Round Matchup To Watch:
No. 8 Michigan (-4.5) vs. No. 9 Northwestern (Noon, Thursday, March 10)
Michigan needs this win to shore up its incredibly shaky NCAA Tournament resume. But the Wildcats won't be pushovers. They are one of just five original NCAA programs that have never gone to the NCAA Tournament. It doesn't look like this will be the year, either. But don't tell the Wildcats that. They've won three straight games since losing at Michigan on Feb. 24, all by double-figures, and these two teams have been going in opposite directions over the past month. Michigan never recovered from the midseason loss of Caris LeVert, and the rest of John Beilein's young team hasn't been able to pick up the slack. But Beilein's teams are always tough to bet against in March, and knowing they are desperate could bring out their best. This game is simple: both teams shoot a ton of 3-pointers, so whoever is able to get more easy baskets and more rebounds should be able to advance.
Big Ten Conference Tournament Predictions: I don't see anyone beating Michigan State. The only reason that they not the No. 1 seed in this tournament, and probably the No. 1 team in the country, is that they lost four games early in conference play spurred by an injury to Valentine. But March is Tom Izzo's month. And after losing in the finals to Wisconsin last year I think that the Spartans are motivated to get a title this time around. I think Maryland is the only team with the high-end talent to beat Michigan State right now. (Although taking down a hot Indiana team in Indianapolis will be tough.) So the winner of that Maryland-Michigan State team should end up earning this crown. I'll go with Sparty.
Robert Ferringo is a member of the Basketball Writer's Association of America and a professional sports handicapper for Doc's Sports. He is considered one of the best college basketball handicappers in the country and he is on an unbelievable run right now, more than doubling his clients' bankrolls in the last six weeks while earning $11,800 in profit! Robert has banked 10 straight winning college basketball regular seasons and his $100-per-Unit bettors have taken home over $40,000 in winnings so far this decade. There is no better moneymaker in the nation and Robert is looking forward to another amazing March Madness. Click here to get two days of college basketball picks for free - no hassle and no credit card needed.
Read more articles by Robert Ferringo