2016 Brooklyn Nets Predictions and NBA Futures Betting Odds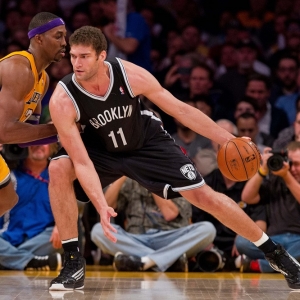 I checked with my editor, and it turns out I can't get away with an eight-word preview. If I could then it would be easy - The Nets have no talent and no hope. Unfortunately, I need about 100 times more length than that. Here, I go, then, finding ways to stretch out what is inevitable and obvious and hopefully make it somewhat interesting. Rarely has anyone been given a tougher task.
2016 Brooklyn Nets Betting Storylines
Sean Marks is the new general manager of this team. After a long NBA career as a bench warmer, the New Zealander spent time in the San Antonio Spurs organization both in management and as an assistant coach. It's hard to pick a place to get better seasoning than that. We don't know much about him because he doesn't have his own track record, but he seems like a good guy and a solid pick. Let's be clear, though - he is screwed here. Management for this team has been so bad for so long that he doesn't have draft picks to work with, and the team atmosphere is not one that anyone who can play even a little bit would want anything to do with. He faces a really massive task just making this team decent. Respectable is a whole long way off. Nothing that happens this year is a result of Marks being bad at his job. He could be the best GM in the history of sport and this team would still be absolutely terrible.
The same goes for new head coach Kenny Atkinson, one of the first decisions Marks made. He had a very long pro career but never went beyond a tryout in the NBA. Almost all of the time was Europe. After retiring he coached over there for a bit as well and then has served as an assistant for the Knicks and most recently the Hawks, and he followed in the footsteps of John Calipari to recently coach the Dominican Republic national team. In Atlanta he worked under the very good Mike Budenholzer, so he knows his stuff. He's a good coach, and he's reportedly excellent at developing players. And he's going to lose a whole lot of games. You can't build a Rolls Royce with a pile of tin cans. What Atkinson does here will, sadly, have little impact on how this team performs.
You'll notice that I got this deep into the preview and haven't mentioned a single player yet. Well, put yourself in my shoes - what the hell am I supposed to say? Brook Lopez is a nice offensive forward who is a liability defensively. He is the best player on the team, and that says a whole lot about where this team is at. If a Lopez brother is your star you are a lousy team. Rondae Hollis-Jefferson is a competent defensive player. Greivis Vasquez and Jeremy Lin can both be exciting playmakers at times. Trevor Booker is a decent rebounder. Put this lineup in the D-League and they'd probably be a playoff team. Or at least a playoff contender. Maybe.
2016 Brooklyn Nets Additions and Departures
Lots of shuffling went on, but it doesn't amount to much. Guys like Jarrett Jack, Wayne Ellington, Thomas Robinson, Thaddeus Young, and Shane Larkin are gone, and Lin, Booker, Anthony Bennett, Randy Foye, Luis Scola and others are in. I've been joking about it, but wow is that a rough NBA roster.
The team did make a couple of moves at the draft that were solid. They shipped Thaddeus Young to Indiana for a first- and second-round pick and picked up Caris Levert from Michigan with the first. He basically lost last season to injury, but he's a smart, athletic wing with big upside. He should get plenty of playing time this year. They also picked up guard Isaiah Whitehead from Seton Hall, who is a decent depth option - or maybe a full-time starter given this joke of a roster (I'm kidding there, but might as well not be).
2016 Brooklyn Nets Futures Odds and Trends
Brooklyn won a pitiful 21 games but went a better 38-43-1 ATS - still not good enough to be particularly profitable betting on or against them, but better than it could have been. They were a perfectly split 41-41 on the total.
Brooklyn Nets Futures Odds (from Bovada)
NBA title odds : +50000
Eastern Conference title odds : +20000
Caris Levert ROY Odds : +5000
Season win total (from Westgate): 20.5
2016 Brooklyn Nets Predictions and Futures Odds Picks
This is the worst team in the conference. And the league. And I don't think it's close. Philly is bad, too, but at least they are doing some things right, they have some draft picks to grow with, and there is some exciting young talent to build around. The Nets have none of that. The "under" on this season win total is as close to a lock as there is on the board.
Doc's Sports has had a winning tradition for more than four decades. Don't believe us? Try us out for free, and we are convinced you will be a believer. Get $60 worth of free sports picks - members' picks just like our paying clients get - here .
Read more articles by Trevor Whenham