College Football Bowl Game Betting and Handicapping: Toughest Matchups for Handicappers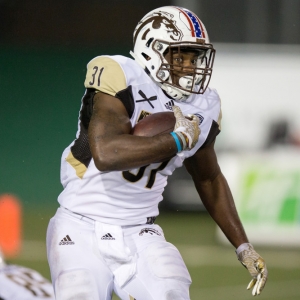 We'll spend a lot of time looking at several of the bowl games in detail as they draw nearer. At first glance, though, there are five that stand out above the rest in terms of the handicapping challenges they present. In short, these five games, for one reason or another, make my head hurt. We'll look at one in detail, and take a quick hitting look at the other four here:
Cotton Bowl - Wisconsin (-7.5) vs. Western Michigan: As a general rule you can almost always include the major bowl that includes a Power 5 team in it on this list. We just don't really have any way of knowing how good these precocious teams with gaudy records really are. You can't argue with a fact - Alabama and Western Michigan are the only two teams in the whole country that haven't lost. If it were easy to go undefeated then more teams would do it every year. The problem, of course, is that the Broncos haven't played anyone. Their nonconference highlights were Northwestern and Illinois - two Big Ten also-rans. They played some decent teams in MAC play, but none that moved the needle nationally. This is a massive step up in class. It would be easy if we could absolutely say that they are not up for it, but we can't. They do a lot of things very well and have mostly manhandled teams, so they could do well against better teams, too. Maybe.
And then there is the coaching factor. P.J. Fleck is a phenomenal coach - one of the best young minds in the game. This is a new stage for him, though, and we can't be absolutely certain that he can outplan a guy like Paul Chryst - far from the dumbest coach out there. Fleck's boys will need a planning edge to win because they have an inherent talent disadvantage due to conference. And then there is the fact that, at this point, we don't even know if Fleck will still be the coach. He's still recruiting and doing his job right now, but there are a lot of programs - Cincinnati, Oregon, Notre Dame, UCLA - that either have openings or could and should have them and which would be much better off with Fleck than they are right now. He's a loyal guy, but if he gets a top offer he has to take it right now, and that would have an obvious impact on the team and the game.
And then there are questions about this Wisconsin team. It has, despite the success, been a tough and sometimes frustrating season. They didn't get the result they wanted in the Big Ten Championship, and it was because of giving it away as much as anything. Will they really be fired up to play a lower-profile major bowl against a MAC team? Will we see their best? There are many more questions than answers here.
Alamo Bowl - Colorado (-3) vs. Oklahoma State: Both teams had a shot a conference championship right in front of them. All they had to do was win their last game. Instead, both got humbled pretty significantly. Will they both rebound, or will that have blown the confidence that was driving their overachievement this year?
Las Vegas - Houston (-3.5) vs. San Diego State: Houston is, on paper, a far superior team. We saw this year, though, that the Cougars were at their best against the best opponents. They aren't going to view San Diego State as a team among their best foes. Will we see what they are capable of or the laughable shadow of their best that lost ugly too often? And what impact will the departure of Tom Herman have on this team? Sometimes a departure like that means little to a team, while other times it guts them.
Foster Farms Bowl - Utah (-8) vs. Indiana: Indiana has had some truly bizarre coaching drama. The firing of Kevin Wilson seemed to come from absolutely nowhere from outside of the program, but we can't know how shocking it was inside. Will the team use that as an excuse or a motivator? At their best they are a dangerously underrated team that would have been very attractive in this spot, but we have to guess about their mindset, and that's so tough to do.
Peach Bowl - Alabama (-16.5) vs. Washington: Alabama is almost overwhelmingly favored here, and the spread could widen by game time. They have been very dominant and are the obvious favorites. Washington really hasn't played anyone, and they lost to their strongest opponent, USC - a team that Alabama humiliated. Alabama is the obvious favorite and an easy pick.
The challenge, though, is to figure out how good Washington is, if they have any chance at all, what they could be able to do, and if they can keep it close enough to at least cover. The weakness of the SEC outside of Alabama this year makes it really hard to draw parallels for comparison. When public action is so heavily tilted to one side, as it is here, there can be value in the underdog, but that isn't automatic and needs to be evaluated. Evaluating it here is much tougher than usual.
Doc's Sports wants you to try out one of their expert college football handicappers, and they are now offering new clients a free $60 in credit that they can use for any handicapper on Doc's Advisory Board. This takes less than two minutes to sign up, and there is no credit card needed and no salesmen to deal with. Get your free college football picks now.
Read more articles by Trevor Whenham