2016 Cy Young Award Odds and Expert Betting Predictions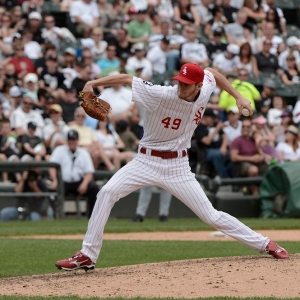 As we wind our way towards the end of spring training and the start of the regular season, it's a good time to be looking towards what is often the most interesting race for hardware - the Cy Young battle. At this time of year anything is possible, and you can make a compelling case for a whole bunch of pitchers. That will change quickly, of course, and by September it will likely be down to just two or three. As bettors, the better job we can do of figuring out who those two or three will be - and who the eventual winners will be - the more money we can make betting futures. So, let's get to it. ( Odds are from BetOnline):
Free $60 in Member MLB Picks No Obligation Click Here
American League
Chris Sale (+300): Sale pitched only 174 innings last year and still finished third in Cy Young pitching. Needless to say, then, he's a legitimate contender. My biggest concern is that his team is not going to be very good so the win total might not be what it is worth. I wouldn't bet him at this price as a result.
David Price (+400): If Price pitches like he did in Toronto last year then he'll win. I have no faith in the Red Sox, though, and he is going to face a whole lot of pressure there. I wouldn't be surprised by a win, but I'll look elsewhere.
Corey Kluber (+450): He's the defending champ, so he obviously is capable of winning. I don't think that last year was a fluke, but I also would be more surprised if we didn't see some regression this year than I would be if he replicated his season. I don't see much value here.
Dallas Keuchel (+600): He's won it recently, and he is capable of doing it again. I'm not taking him at this price, either. I need higher prices this year, it seems.
Felix Hernandez (+700): This is the first of the candidates that I would happily bet at this price. He has won it before, he is amazingly consistent, he has shown no signs of slowing down, and his team should be better this year than it has been. He's my top pick.
Chris Archer (+1200): Archer is getting a lot of attention in this race as a long shot. While I can't argue with his talent, I am not convinced that he is ready yet - at least not at this price. His team is going to struggle to score the runs to support him, and there are better pitchers at more realistic prices. I'm not on the bandwagon.
Marcus Stroman (+3300): Now, if you are looking for a real long shot worth a play then look no further. Stroman missed most of last year with an ACL injury, but when he came back he was spectacular in both the regular season and the playoffs. He has dynamic stuff and no shortage of confidence. He's the clear ace of this team, and the Jays should be better than it seems a lot of people expect. There is real value here at this price.
National League
Clayton Kershaw (+175): He has won three of the last four Cy Young awards and is clearly the best pitcher in the game right now. He is the obvious favorite. I'm concerned about the fact he is part of a weaker rotation than he has been, and that I don't love his team this year. That means that I wouldn't bet him at this price, but I certainly can't rule him out.
Jake Arrieta (+700): The defending champ is going to be strong again, but I can't pick him at this price. He benefited last year from two things in his campaign. First, his win total was impressive, but I can't bet on him to reach that level again. Second, and more significantly, the Cubs were a good story last year - lovable losers climbing into the upper tier after years of struggle. Now they are something different - a front-running favorite. He'll lose the sympathy vote, and that will make it tough for him. I have no shortage of respect, but I'll look elsewhere.
Madison Bumgarner (+1000): I like Bumgarner at this price. He has no shortage of talent, and he's coming off his best season last year. The Giants are well positioned for a strong year. Bumgarner needs to pitch the most innings of his career to have a chance. If he does that then he's a real threat. I like the value.
Max Scherzer (+1000): He won the Cy Young in the American League, so there is no reason he can't win one here. He's going to get a ton of strikeouts for his new team. If he can combine that with a lot of wins then he's a contender. Fair price.
Matt Harvey (+1000): I like Harvey a lot. The issue, though, is that there are two other guys - at least - on the Mets that people really like and consider Cy Young contenders. Too many cooks spoil the broth, and too many pitchers make it tough to woo voters.
Zack Greinke (+2000): A lot of people aren't optimistic about Greinke as he moves to a less favorable park. I'm not buying that theory. The guy is a flat out freak. His ERA may not be quite as microscopic, but it will still be strong. He's out from Clayton Kershaw's shadow, and will get more credit for the success he has. I like the bet.
Gerrit Cole (+2000): Cole has been very strong for the last three years and is gaining respect as a result. He's the big dog on his team and could be rewarded as such. The Pirates could take a step back, though, and that will hurt his case. The price is fair, but I like others better.
Get free picks from any Doc's Sports handicapper - there is no obligation for this offer and no credit card required. Just sign up for an account, and you can use the $60 in free picks for any Doc's Sports Advisory Board handicapper and any sport. Click here to get started now.
Read more articles by Trevor Whenham