Expert College Football Picks: Auburn at Alabama Odds and Betting Predictions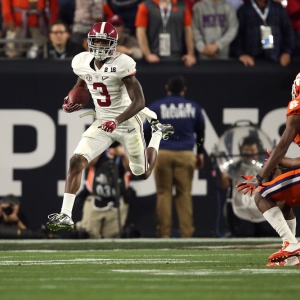 Auburn Tigers at Alabama Crimson Tide, Saturday Nov. 26, 1:30 p.m. ET
In this year's Iron Bowl we have a fairly compelling matchup handicapped by one unavoidable fact — the game is basically meaningless. Alabama has already clinched their division and will in all likelihood crush Florida in the SEC Championship Game. Winning the SEC with the accomplishments they have this season would guarantee them a spot in the playoffs regardless of whether they win this game or not. Auburn is ranked 16th in both polls, but they already have three losses, so while a win over Alabama would impress some and improve their bowl positioning somewhat, they aren't playing in a truly major bowl regardless.
Still, it's a good matchup that should produce an interesting game, even if it isn't too likely to produce a shocking result. That's all you can expect and hope for in this current era of lopsided Alabama SEC domination.
Auburn at Alabama Betting Storylines
The biggest problem with Auburn right now is one they share with most of the SEC — we have no idea who they are. Are they the squad who humiliated a ranked Arkansas team 56-3 and then won by 11 at Ole Miss the week after? Or are they the team that barely escaped with a win at home against a lousy Vanderbilt team the very next week and then lost to Georgia in one of the least watchable games played by anyone all season? At their best they could make this thing at least a little interesting. If you can tell me with any certainty if they are going to be at or near their best, though, then you are a better person than me.
Ultimately, the game comes down to one thing. Auburn needs to run to win. They have 32 rushing touchdowns and just 11 through the air. Alabama has the top run defense in the country, allowing a basically impossible 2.2 yards per carry. Whenever a game likely comes down to a strength-against-strength situation we have to assess which side is more likely to be able to do what they need to do. In this case it's not even a contest. Alabama has done nothing whatsoever to make us think that they are vulnerable to a run attack all year, while Auburn hasn't been nearly so consistently dominating. Against Georgia they ran for just 127 yards on the day, with almost all of them coming in the first half — and that was a game in which they badly needed a win to stay in the division title hunt. It would be much more interesting for everyone involved if I could create some drama here around this subject, but I just don't see any. Auburn will struggle to run, and when they can't run they can't really score and when they can't score they can't win. The only chance they would have is to keep Alabama's offense off the board and hope to grind out a win. The problem is that the Tigers have a defense that is far from embarrassing but is just a pale shadow of what the Tide offense faces every day in practice. It's not a real recipe for success.
As good as Alabama has been in recent years, we know that they often have a game during the year where haywire things happen — like in 2013 when No. 1 Alabama had their season derailed when Chris Davis returned a missed field goal 109 yards for a game-winning touchdown in this same Iron Bowl. Chaos is always a risk anytime a game is played — this is college football after all, and rivalry games only intensify the craziness. When you look at how Alabama has played this year, though, and how they match up in this one, I just don't see how you can justify betting that the insane will happen — and anything less than insanity is very bad news for Auburn.
Auburn at Alabama Odds and Betting Trends
The game opened with Auburn favored by 20 points, but that has since fallen to 17.5 currently. Nearly two-thirds of bets have come in on Auburn, so the line movement makes sense.
The Tigers are 9-3 ATS in their last 12 games overall and 4-1 ATS in their last five road games, but they are just 1-5 ATS in their last six played in November. Alabama has covered the spread in their last five games conference games and are 5-1 ATS in their last six overall. They are 6-2 ATS in their last eight at home and 7-1 ATS in their last eight in November.
Auburn at Alabama Predictions and Picks
I'm guessing this won't come as a surprise based on what I have written already — Alabama is the clear pick. It's a lot of points for sure, but the Tide match up very well, and they are playing with anger this year beyond what we have seen recently. They have faltered in the past and don't want to do it again. They will be able to score, and will frustrate the Tigers whenever Auburn tries to move the ball. I don't think that this one will be close, so I'll just wait for a while to see how far the line will fall and then just jump on the best price I can find. I'm not too worried about it — even if it went back to 20 the decision would still be clear, because ultimately I have no interest in taking a vastly-inferior team and hoping they don't lose too badly.
Got free picks? Doc's does. And for new clients we would like to offer you $60 in free member's college football picks from Doc's Sports Advisory Board of college football handicapping experts. Click here to sign up today. We never require a credit card for this offer, and you will never have to deal with a salesman.
Read more articles by Trevor Whenham