Expert College Football Predictions: Nebraska at Wisconsin Odds and Picks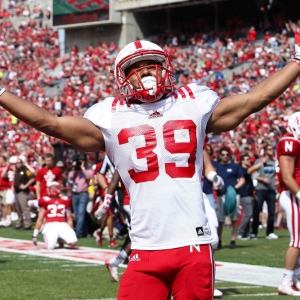 Nebraska Cornhuskers at Wisconsin Badgers, Saturday Oct. 29, 7 p.m. ET
It's practically November, and I am writing about Nebraska. And not because they are playing a good team that is going to crush them. And not because of some sort of scandal or humiliation. No sir, I am writing about Nebraska because they are unbeaten, ranked well within the Top 10, and looking solid. The hiring of Mike Riley was greeted with some deserved skepticism a year and a half ago - both in Lincoln and nationally - but he is doing the coaching job of his long and distinguished career so far this season. What makes it the more impressive is that he was just 6-7 last year, so it's not like this was an obvious build to this point.
Now, we have to put the brakes on a bit and talk about the schedule. The first two nonconference games were a joke, and they got lucky to face Oregon when the Ducks were awful. And through the first four conference games they haven't been hugely tested - they haven't played Wisconsin or Ohio State yet, and they don't play Michigan this year. Still, they have taken care of business when faced with the challenges in front of them. That's more than you can say about a lot of teams. And if they can win one of their next two games - they travel to play the Buckeyes in Columbus next week - then they will really turn into a year to remember.
Nebraska at Wisconsin Betting Storylines
We've talked about Mike Riley's job in his second year, so it's only fair we talk about Paul Chryst, who is also in his second year in Madison. He had more to work with and is coming off a 10-3 year, but with the changes the team went through at QB and elsewhere it could easily have been a transitional year. But then they shocked the world by beating LSU out of the gate and hastening the demise of Les Miles. After that they humiliated Michigan State, played Michigan tighter than anyone else has, and took Ohio State to overtime. There is still a gap between them and the two best in the conference - a massive gap - but the Badgers have certainly exceeded all expectations for the season. Before the season started I would have bet a fair bit that neither of these teams would have been ranked. Now they are both in the top 11. This is yet another reminder of why college football is so great.
Nebraska is an interesting team - they are not particularly spectacular at any given thing but are solidly average or better in any regard. They are pretty much the definition of balanced. Wisconsin goes about things entirely differently. Defensively they are very sound - Top 10 in the country in total yards, rushing yards and points allowed, and respectable against the pass. On offense, though, they are far less impressive, ranking in the range of 90th nationally in total yards, passing yards and points scored, and far from dynamic on the ground. They look to wear opponents down, ensuring they don't score much and hoping they can find ways to score enough to win. It is far from pretty, but it has, to this point, been at least somewhat effective. Michigan and Ohio State were both very frustrated on offense against Wisconsin, and LSU's offensive hurdles were first exposed by the Badgers. Now we have to see if Nebraska's fairly average but solid offense is enough to get the job done.
Nebraska at Wisconsin Odds and Betting Trends
The game opened with Wisconsin favored by a touchdown, and that has since climbed to 8.5. About two-thirds of the bets have come in on Nebraska, so it seems clear that sharp money has hit the Badgers. The total opened at 43 and hasn't shown dramatic pressure to move in early action.
The Huskers are 3-0-1 ATS against teams with winning records. They are 13-3 ATS in their last 16 road games and 5-1 ATS in their last six road games with winning home records. The Badgers are 5-0 ATS in their last five conference games and their last five October games. They are 6-0 ATS against teams with winning records, and 4-1 ATS in their last five home games.
Nebraska at Wisconsin Predictions and Picks
I respect Wisconsin a lot, but I can't back them right here. They are in the midst of a brutal stretch of games - Michigan State, Michigan, Ohio State, and Iowa in consecutive games before this one. That's a lot, and it could be tough for the team to stay focused for. Nebraska has nothing to lose, and they know it. I'm not convinced that they are a great team by any means. However, with more than a touchdown to their betting advantage in this one I think that they are good enough to make this interesting. Nebraska is the pick.
Are you ready for some football winners? Doc's Sports has you covered! We are offering new clients $60 in free picks - these are actually members' picks from expert handicappers who live, breathe and eat college football and have years of successful betting/handicapping experience. Click here for the no-hassle sign up page (no credit card required).
Read more articles by Trevor Whenham