Free MLB Picks for Best Props Odds: Thursday June 2, 2016
by Chris Vasile - 6/2/2016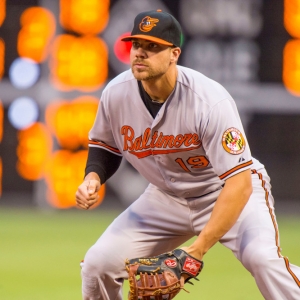 It's only June 2 and I already feel like MLB is in the dog days of summer. The season feels like it has been going on forever already, when in reality most teams have played only around 50 games. The usual suspects are leading their respective divisions, and there weren't many interesting storylines surround May (except for the Toronto/Texas brawl). With the calendar changing, it's time to ramp up the charge and put some distance between my profit and my break-even point.
Tuesday was a split for me. I went 1-1 with my prop selections and was the victim of some surprisingly great pitching by Jake Peavy. The Braves couldn't muster anything against Peavy, who pitched miraculously better than his numbers indicated. However, for what Atlanta lacked, Boston sure as heck made up for. The Red Sox were an easy winner, and it came at a big price, too. A split isn't the worse case if you can hit +140 consistently.
As always, Thursday's MLB slate features some afternoon action that I will pass on. I gave out Houston as an unofficial play on Tuesday afternoon, but today is all about the night card. There are no really big favourites, which always make for some great value, but I think backing one of the best teams in baseball is the way to go once again tonight.
These prop bets are all based on the First 5 Inning lines, and I have the utmost confidence in what I expect to happen. As always, odds and lines are courtesy of 5Dimes.
New York Yankees @ Detroit Tigers
The Yankees come into Comerica Park on the heels of a three-game sweep courtesy of the Toronto Blue Jays. They weren't able to muster anything offensively, scoring only three runs in three games. Their bullpen, specifically Dellin Betances, was a complete disaster and gave up hit after hit to the bottom of the Blue Jays lineup.
To make matters worse for the Pinstripes is that they now have to somehow come up with offensive production to back their starting gas-can - I mean pitcher - Michael Pineda.
Pineda has been atrocious this year. He is 2-6 with a 6.92 ERA and in his last outing was shelled for six runs in just three innings of work. That performance wasn't the product of running into a hot hitting team, it was against the Tampa Bay Rays. Pineda has surrendered six runs or more in six of his 10 starts, which begs the question of what he is still doing in the majors.
For the Yankees to keep pace with the Tigers in this game, they will need to come up with some big hits despite having their key bats mired in slumps. As a team, the Yankees have combined for 19 hits and 19 runs - batting .176 while dropping six of their last eight games. Key contributors to this funk are: Mark Teixeira (3 for 38), Brett Gardner (0 for 23) and Brian McCann (1 for 23).
The Tigers return home following a solid 3-0 victory against the Angels last night to snap a four-game losing streak. They will rely on Matt Boyd to help them win consecutive games for the first time since May 21-23 when they won three in a row.
The Tigers will be eager to perform in front of their home crowd. They are 7-2 in Detroit in their last nine games and have averaged 6.1 runs per contest, with 17 home runs while hitting .315. Not a bad stretch of play.
If Detroit wants to get back in the thick of the AL Central race, beating teams who are playing poorly will only help their cause. The Yankees bats just have not shown me anything to warrant backing them, which is why I'm siding with the hometown Tigers in this one.
Pick: Detroit Tigers -0.5 - First 5 Innings (+130)
Boston Red Sox @ Baltimore Orioles
You know your pitching is having a brutal night when you put up nine runs, continue your torrid offensive pace, have a guy hit another two home runs (Mookie Betts), but still lose the game by four runs.
That was the case yesterday with the Red Sox. The Sox blew leads of 1-0, and 7-5 en route to a 13-9 loss despite hitting five home runs as a team. I fully expect that offensive output to continue in the finale tonight as they will go up against Ubaldo Jimenez, who has been nothing short of garbage so far this year. Jimenez was torched in the month of May and will need to regain his form from last year should he want to keep his spot in the rotation. He is 2-6 with a 6.36 ERA and is coming off an embarrassing 11-4 loss in Cleveland that saw him give up six runs, five hits and three walks in 1 2/3 innings.
Cleveland is not even close to Boston in terms of offensive production, so can you imagine if he duplicates that form against this Red Sox squad? He should be in for another short outing.
Taking the bump for Boston is Rick Porcello. He owns a 7-2 record for the year with an ERA hovering around 3.7. However, his last three starts have left Red Sox fans scratching their heads. Through his last three starts he is 1-1 with an ERA above five. He surrendered four runs and seven hits in his latest loss against Toronto. For his career against the Orioles, Porcello is 3-7 with a 5.45 ERA in 12 career starts, with last season being the worst (0-2, 9.37).
I find it hard to believe there won't be runs scored in bunches this game the way these two pitchers are going. Take the over F5 and take the over for the full game.
Pick: "Over" 4.5 - First 5 Innings (-130)