Free MLB Picks for Best Props Odds: Thursday June 23, 2016
by Chris Vasile - 6/23/2016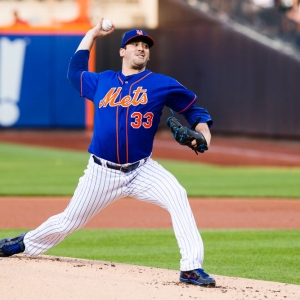 What a great time to be a Cleveland sports fan! The Cavaliers were able to defy all odds and bring the city its first championship since 1964 and the celebration that occurred Wednesday saw approximately 1.3 million people line the streets just to get a glimpse of their heroes. Not too shabby.
However, another Cleveland team is being overlooked right now, and that is the Cleveland Indians. They just completed their own record month of June by going 11-0 at home. Cleveland has won six games in a row and has moved a full three games clear over the defending champion Kansas City Royals for first place in the AL Central. Fans who will want to get in on this winning action will have to wait until July 4 when they return home, as the Indians embark on a 10-game road trip beginning with three in Detroit.
Tuesday may have been the first "easy" day when it comes to giving out wagers. Both San Francisco and Colorado were able to put up a combined 12 runs in the first five innings of their respective games. The gravy to all the success is the price tag associated with each win. San Francisco was +101 and the Rockies were +180 to cash in for the first five innings. I'm not going to lie, a little happy dance did occur.
Thursday's MLB card is a rather light one in my opinion. We have four afternoon games that in my opinion could go either way. The night card features a couple of pitchers that I just can't trust, and I will be looking to play against them. You'll find out who they as you keep reading.
These prop bets are all based on the First 5 Inning lines, and I have the utmost confidence in what I expect to happen. As always, odds and lines are courtesy of 5Dimes.
New York Mets @ Atlanta Braves
I wouldn't exactly call myself an expert when it comes to wagering on Braves' games, but I am 3-0 so far this year, which by default puts me in the "expert" category.
Whenever anyone thinks of the Braves, they think of the worst team in baseball, with no pitching, no offense, and, quite frankly, no hope for the future. However, let me be the first to point out that this Braves team, while not as talented as lineups across the majors, has something cooking currently. The Braves are winners of six of their last seven games, which includes a three-game sweep over the Mets just last week, to cap a 5-1 road trip. Not too shabby for the doormat of the league.
Atlanta's surge has been sparked by the clutch hitting of Freddie Freeman and Jace Peterson. Freeman was just named NL Player of the Week for the period ending June 19, which included 10 hits, and hitting for the cycle in a game against Cincinnati. He has hit safely in seven of his last 10 games, going 19-for-42 (.452), with six runs, eight RBIs and nine extra-base hits.
His teammate Peterson was called up on June 10 from Triple-A, and he has hit safely in 10 starts. He is batting .342 in those games with nine runs and six RBIs since being called up.
Should these two keep performing at the rate they are going, they will be a tough out for any pitcher they come across. And Matt Harvey, once a dominant pitcher, will be the next pitcher to get victimized.
Harvey was beaten just last week by the Braves. He gave up four runs on seven hits in six innings of a 5-1 loss. His nine losses on the season leave him tied for the major league lead in that category. He lost only eight games all of last season.
Taking the mound for the Braves is Matt Wisler, who is 3-1 in four career starts against the Mets. He should be able to handle this slumping Mets lineup, which have scored only five runs in the last four games. To make matters worse, Yeonis Cespides left Wednesday's game with left wrist soreness and is day-to-day.
Pick: Atlanta Braves -0.5 - First 5 Innings (+168)
Oakland Athletics @ Los Angeles Angels
Tim Lincecum returned to the majors last week after missing an entire year because of hip surgery. He pitched very well in his debut, giving up one run in six innings against the very team he faces once again today. But if you think I am going to put my money on a pitcher that has been out of the game for a year, before he consistently shows me he can perform, you obviously haven't been following my picks very closely.
Despite the Angels having the so-called "edge" in pitching tonight, the familiarity factor favors the Athletics. They are seeing Lincecum for a second time in a week. They should be ready for the kind of pitches he has to offer, which is no longer a high-90s fastball. Last game out, he pitched somewhat backwards. He threw fastballs in breaking-ball counts and vice versa. Any professional team will realize this and be ready to pounce on this pattern next time out.
The Athletics will counter with Kendall Gravemen, who hasn't won since May 30 but had an impressive start his last time out. He held these same Angels to one run and three hits in seven innings of work. That kind of performance can go along way when pumping up someone's confidence and finally getting them over the losing hump. Gravemen will likely see an Angels lineup without Albert Pujols for a third straight game. That's a small victory in and of itself.
Despite the A's ranking dead last in runs, RBIs, OBP and OPS, this is the kind of game that the A's can show up and knock the ball around the park. Angel Stadium is by no means a pitcher-friendly ballpark, and going up against a pitcher coming off the shelf is a spot where the A's need to claim victory in order to get them back in the thick of things in the AL.
Pick: Oakland Athletics -0.5 - First 5 Innings (+158)