Free MLB Picks for Best Props Odds: Tuesday April 26, 2016
by Chris Vasile - 4/26/2016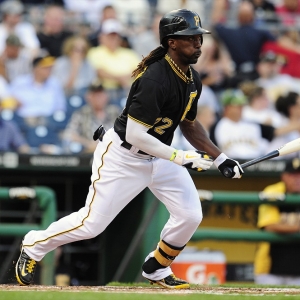 Another week, another dollar. Or so at least that's what the plan is.
Baseball is a marathon, not a sprint. Over the course of the 162-game season, there will be highs and there will be lows. What matters is how you handle them. A winning streak can be over in the blink of an eye and a losing streak, well, let me tell you, it could take a while to get out of, and it isn't pretty.
I sit at 10-12 on the young season after checking in at 1-2 for last Thursday night. Unlucky I must say, thanks to some shoddy bullpen work by the Padres and one mistake served up to Kris Bryant for a homerun. I feel like I'm right there, on the verge of going on a run and then - BAM - back to the cruel realities of baseball.
Tuesday's MLB card is what I call a prime betting board. All 30 teams are in action and there are some great games to choose from. We have four heavy favorites going with their ace pitchers in San Francisco (-194 vs. SD), Los Angeles Dodgers (-315 vs. Miami), Chicago Cubs (-214 vs Milwaukee) and Washington Nationals (-209 vs. Philadelphia). From a straight up win/loss perspective, those games should be stayed away from or played with the underdog. From a prop perspective, this is usually where I make prime money-making "Team Totals" bets.
For those just tuning in, I have two key first-inning props I focus on. The first one is "Will there be a run scored in the first inning?" The second is "Over" 3 Hits/Runs/Errors. I feel as this is the best way to avoid any bullpen nonsense and make a quick buck after watching six outs, not three hours of baseball. My final prop selection is a team total, which can be profitable by riding the hot-hitting teams or those who couldn't hit the back side of a barn.

Let's take a look at three of my favorite prop options that are on the board tonight. As always, odds and lines are courtesy of bovada.lv.
Philadelphia Phillies @ Washington Nationals
Team Total: Washington Nationals
"Over" 4 -105, "Under" 4 -125
The Nationals are coming off an amazing come-from-behind win on Sunday against the Minnesota Twins in 16 innings.
They trailed 4-3 heading into the bottom of the ninth when Dusty Baker called upon Bryce Harper, who had the day off, to get the rally going. And boy did he ever. He took a 3-2 pitch over the fence and tied the game, which was eventually won by Chris Heisey on a walk-off homerun.
The Nationals own one of the best records in baseball, and even more so, one of the best home records in the big leagues. As a team, the Nationals are batting .246, which is middle of the pack, but they score just under five runs per game on eight and a half hits per game. They will be tested against a solid rookie in Vince Velasquez, who has started well this season.
Fortunately for Nationals fans, the rook was hammered in his last outing after giving up five runs with only three Ks in an 11-1 loss to the Mets.
I'm going to hop on the Nationals bandwagon for this game and watch them put up runs and secure another home win.
Pick: "Over" 4 -15


Chicago White Sox @ Toronto Blue Jays
Team Total: Chicago White Sox
"Over" 4.5 +110, "Under" 4.5 -140
It has been a recurring theme for far too long for this Blue Jays team. The offense comes through and does its part, but the pitching, more specifically the bullpen, has let them down. As was the case last night, the White Sox were able to knock around Brett Cecil for five runs and put up seven total in a 7-5 win. Now they get to face the knuckleball, which I think they are absolutely going to mash.
As a Jays fan, I am not a fan of Dickey. He's far too inconsistent, in my opinion. He sports a 6.10 ERA with a 1.69 WHIP and 10 walks. Not exactly Cy Young. He also comes into this game with a 0-3 lifetime record against the Pale-Hose with a disastrous 7.43 ERA.
Jose Abreu is 4-for-9 with three homers, Todd Frazier is 4-for-10 with two homeruns, Melky Cabrera is 6 for 18 with a pair of homers and Jimmy Rollins is 9 for 27 with six extra base hits.
It could be a long night for Jays fans and a short night for Dickey if his knuckleball isn't dancing like Michael Jackson.
Take the over.
Pick: Team Total "Over" 4.5 +110
Pittsburgh Pirates @ Colorado Rockies
Team Total: Pittsburgh Pirates
"Over" 5 -140 "Under" 5 +115
The Pirates are looking to stay in the win column and going for win No. 5 in their last six games. They are coming off a 6-1 win last night and have been putting up runs a plenty.They have averaged 7.6 runs over their last five games and have batted .355 as a team.
It looks like they are catching opposing pitcher Ruby De La Rosa at an opportune time after he had his start pushed back a day because of the stomach flu. The south-paw has given up at least four runs in each of his four starts after surrendering four along with six hits in just two innings of his last start.
Mix in the Coors Field hitting advantage and we could be looking at Pittsburgh putting up a touchdown tonight!
Take the hot hitting team to stay hot. Take the "Over".
Pick: "Over" 5 -140