Free MLB Picks for Best Props Odds: Thursday April 21, 2016
by Chris Vasile - 4/21/2016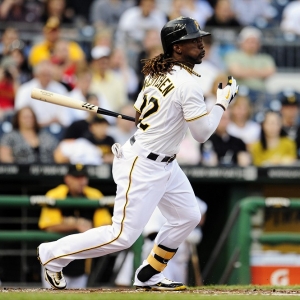 My Tuesday card harped loudly in favor of the LA Dodgers vs. Atlanta Braves game. I suggested there would be fireworks and that one team would crush the other. One pitching change later and the total soared over the number, as I expected, but I still split my props for that game.
You see, I checked in at 2-1 for the night, with the only loss coming by way of the Dodgers' inability to get anything going against a spot starter. The total soared over the posted number as expected, but the Dodgers were a complete no-show en route to an 8-1 loss.
Thursday's MLB slate features plenty of afternoon baseball action that can distract you from actually doing any work around the office. If you are like me and have to watch what you bet, tonight's five-game night looks profitable in my eyes.
For those just tuning in, I have two key first inning props I focus on. The first one is "Will there be a run scored in the first inning?" The second is "Over/Under" 3 Hits/Runs/Errors. I feel as this is the best way to avoid any bullpen nonsense (see Boston/Toronto yesterday) and make a quick buck after watching six outs, not three hours of baseball. My final prop selection is a team total, which can be profitable by riding the hot-hitting teams or those who couldn't hit the back side of a barn.

Let's take a look at three of my favorite prop options that are on the board tonight. As always, odds and lines are courtesy of bovada.lv.
Oakland Athletics @ New York Yankees
Team Total: New York Yankees
"Over" 4 -115, "Under" 4 -115
It's a tricky situation we have here with the Yankees. In their ball park, a team with as much "star power" (albeit over their prime) should have no problem consistently putting up runs with that short porch in right field. Yet here we are.
The Yankees are currently mired in a slump that has seen them lose six of their last seven games while batting .209 and totalling 15 runs. The line-up is a borderline joke right now with Jacoby Ellsbury, Brian McCann and Mark Teixeira batting a combined, wait for it… 4-for-51. Now that's ugly.
I don't care who is pitching in this game. Until the Yankees can actually put together back-to-back hits and show me they can win a game, I will continue riding this team "Under" their team total.
One more number to throw at you. The Yankees are batting .074 with runners in scoring position. Let's sit back and watch Cy Young, I mean Rich Hill, mow down this line up.
Take the "Under" in this one folks.


Pittsburgh Pirates @ San Diego Padres

Team Total: Pittsburgh Pirates
"Over" 4 -120, "Under" 4 -110
As a Blue Jays fan, I know how concerning it is when your team leads the majors in strikeouts. The only solace in that bleak statistic is that the Jays seemingly live and die by the long ball, so I must take the good with the bad.
You are probably asking how that has anything to do with the Pittsburgh Pirates. Well it's because the Pirates have struck out 11 times in each of the first two games of this series. They are not a power-hitting team. They rely on getting the ball in play and manufacturing runs by using speed on the base pad.
Consecutive double-digit strikeout games are concerning because they are simply not making contact. They are not putting pressure on the defense to make plays behind the pitcher, and in Petco Park runs are already hard to come by giving the size and friendliness to pitchers.
Tonight they go up against James Shields, who is pitching better than his record indicates. He's received a grand total of five runs in his first three starts but has struck out 14 so far this season in 20 innings pitched.
Look for the swing and misses to continue for the black and yellow.
Pick: Team Total "Under" 4 -120
Chicago Cubs @ Cincinnati Reds
Will There Be A Run Scored In The First Inning
"Yes" +125 "No" -140
On the bump in the top of the first inning is Brandon Finnegan, who has been nearly unhittable so far this young season. He sports a 1-0 record with a 2.04 ERA and an astonishing .129 OBA through three starts. Surely, the law of averages suggests a plummet back down to earth and no Cy Young trophy to hang his hat on at the end of the season.
While the high-powered Cubs offence will surely give the lefty fits at times, it is my very well-educated guess that it will not happen until the second time through the order.
On the bump in the bottom of the first inning is Jake Arrieta, who has posted some godly numbers over the last season and a bit. He's pitched 23 straight regular-season quality starts. Sixteen consecutive starts resulting in wins. In those 23 straight starts, he has a record of 19-1 with a 0.91ERA a 0.71 WHIP and a .156 OBA. Those numbers have gotten surprisingly better over his last 16 starts to the tune of 14-0, 0.70 ERA, 0.69 WHIP and .152 OBA.
Stats guys everywhere probably just spilt their drink reading that.
I find if hard to believe the Reds will generate any sort of momentum in this game and produce more than a mere one or two runs.
Lucky for me, I don't have to worry about that outside of the first inning.
Pick: "No" -150