Free NBA Picks Toronto vs. Cleveland Game 5 Props
by Dave Schwab - 5/25/2016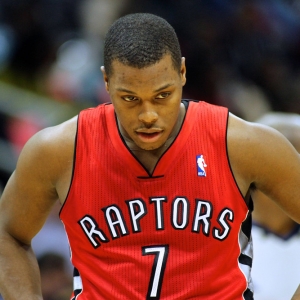 If the Cleveland Cavaliers were a publicly-traded stock, the last week or so would have been a wild ride for investors. After cruising through their first two playoff series with four-game sweeps against both Detroit and Atlanta, they opened as heavy favorites on the opening series price to easily get past Toronto in the Eastern Conference Finals.
The Cavs' stock went through the roof when they won the first two games of that best-of-seven series by a combined 50 points, but there has been some serious downward pressure on the current series price following a pair of road losses to the Raptors as six-point favorites in both games.
Game 5 of what has become a very intriguing best-of-three affair is set for Wednesday night in Cleveland, and GT Bets has released its updated NBA series prop bet odds for this matchup as well as some other game props for this crucial showdown.
Eastern Conference Finals Series Price Odds
Cleveland is still a healthy -1250 favorite to win two of the next three games against Toronto starting tonight as a 10.5-point home favorite to win Game 5. The big question is if it makes sense to go the other way with a bet on Toronto's favorable +850 series price odds given what we have seen from this team in the past two games.
An easy answer to that question would be "yes" if Cleveland cannot quickly find the form that led to a perfect 10-0 run in the playoffs coupled with the continued high level of play by Toronto's backcourt duo of Kyle Lowry and DeMar DeRozan. Things swing the other way if you think that both Kyrie Irving and Kevin Love will play better than they did in Toronto and Lowry and DeRozan will revert to the form that led to a combined 26 points and a 13-for-31 shooting performance in a 31-point loss in Game 1 of this series in Cleveland.
The main thing in the back of my mind is what is going on in the Western Conference Finals with Oklahoma City up three games to one on Golden State. If the Raptors can somehow play the game of their lives this Wednesday night, the dominos could rapidly fall in their favor at the expense of the severely-bruised psyche of the Cavaliers. I still believe that this small window of opportunity calls for a small play on Toronto's +850 series price.
Eastern Conference Finals Game 5 First Quarter Betting Line
The betting line for a first quarter game prop for Wednesday night has Cleveland favored by 4.5 points. Toronto trailed by five points at the end of the first quarter in Game 1 before the wheels came off, and in Game 2, that was also played in Cleveland, the deficit after the first quarter was just two points before the Raptors came apart in a 108-89 loss.
I am banking another close start in Game 5 given the momentum that the Raptors bring into this game. They now know that they can beat this team, and they also know that they cannot afford to fall behind early if they want to have any shot at pulling off the upset. There is always a chance that Cleveland will go off right out of the gate after losing the first quarter in the last two games by identical 27-24 scores, but I think that some of the damage that has already been done to the very sensitive psyche of Cavaliers has a good chance to linger early in this game.
Eastern Conference Finals Game 5 First Quarter Total Line
Along with Cleveland being favored by 4.5 points in the first quarter, GT Bets has released a prop bet line of 51 points for the "over/under" in this initial quarter of play. The last two games of this series would have been a "push" at that same total line, and it would have gone over in Game 1 (61 points) and in Game 2 (58 points).
The final total line has stayed under or ended as a push in three of the first four games in this series, but there is good reason to believe that the faster pace a play at the beginning of each of these four games will carry over to Game 5. Both of these teams will be looking for a strong start and an early lead, so playing tight defense may not be as big of a priority as maintaining a fast pace up and down the court. I would expect things to tighten up in the second half, but I like my chances that the points will continue to fly in the first 12 minutes of this game with a bet on the over 51.
Read more articles by Dave Schwab