2016 Indiana Pacers Predictions and NBA Futures Betting Odds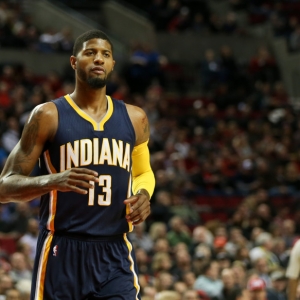 The Pacers are kind of the forgotten playoff team. I bet if you asked 10 very casual basketball fans when the last time the Pacers made the playoffs was they would be more likely to guess it was in the Reggie Miller era than just last year. The Pacers have made the playoffs five of the last six years, but outside of Paul George they don't get much attention outside of Indiana. They are the vanilla ice cream of the NBA - not flashy, but still good enough at being dessert. So, can this team make it five of six years in the postseason?
2016 Indiana Pacers Betting Storylines
The Pacers were the seven seed heading into the playoffs, and they took the Raptors to seven games. Somehow, though, that wasn't enough to save Frank Vogel's job. He was out as head coach after six years and five playoff appearances. He fared just fine - he wasn't unemployed for two weeks before taking over in Orlando. Former assistant Nate McMillan took over in Indiana. This is McMillan's third coaching gig but first outside the Pacific Northwest - he helmed Seattle for five years then Portland for almost seven. It's a bit of an odd choice. Larry Bird fired Vogel largely because he wanted to play a more offensively explosive style of play. McMillan plays an efficient-but-methodical style. Something is going to have to give. It will be interesting to see what happens, but there could be some real growing pains in the short term.
Myles Turner was one of the more surprising rookies in the league last year. He started strong and only got better. In the playoffs he was excellent. He had a series of games that stretched about halfway through January that showed just how good he can be. He scored like crazy while rebounding and blocking shots. He was everywhere. If he can play for longer stretches this year like he did in January, or in the playoffs for that matter, then he will be a very big piece of the equation here.
2016 Indiana Pacers Additions and Departures
Paul George is an elite player on both ends of the court - very elite. Bird was serious about scoring more, and he made a series of offseason moves that reflected that. Of most significance they added Jeff Teague, the all-star point guard from Atlanta. He's a very creative creator and scorer and is a big offensive upgrade from George Hill. If Bird and McMillan let him do what he wants to do then he will reward their faith. Hill was sent to Utah in the Teague deal, so it is a clean break at the point.
Then they added Al Jefferson, a big man with big offensive upside coming off a very frustrating year in Charlotte. His health is an ongoing concern after a dozen years in the league, but he has the potential to shine. He won't likely be asked to start, so that will make things easier on him.
The team's first-round pick was Caris Levert from Michigan, but he didn't last long. He was shipped to Brooklyn for Thaddeus Young, another guy who can score and pick up the tempo for the team.
2016 Indiana Pacers Futures Odds and Trends
The Pacers weren't much to bet on last season - they were only 41-40-1 ATS. You can't make money on that no matter what you do. They went "under" the total 45 times in 82 games, though, so there was some cash to be made there. In the playoffs they were a much better betting team in their brief appearance - they were 5-2 ATS through seven games. They went under in six of those seven games as well, so there were multiple ways to make money betting the Pacers in the postseason.
Indiana Pacers Futures Odds (from Bovada)
NBA title odds : +6600
Eastern Conference title odds : +2800
Season win total (from Westgate): 43.5
2016 Indiana Pacers Predictions and Futures Odds Picks
I like this team. I don't love them but I like them. Outside of George they lack a superstar presence, but they are built to be dynamic, and I like how they are put together. My biggest concern, though, is that McMillan is a plodding guy being asked to push the pace. It's a big adjustment for everyone involved, and it is no certainty that it will work well. The talent is strong, though, and it seems reasonable that they could be the fourth team in the East - way behind Cleveland, and behind Toronto and Boston as well. If everything went as well as possible then they could even push for third or even second place, though I don't really see that happening. One thing I am very confident in, though, is that the playoff streak will stretch to two seasons.
Get free picks from any of Doc's Sports Advisory Board of expert handicappers - and with no obligation or credit card. You can use these free picks for any sport, and you will never deal with a salesman. Click here for your free Doc's Sports picks.
Read more articles by Trevor Whenham