Five to Follow MLB Betting: Friday, July 8, 2016, Opening Line Report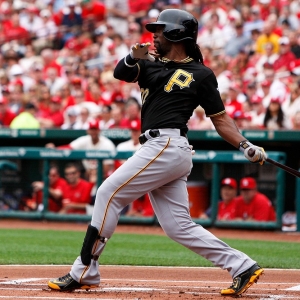 Really bad news for the Cardinals on Wednesday night as All-Star second baseman Matt Carpenter suffered a right oblique strain on a check swing in the third inning against Pittsburgh. There's no word as of now how severe it is, but these usually take a minimum of four weeks to fully heal. Carpenter, who has officially been put on the DL, is hitting .298 with 25 doubles, five triples, 14 homers, 53 RBIs (team best, which is amazing for a leadoff guy) and 56 runs this season. He also entered Wednesday leading the National League in on-base percentage (.421) and OPS (.991). Carpenter moved over from third to second when Jhonny Peralta got healthy and took over at the hot corner. Presumably now Kolten Wong will retake the starting second base position. I gave the Cards little chance of catching the Cubs in the NL Central as it was. Now I give them none. Incidentally, MLB picked St. Louis rookie shortstop Aledmys Diaz to replace Carpenter on the NL All-Star roster.
Cubs at Pirates (+184, 8)
Game is nationally televised by the MLB Network and should have live betting at sportsbooks. The Cubs are pretty clearly running out of gas as they are playing 24 games in 24 days -- they were supposed to be off Thursday but had a makeup game vs. Atlanta. The team has placed catcher David Ross on the seven-day concussion DL so you should see rookie sensation Willson Contreras play a lot more behind the dish with Miguel Montero struggling so much. Many Cubs fans I know are a bit worried about reigning Cy Young winner Jake Arrieta (12-3, 2.33), and he makes his final case here to start Tuesday's All-Star Game. Arrieta hasn't lasted more than 5.1 innings in three straight starts, has walked 11 and lost two of them. But he's 3-0 with a 0.86 ERA in three starts this year vs. the Bucs. Andrew McCutchen is 9-for-31 off him with three doubles and 10 strikeouts. Matt Joyce might get a spot start as he's 7-for-20 off Arrieta with a homer and four RBIs. Pittsburgh stats lefty Francisco Liriano (5-8, 5.34). He hadn't won since May 24 but did on Sunday in Oakland in allowing three runs over five innings. He's 0-2 with a 10.45 ERA this season against the Cubs. Kris Bryant is 4-for-9 off him with a homer and four RBIs.
Key trends: The Cubs are 6-0 in Arrieta's past six in Pittsburgh. The Pirates are 0-6 in Liriano's past six at home vs. teams with a winning record. The "over/under" has gone under in seven of Arrieta's past 10 vs. the Bucs.
Early lean: Cubs and under.
Nationals at Mets (-108, 7)
We didn't get Stephen Strasburg vs. Clayton Kershaw a few weeks ago due to a Strasburg injury, but we get a nice consolation matchup here with Strasburg against Mets ace Noah Syndergaard. Both of those guys are in the running to start for the NL in the All-Star Game. Strasburg (11-0, 2.71) returned from a DL stint due to back trouble on Sunday and certainly showed no ill effects as he no-hit the Reds for 6.2 innings. But he wasn't totally sharp as he walked four and struck out only five. He was pulled after 109 pitches. The Washington bullpen lost the no-hitter. Strasburg is 2-0 with a 2.13 ERA in two starts this season against the Mets. Travis d'Arnaud is 4-for-10 off him career with a homer. Curtis Granderson bats .167 off Strasburg with five strikeouts in 18 at-bats. Syndergaard (9-3, 2.41) has finally admitted that he's pitching with a bone spur in his elbow but he looked fine last time out, allowing a run in seven innings and striking out eight Cubs in a victory. He is 1-1 with a 4.50 ERA in two starts this year against the Nats. Anthony Rendon is 5-for-12 off him with a homer. Bryce Harper is 4-for-13 with four strikeouts.
Key trends: The Nationals are 7-0 in their past seven vs. teams with a winning record. The Mets are 5-1 in Syndergaard's past six at home. The over is 5-0 in Strasburg's past five vs. the Mets.
Early lean: Not often you see an 11-0 pitcher as an opening dog. Mets and under.
Cardinals at Brewers (+118, 9)
St. Louis also has lost first baseman/outfielder Brandon Moss to the 15-day DL. He was diagnosed with a Grade 1 left ankle sprain after jamming his foot running the bases on Monday. He was hitting .256 with 17 homers (team high) and 40 RBIs. The Cards called up Randal Grichuk from Triple-A Memphis. He was the team's starting center fielder to open the season but had struggled and was sent down in mid-June. St. Louis goes with Michael Wacha (5-7, 4.38). He won his third straight decision on Sunday and it was against these Brewers, allowing two runs and nine hits in five innings. Wacha hasn't allowed more than three earned in his past five. Brewers All-Star Jonathan Lucroy is 4-for-12 career off him with two RBIs. Milwaukee's Jimmy Nelson (5-7, 3.65) lost in St. Louis on Saturday in allowing three runs in six innings. The Brewers have dropped his past six overall.
Key trends: The Cards are 7-1 in Wacha's past eight vs. teams with a losing record. The Brewers are 3-13 in Nelson's past 16 vs. teams with a winning record. The over is 6-0 in Wacha's past six on four days of rest.
Early lean: Cardinals and over.
Reds at Marlins (-263, 7)
Miami has placed underrated first baseman Justin Bour on the 15-day DL with a sprained right ankle. He rolled it on Saturday and was placed on the DL Wednesday retroactive to Sunday as he hadn't played since. Bour is batting .268 with 15 homers, 46 RBIs and a .347 on-base percentage. And another All-Star can state his case to be the NL's starting pitcher on Tuesday in Miami's Jose Fernandez (10-4, 2.69). I guess every pitcher has an off night once in a while and Fernandez had a puzzling start Saturday in Atlanta in allowing a career-high nine runs (six earned) in 5.2 innings. The six earned runs allowed equaled the six he allowed in five starts in June, when he had a 1.67 ERA. He's 1-1 with a 3.50 ERA career vs. the Reds. Jay Bruce is 2-for-7 off him. Joey Votto 1-for-7. Cincinnati goes with Dan Straily (4-5, 4.34). He had been hurting his trade value with three straight non-quality starts but was better Saturday in winning at Washington, allowing three runs in seven innings. Straily has never faced the Marlins.
Key trends: The Reds are 0-4 in their past four in Game 1 of a series. The Marlins are 10-1 in Fernandez's past 11 at home vs. teams with a losing record. The under is 7-1 in his past eight at home.
Early lean: Marlins and under.
Mariners at Royals (-105, 8)
Kansas City has put closer Wade Davis on the DL due to a right forearm strain. Those sometimes can be ominous, but the team says this isn't serious. Davis will be eligible to return July 16 in Detroit, the club's second game after the All-Star break. Davis has 19 saves and a 1.23 ERA this season. The Royals start Yordano Ventura (6-6, 5.26) in this one. Well, probably. He left in the third inning of Sunday's loss at Philadelphia with a sprained right ankle. Ventura was injured running the bases after collecting his second career base hit. But the Royals say it's minor and that he should go here. Ventura lost in Seattle on April 30, allowing five runs and walking six in four innings. Robinson Cano is 1-for-10 off him with four strikeouts. Nelson Cruz is 2-for-9 with a homer. Seattle's Hisashi Iwakuma (8-6, 4.43) has won two straight. He hasn't faced the Royals this year but is 3-0 with a 1.61 ERA in four career outings against them. Kendrys Morales is 4-for-18 off him with two doubles. Alex Gordon is 3-for-12 with four strikeouts.
Key trends: The Mariners are 12-5 in Iwakuma's past 17 on the road. The Royals are 7-1 in Ventura's past eight at home vs. teams with a winning record. The under is 16-4-1 in Ventura's past 21 vs. the AL West.
Early lean: Royals and under.
Read more articles by Alan Matthews