MLB Division Leaders: Handicapping, Analysis and Betting Predictions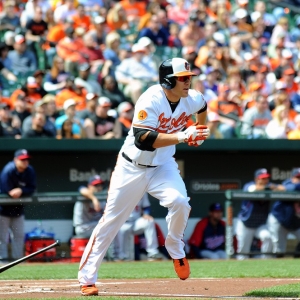 It's now officially summer. That means that we are about to enter the dog days of summer in the baseball season. We are far enough into the season that the standings mean something. The teams leading the way now almost surely won't all be doing so by the end of September, but the cream is starting to rise to the top. It's a good time to take a step back and look at the six division leaders - where are they at now, can they stay there, and what does it mean for bettors?
American League
East: This thing is wide open. Baltimore has the lead, but it's only by two games over Boston and a further half game over Toronto. The Blue Jays have found their mojo again after a rough start, Boston is struggling right now, and the Orioles are just treading water. This is a three-way battle - with the Yankees looming just one hot streak away from the mix, too. We have settled nothing yet.
Central: Cleveland currently leads by three games over the Royals. It seems like the Indians are overachieving based on what they should be on paper, but they have won seven of their last 10, so they aren't going anywhere soon. Looming behind them is the defending champs from Kansas City. The Royals are a bit of an odd contender right now - they have allowed three more runs than they have scored. They are the stronger overall team, though, so this race is going to go on for a long time.
West: I have basically given up on trying to figure out the Rangers. The last couple of years I have viewed them as a virtual afterthought in the mix of the division - a solid team, but one that I expect to lag behind the team I like better. So, here they sit now as by far the best team in the AL, with a 10-game lead on second place. They just can't do anything wrong. The Astros have finally woken up and are making some noise behind them, but the Rangers would really have to fall on hard times to blow this lead.
National League
East: The Washington Nationals have four games on the Mets and five on the Marlins. The Nats are just 5-5 in their last 10, so they aren't at their best, but the other two teams haven't significantly taken advantage. The Mets have experience to draw on, but spotting Washington a lead like this should be tough to overcome. Washington's mental toughness has been a concern in recent years, but Washington has been the better team in so many ways - and a dramatically better team to bet on so far. I believe in Washington.
Central: The Cubs are going to win the NL Central. By a lot. They haven't played their best ball the last two weeks, but they will be just fine. They have scored the second most runs in the NL - just three fewer than the Cardinals. Their 207 runs allowed is by far the best in the league - 30 fewer than the second best Mets and 95 fewer than St. Louis. My biggest concern isn't really much of a concern at all - since the team has been burning so bright for so long already, and have such a lead, we have to wonder whether they can stay sharp when they need to when the playoffs roll around. We can worry about that later, but what we don't have to worry about is them losing this division. They are delivering nice betting profits, they are better than the other teams in the division in every way, and they have a massive lead. This team is as close to a lock to win the NL Central as is possible in sports.
West: I am a little surprised here. I really don't like the mental makeup of the Dodgers, so I was hoping that the Giants would be able to get by them. What I wasn't expecting, though, was that the Giants would be up by six games right now or that they would have the third-best record in all of baseball. They are red hot right now, so they are showing just what they are capable of. I guess we shouldn't be surprised about their success this year - they have won World Series in 2010, 2012, and 2014, so they are on schedule to continue the pattern and win this year. I like almost everything about this team better than the Dodgers, so I feel confident that things will continue as they are.
The handicappers at Doc's Sports are offering $60 worth of member's baseball picks absolutely free - no obligation, no sales people - Sign up here for free baseball picks. Also, for a limited time only get three MLB handicappers for the price of one. Click here for details.
Read more articles by Trevor Whenham