MLB Handicapping and Betting Advice: Fading Older Pitchers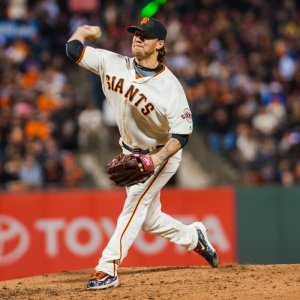 Baseball is a game of inertia. It is habit and routine, followed by more habit and routine, as players grind against a relentless 162-game schedule that is equal to playing two full, back-to-back NBA or NHL seasons.
The same can be said for baseball bettors, who careful and methodically try to whittle away some profit from the sportsbooks through the amazing amount of baseball games played in a given year. And one of the most common habits that a baseball bettor falls into is falling in love with certain successful pitchers and looking to bet them time and time again. Pitching matchups are everything in MLB betting, and it is far too easy to see an arm that you've backed for year and punch a ticket on that starter to come through for you again.
But time catches up with us all. And right now if you look at the standings for MLB starters money won/lost it's clear that there are a lot of formerly successful starters that are now either past their prime, completely out of form, and just burning money for backers seemingly every time they take the hill.
San Francisco's Matt Cain is the prime example of a guy that used to be an easy money wager. From 2009-2012 Cain was one of the best pitchers in baseball, posting a solid 55-35 mark while the Giants went 79-52 in all of his starts combined. Cain has been an unmitigated disaster this season, though, sporting a 7.84 ERA while the Giants have gone just 1-5 in his six starts. This comes on the heels of two injury-shortened seasons in 2014 and 2015 in which the Giants won just 10 of his 29 starts.
The fact is Matt Cain may not ever return to the form that had him as a Cy Young candidate. And it is essentially to the point where we should be looking to bet against him just about every time out. He is one of several aging arms that have been awful to start the 2016 campaign, and bettors need to embrace the reality that none of these former aces offer much value at the moment.
Here are five former reliable arms that have been awful to start the season, with each showing little reason for optimism moving forward:
R.A. Dickey, Toronto Blue Jays
Knuckleballers are extremely fickle and difficult to predict. But this former Cy Young winner is off to an ugly start to the year, posting a 5.18 ERA while the Blue Jays have gone just 1-6 in his last seven starts. By the numbers, Dickey was a stud from 2010-2014, going 67-54 with a 3.37 ERA for the Mets and Blue Jays. But last year he showed signs of decline, and this year he's just been downright bad.
Dickey has shown some signs of life. He has posted back-to-back quality starts, and it may just take him awhile to find a groove with his knuckleball. However, he turns 42 this year and you have to wonder how much he has left in the tank. Also, as strong as Dickey's base numbers have been, he hasn't been great at the window for most of this decade. The Mets went 22-11 during his Cy Young year of 2012. But other than that Dickey has failed to turn a profit for backers in each of the past five seasons, and he has the fourth-worst ROI (minus-$569) of any of the 188 starters in the league this season.
Jake Peavy, San Francisco Giants
Like Dickey, Peavy is a former Cy Young winner. And like Dickey, Peavy has been terrible to start this season.
Peavy is a notorious slow starter. His career numbers of 24-18, 3.76 in April are nothing compared to his 31-12, 2.92 career marks in September. But Peavy just looks tired every time he takes the mound and is struggling just to post even mediocre starts. It took him over 100 pitches to clear five innings (he allowed three runs) in a start against the Blue Jays on Monday. And that was one of his best starts of the season!
Peavy's ERA is 8.42 and he has allowed at least four runs in five of his seven outings. The Giants are 2-5 in his seven starts and he's been touched up for five home runs in his last two turns. Peavy and Cain have been killing the Giants - and their backers - this season. You could look at Peavy's near-.400 BABIP and say that he has just been unlucky. But anyone that's watched him hurl this year knows that teams are simply squaring him up and hitting him hard.
Chris Young, Kansas City Royals
Peavy's former Padre teammate was kind of a feel-good story last year for the Royals. The hulking 6-foot-10 righty was steady and successful for the Royals, winning 12 of his 18 starts and posting a 3.06 ERA for the world champions. Young was so good that he even garnered postseason starts, including a pivotal Game 4 outing in the World Series against the Mets.
Young's velocity has shriveled since his days as a big thrower in San Diego. And his attempts at craftiness aren't fooling anyone this year. The Royals are just 2-5 in his seven starts and his ERA is creeping up near 7.00. He allowed five home runs on Monday to a Yankee lineup that had been struggling mightily, and I just don't see any way that Young will make it to the All Star Break as a guy taking the ball every fifth day. Bet against him while you still can because I expect Young to head back to the bullpen sooner rather than later.
Scott Kazmir, Los Angeles Dodgers
It is becoming more and more apparent that Kazmir's big comeback year of 2015 was an aberration. He gave up a first pitch leadoff home run to Curtis Granderson (who is awful) on Monday, and that set the tone for another loss for Kaz. The Dodgers are now just 2-5 in his seven starts and he is sporting a 5.54 ERA to this point in the season.
Kazmir, who was an up-and-coming ace and former All-Star back in Tampa Bay, has posted an ERA of 4.00 or higher in five of the last seven seasons. Apparently Oakland is the only place in which he can be effective as Kazmir went 15-9 with a 3.55 ERA with the A's in 2014 and was 5-5 with a scant 2.38 ERA last year before being traded to the Astros, where he struggled down the stretch (2-6, 4.17 ERA).
Beyond that time in Oakland, Kazmir has been a wreck. His strikeout numbers this season are encouraging. But he has already allowed nine home runs despite playing in pitcher-friendly Chavez Ravine. The lefty has been equally bad at home (5.17 ERA) and on the road (5.82 ERA), and if he doesn't get things going by the end of this month I would expect the Dodgers to start looking for better options.
James Shields, San Diego Padres
James Shields gave up a home run to Bartolo Colon - yes, THAT Bartolo Colon - in his last outing. Honestly, what more do you need to say about how things have gone for Shields to start the year?
Unlike the rest of the guys on this list, Shields actually has some good numbers at this point in the campaign. He has just a 3.60 ERA and has made five quality starts. He's not throwing the ball poorly at all. However, the Padres are just 1-6 in his seven starts and are just 8-20 in Shields' last 28 outings since June 4, 2015.
No, you can't pin the fact that the Padres suck solely on Shields. But the fact is that Shields is a guy that garners a lot of respect - deservedly so - from the sportsbooks whenever he takes the mound. From 2011-2014 he was one of the best bets in baseball, with his teams going an outstanding 84-50 in his starts. But without proper backing from the Friars it might be time to start walking sideways away from this former ace.
Doc's Sports is offering $60 worth of Robert Ferringo member's picks absolutely free - no obligation, no sales people - you don't even have to enter credit card information. You can use this $60 credit any way you please for Ferringo or any handicapper and any sport on Doc's Sports Advisory Board list of expert sports handicappers. Click here for more details and take advantage of this free $60 picks credit today .
Read more articles by Robert Ferringo