MLB Handicapping: White Sox Off To A Surprise Start
by Robert Ferringo - 4/18/2016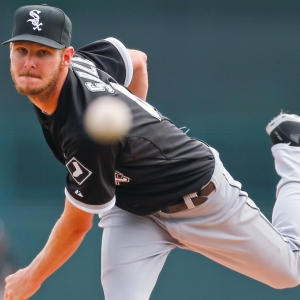 All winter and early spring long we heard about the great baseball we should expect to see coming out of Chicago this seasons.
What people failed to mention was that it would be coming from the White Sox.
After a whirlwind offseason followed up last year's trip to the National League Championship Series, the Chicago Cubs entered this season as the actual - and sentimental - favorite to win the 2016 World Series. They've gotten off to a brilliant 9-3 start and the Cubs are going to be one of the top storylines throughout the summer.
But the "other" team in Second City, the White Sox, have quietly gotten off to a strong start of their own. The White Sox are 8-4 and currently tied for first place in the American League Central. Granted, it is early; way too early to jump to any solid conclusions over what this season will hold. But the more I look at this White Sox team the more I think that Chicago could be the epicenter of the baseball world this summer.
Chicago's expectations for this season are nil. Las Vegas set the White Sox's season win total at 80.5 and their odds to win the Central were a hearty 6-to-1, placing them fourth of the five teams in that division.
However, I think that this team entered the year with a bit of a chip on its shoulder after spending the last five months hearing all about how great their rivals from the north side of the city were expected to be. The White Sox have been able to channel that focus through the season's first two weeks and they've been one of the most profitable early season squads for their backers.
There is no secret to Chicago's success this year. Their pitching has been fantastic, with the team posting the No. 3 ERA (2.49) and No. 3 WHIP (1.01) in the Majors. Nine of their 12 games have featured a quality start and their top four starters each have an ERA below 2.60. Also, the White Sox currently have the No. 1 bullpen ERA in baseball (1.61) and they've blown just one save.
In the rotation, free agent pickup Mat Latos has been great...so far. He's allowed just one run in his two starts and just four hits through 12 innings. From 2010-2014 Latos was a stud in the National League, posting a four-year ERA of just 3.25. But he flaked out last season in Los Angeles and Miami, seeing time with three teams and putting up a horrid 4.96 overall ERA. But he's been sharp to this point and that could carry through for a bounce back campaign.
Chris Sale, who for my money is one of the four or five best pitchers is baseball, already has three wins and could be on pace for the Cy Young campaign that I know he has in him. But the key has been the emergence of fellow lefties Carlos Rodon and Jose Quintana, who have combined to average a strikeout per inning while allowing just seven earned runs in their four combined starts.
The bad news for the White Sox is that they still can't hit. Chicago is batting just .228 as a team and they are 24th in scoring at just 3.25 runs per game. Key free agent pickup Todd Frazier has been a dud (as I predicted) and is hitting just .163 while their two catchers, Alex Avila and Dioner Navarro, are a combined 4-for-41. So everything isn't exactly rosy for the Southsiders.
Those offensive numbers have to be troubling for a team that was No. 28 in the league in scoring last year. On the one hand, they can point to the fact that Jose Abreu and Frazier haven't gotten going yet. But on the other hand, the White Sox only hit .250 last year and only one of the guys that they brought in to turn that around - Brett Lawrie (.333), Jimmy Rollins (.216), Frazier (.163), Avila (.136) and Austin Jackson (.200) - have contributed offensively in this campaign.
Part of Chicago's early season success has come from a favorable schedule. They haven't played many home games (just two of 12) but they also haven't faced any team that's over .500.
The White Sox are going to have to prove their mettle over the next two months, though, as they are shackled with one of the toughest schedules in baseball. More than half (37) of their 71 games from April 22 to June 27 are against teams that made the postseason last year. Another 31 games are against Baltimore, Boston, Cleveland, Detroit and Washington, all of whom are currently at .500 or better sporting a combined 35-21 mark (.625) so far this season.
Only three of their next 19 series - this week's four-game set against the Angels, an early May homestand against Minnesota, and a late may trip to face the Mets - will be against teams that are currently below .500.
Maybe I'm prematurely climbing onto the White Sox bandwagon. But then again, I think the pitching staff could be for real. And if they can get some of their veteran bats going then the Sox lineup should be considerably better than last year's pop gun group.
For good or ill, this is going to be a team to track closely over the next two months. If they are going to exceed their modest expectations then they will be an extremely valuable underdog against their loaded schedule. If the White Sox are headed for a nosedive then their early season success should fatten up this calf before it is led to the slaughter.
Regardless, the Cubs won't be the only team in The Windy City worth tracking as the weather warms.
Robert Ferringo is a professional sports handicapper for Doc's Sports. He is considered one of the top MLB cappers in the country and has turned a profit in three consecutive baseball seasons (and six of his last eight). Robert closed 2015 with an amazing $11,400 in earnings over the last four months and this summer will try for four straight profitable years. He is looking forward to a great upcoming season against the MLB odds. Click here for more information on his MLB picks.
Read more articles by Robert Ferringo