Nathan's Hot Dog Eating Contest Odds and Expert Betting Predictions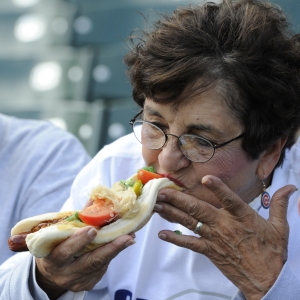 Why? Every time I see the highlights of the Nathan's Hot Dog Eating Contest on July 4 I ask myself why in the world this exists. I once made the mistake of watching the whole contest. It's years later and I still haven't recovered. It's just plain disgusting - a spotlight for freaks. There are odds on it, though - I'll bet on the most disgusting humans on the planet if the price is right. So, is the price right? Let's take a look.
Before we get into the showdown that awaits our nightmares, let's make sure we know what we are talking about. These freaks have 10 minutes to eat as many hot dogs and buns as they can. They can use condiments, but they don't have to - and no one does. The record is 69 hot dogs and buns. That's just short of seven per minute - one every eight and a half seconds. To accomplish this ridiculous feat, most competitors use a dunking method. By dunking the bun in water before eating it's easier to swallow. It tastes disgusting, I'm sure, but it's easier to swallow. The event went through a quantum change at the turn of the century. In 2000 a record was set with 25 hot dogs consumed. The next year Takeru Kobayashi appeared and fully doubled the record, eating 50 and changing the 'sport' forever.
Kobayashi won the event six years in a row but hasn't won since. He was right in the mix the next three years - including losing a five hot dog eat-off to break a tie. Since then, though, he has not been able to compete because of a contract dispute between the event and a rival competitive eating organization - you can't make this stuff up. He has regularly held his own shadow event nearby. The man who took over the crow was Joey Chestnut, who won eight years in a row before a shocking upset last year to Matt Stonie. Those two are heading for another clash, and it is that battle of the titans that we will look at:
Joey Chestnut (+135 to win at Bovada): Chestnut is 32 years old and is a professional competitive eater. He holds a host of revolting world records, including eating 12.8 pounds of deep fried asparagus in 10 minutes, 13.76 pounds of pork rib meat in 12 minutes, and 141 hard boiled eggs in eight minutes. He owns the current Nathan's record of 69 and also set records of 66 and 68 previously. He set the record in 2013 and has eaten 61 and 60 since. Last year's setback could have been driven by personal drama. He proposed to his girlfriend following the 2014 win, but the relationship soured before last year's contest. Hard to believe that someone wouldn't want to marry a guy who eats in bulk for a living, but so it is. Can he shake off his rough patch and climb back into record territory? Or is his body finally rebelling and limiting the damage he can do to it? The record involved eating more than 18,000 calories, 1200 grams of fat, and 50,000 milligrams of sodium, so you'd understand if the body had had enough. He said he is newly hungry (pun intended by him, I'm sure) after the setback last year, so we'll have to see what happens - poised on the edge of our seats.
Matt Stonie (-175): Like Chestnut, Stonie is from the San Jose area - which makes you wonder what the hell they put in the water out there. Stonie is the top-ranked professional eater in the world right now, possessing thoroughly charming world records such as 10 pounds of pasta and sauce in eight minutes, 182 slices of bacon in five minutes, 20.8 pounds of pumpkin pie in eight minutes, and 10.5 pounds of frozen yogurt in six minutes. Seriously - imagine eating just one of those things with no time limit. It would kill you. This guy is a freak. He's also a big YouTube guy, with one of his most popular videos featuring him eating 25 Big macs - and not dying on the spot. My favorite part of this story is that he is apparently in college right now studying nutrition with a desire to be a dietitian. He was second in this event two years back before pulling off the win this year. He's the hotter competitor right now, but the price is far from great.
The bottom line: Chestnut has long complained that he lacked a true rival. He has one now. He's had another year to get his personal life in order, and he has the proven track record and the world record. Stonie won with 62 last year, but Chestnut has tied or beaten that mark five different years. At the price I'll take the proven underdog. And eat salad for dinner every night this week.
Get free picks from any Doc's Sports handicapper - there is no obligation for this offer and no credit card required. Just sign up for an account, and you can use the $60 in free picks for any Doc's Sports Advisory Board handicapper and any sport. Click here to get started now.
Read more articles by Trevor Whenham