NBA Finals Expert Predictions for Best Props on the Board Cleveland vs. Golden State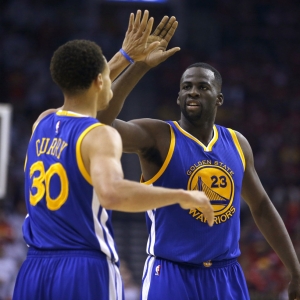 The Cleveland Cavaliers and the Golden State Warriors will meet in the NBA Finals for the second straight season. The Cavaliers went down in six games last season, and according to BetOnline the picture is not so bright for a reversal of fortunes this year as +180 underdogs on the series price odds for this year's best-of-seven matchup.
One interesting fact surrounding this series is that this will be the fifth time in NBA history that the same two teams met in the Finals in back-to-back seasons. Looking back at the previous four times, the outcome resulted in a split in three of those rematches. BetOnline has also released some prop bets odds for this series, and I have done my best to find the value in the actual numbers.
2016 NBA Finals- Exact Series Outcome
As mentioned, Cleveland is a +180 underdog with the betting moneyline on Golden State set at -210 as the favorite. Picking the exact outcome of this series favors Golden State in seven games at +300, and the longest odds for this series prop is the Cavaliers in a four-game sweep at +2500.
I think is safe to assume that neither team is going to pull off a sweep. Cleveland made an impressive 12-2 straight up run to this year's Finals that did include sweeps of Detroit and Atlanta before needing six games to get past Toronto in the Eastern Conference Finals.
Golden State rolled past both Houston and Portland in five games even with league MVP Stephen Curry less than 100 percent with ankle and knee injuries. He found his form just in time against Oklahoma City after the Warriors fell into a 3-1 hole in the Western Conference Finals. The big question in my mind is how much did that dramatic comeback take out of this team from both a physical and mental standpoint.
The Cavaliers were short-handed last season against Golden State with LeBron James trying to carry most of the load. This time around both Kyrie Irving and Kevin Love are healthy and playing some of their best ball of the year. Doubt had to have creeped into the minds of the Warriors after losing three of four games to Oklahoma City, and this only proved that Golden State can still be beat over the course of a seven-game series.
I already have this showdown going the full seven games at +190 betting odds for another one of BetOnline's series props, so I am going to parlay that pick with Cleveland's +700 betting odds that it turns the tables this year to become the fourth team in NBA history to grind out a split after losing the championship to the same team the season before.
2016 NBA Finals- Series MVP
The betting odds for this player prop strongly suggest that if Cleveland goes on to upset Golden State it will be on the shoulders of LeBron James. His odds to win MVP of the 2016 NBA Finals have been set at +225. The odds for Kyrie Irving are listed at +800 as a fourth favorite and Kevin Love's odds to win are set at +2000. Also on the list for the Cavaliers are JR Smith at +5000 and Tristan Thompson at +10000.
Stephen Curry was the unanimous MVP of the league during the regular season, so it is easy to see why he is a -130 favorite to add some more hardware to the collection as the MVP of this series. His backcourt mate Klay Thompson is third on the list at +500, and the colorful Draymond Green is fifth at +850 betting odds. Rounding out Golden State's list is Andre Iguodala at +3300, Harrison Barnes at +5500 and Andrew Bogut at +8000.
This is not to say that other than James for Cleveland or Curry for Golden State that any of the other players on this list have zero chance to win series MVP, but the star power of the both of these players in this season's playoffs is already through the roof. It would be hard to see either team win without its marquee star playing at a very high level.
This will be LeBron's seventh straight trip to the NBA Finals. And while his team has won only two of his first six appearances, he was named MVP both times. Curry will be looking for his second straight NBA title, but this would be his first MVP award after Iguodala earned those honors in last season's victory.
Since I am already out on a limb with Cleveland in seven as a series underdog, I am going to try and cash in on the added value in LeBron's MVP prop odds at +225.
Read more articles by Dave Schwab