NCAA Football National Championship Game Betting Advice: Keys to Clemson Win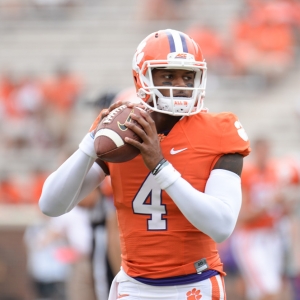 We're down to just two teams in the world of college football. I'll be totally honest when I say that this was not the final I was looking for or expecting. Alabama seemed inevitable, but Oklahoma was, in my eyes, a much better team than they showed in the semis. That's why they play the games, I guess. As this game has drawn closer, though, I have become more excited about the matchup - and more optimistic about the chances of Clemson to pull off an upset. If they want to do that, though, there are three things above all others that are going to be keys to their success - and, as you will see, two are very closely related:
Remaining calm: Alabama plays in the title game pretty much every year it seems. Even when they don't, they play in massive games and operate constantly in the public eye. There is absolutely nothing new to them or their program about what they are going through and what they will go through leading up to this Championship Game. Clemson doesn't have that going for them. They haven't won a national title since 1981. They don't have a lot of experience winning them on staff, either - the closest they get is defensive coordinator Brent Venables, who won a title with Bob Stoops at Oklahoma in 2000. They have been playing at a high level the last couple of years, but nothing like what they are seeing now.
I have absolutely no concerns about how Alabama will handle the pressure. I can't say the same about Clemson. The only thing that matters is getting ready for the toughest game they have ever played. If they can focus on that without freaking themselves out then they have a much better chance than if the situation gets the best of them.
Protecting Watson: The Alabama defensive line is ridiculously, impossibly deep. They really couldn't be much better. Connor Cook was the latest quarterback to find out how much trouble that can be. Chances are very good that the Tide will be very aggressive from the first snap. They want to force opposing quarterbacks to be uncomfortable. The Clemson offensive line is going to be tested like they haven't been before. They have a trick in their own pockets, of course. Deshaun Watson is far more mobile than the average quarterback, and he is effective at passing when flushed from the pocket. In past big games Alabama has been shown to be vulnerable to similar guys - Cam Newton and Johnny Manziel both had huge days against the Tide. Neither Newton nor Manziel faced a defensive line as deep or aggressive as this one is, though. If the Clemson offensive line can't handle Alabama early - or if they get worn down later in the game - then that will probably define the way the game turns out.
Alabama has 50 sacks on the year already. If they get to Watson early and often then his feet won't be able to save him enough, and the game will be very tough for Clemson to win. If the offensive line holds up, though, or if the offensive game-planning is able to counteract the inevitable power of the defensive line, then the Tigers could be in good shape. There is no bigger factor in this game than this one.
Keeping Alabama guessing: If the Tigers can protect Watson then they have to focus on using him as the weapon he is. He is so dynamic that he can do so many things well. They have used him heavily as a passing threat or, as they did against Oklahoma, as part of a dynamic one-two punching running attack. He can play in the pocket or move as he needs to. He is the ultimate dream of an offensive coordinator.
Against Oklahoma, and especially in the second half, his versatility was incredibly frustrating for the defense. They did a solid job of shutting down his passing options, so he ran them into the ground. He's like a monster with five heads - chop one off and four more are ready to bite you. Michigan State got flustered by what Alabama was doing, and they got very predictable as a result. The Tide knew exactly what to expect, and they were completely ready for it. It became far too easy. That is the trap that Alabama sets. If the Tigers fall into the same trap then they will lose badly. They need to exercise their huge advantage at quarterback in this one and be the ones who are, as much as possible, setting the tone offensively.
Read more articles by Trevor Whenham