2016 Pittsburgh Pirates Predictions and Odds to Win the World Series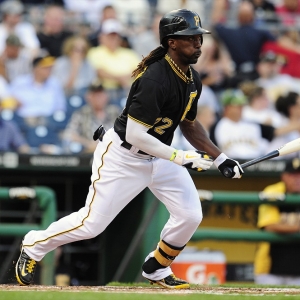 I'm starting to actually feel sorry for the Pittsburgh Pirates.
It's a small-market franchise that has done just about everything as well as possible given the financial restraints. It built from within and plays in maybe the most gorgeous stadium in baseball, PNC Park. But the Pirates just can't seem to get over the hump in the National League and they aren't ever going to be in a position to add a big-ticket free agent to help the cause. And now the Pirates play in the majors' best division, the NL Central, with the powerhouse Chicago Cubs and St. Louis Cardinals.
Free $60 in Member MLB Picks No Obligation Click Here
Last year, the Pirates finished second in the majors in wins with 98. But that was only good enough for second in the Central and a home wild-card game with the Cubs. That meant a matchup against Cy Young Award winner Jake Arrieta, who pitched a five-hit shutout in a 4-0 Chicago win. It was the second straight year the Pirates' season has ended at home in the wild-card game against one of the best pitchers in baseball; in 2014 it was the Giants' Madison Bumgarner who pitched a four-hit shutout. Pittsburgh is looking to advance past the NLDS -- it lost in five games in the 2013 NLDS to the Cardinals after winning a home wild-card game -- for the first time since losing that epic 1992 NLCS to Atlanta.
The good news is that the Pirates have the talent to finally win another pennant. The bad news is that it likely will take the wild-card route again. Pittsburgh opens the season on April 3 at home vs. St. Louis.
Pirates 2016 Projected Lineup
There look to be two changes in the every-day lineup from last season. One is at first base as the Pirates said goodbye to Pedro Alvarez (non-tendered). He led the team with 27 homers but really had become a platoon player because he hits for a very low average and strikes out a ton.
The other is at second base as Neil Walker was traded to the Mets for pitcher Jon Niese. Walker hit .269 with 16 homers and 71 RBIs last season but this was a walk year and he likely would have been out of the team's price range. The Pirates could put either Josh Harrison or Jung-Ho Kang at second with the other at third base.
Kang, who probably plays the hot corner, suffered a major knee injury and a broken leg when the Cubs' Chris Coghlan slid into him while trying to break up a double play on Sept. 17 at PNC Park. By current rules, it wasn't dirty but MLB is expected to alter the rules on players sliding into second before the 2016 season partly as a result of that injury. Kang had a fantastic rookie season, batting .287 with 15 homers and 58 RBIs. He has rods and plates in that leg/knee and it's not thought he will be ready for Opening Day but it's not impossible. The Pirates estimated a 6-8 month recovery time after Kang's surgery, which meant any time between mid-March and mid-May.
Pittsburgh might have the best all-around outfield in the majors in perennial MVP candidate Andrew McCutchen in center field, rising star Gregory Polanco in right and Starling Marte in left. McCutchen is on one of the best contracts in the majors but that runs out after 2018. He probably will cost too much to stick around unless he takes a discount.
So the lineup looks like this: Polanco, Harrison at second, McCutchen, Marte, John Jaso/Michael Morse platoon at first, Kang at third, Francisco Cervelli at catcher and Jordy Mercer at shortstop. The Pirates ranked 11th in runs last year.
Pirates 2016 Projected Rotation & Closer
This team was carried by pitching last year with a 3.21 ERA that was second in the majors and 92 quality starts, which were sixth. The bullpen was fantastic, going 31-16 with an MLB-best 2.67 ERA. The Pirates were 83-1 when leading after eight innings and 79-1 when leading after seven.
The top two in the rotation return in Cy Young candidate Gerrit Cole (19-8, 2.60) and lefty Francisco Liriano (12-7, 3.38). That's very good, but then the problems arise. All-Star righty A.J. Burnett retired. Charlie Morton was traded. Late-season pickup J.A. Happ, who was unbelievable with the Pirates, left as a free agent. So you are looking at a No. 3-5 most likely of Jeff Locke (8-11, 4.49), Niese and Ryan Vogelsong. Niese was 9-10 with a 4.13 ERA last year in New York. Vogelsong was 9-11 with a 4.67 ERA despite pitching often in pitcher-friendly AT&T Park in San Francisco. All I can say is that Cole and Liriano better be fantastic and stay healthy.
Mark Melancon is one of the best closers in baseball and had 51 saves last season. He's back. Two set-up men, Antonio Bastardo and Joakim Soria, left in free agency. They could be missed. The team took a flier on former Rangers All-Star closer Neftali Feliz in free agency to bolster the pen.
Pirates Futures Odds & 2015 Trends
At BetOnline, Pittsburgh is +2000 to win the World Series and +1000 for the NL pennant. The Pirates have an "over/under" wins total of 87, with both options at -110. McCutchen is +10000 to win the majors' home-run title. Pittsburgh was 73-89 against the spread last season and 75-75-12 O/U. On the moneyline, the Pirates were +2135 units on the year.
Pirates 2016 Predictions
FanGraphs projects Pittsburgh to finish 84-78 and tied for second in the NL Central, 10 games behind the Cubs. The lineup looks very good as long as Kang gets back 100 percent and wasn't a first-year fluke. I like Cole and Liriano and think Niese will be solid enough, but I have no faith in Locke or Vogelsong. Can the Pirates afford to deal for a starter if need be or would they call up top prospect Tyler Glasnow? The bullpen is in good shape.
No pennant again this season, perhaps another wild-card spot, and I'll go slightly over the wins total. It helps the Pirates (and Cubs and Cardinals) get to beat up on the sorry Brewers and Reds 38 times a year.
Read more articles by Alan Matthews