2016 San Francisco Giants Predictions and Odds to Win the World Series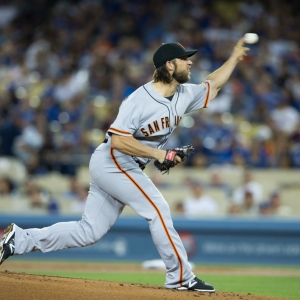 It didn't exactly take a genius to realize that the San Francisco Giants were going to miss the playoffs in 2015. After all, it was an odd-numbered season.
The Giants finished 84-78, second in the NL West and eight games behind the Dodgers. They stayed in the race in the division until a closing 15-19 run. The playoffs were never an option as they were 13 games out of a wild-card spot because the NL Central was so good. It's the third time this decade that San Francisco missed the playoffs in an odd-numbered year.
Free $60 in Member MLB Picks No Obligation Click Here
The Giants saw a ton of injuries to their rotation last year, other than to ace Madison Bumgarner. And one of their best offensive players, outfielder Hunter Pence, could barely stay on the field. It's credit to Manager Bruce Bochy, one of the best in the business, that this club won 84 games. The team did get breakout seasons from rookie pitcher Chris Heston as well as shortstop Brandon Crawford and rookie third baseman Matt Duffy
San Francisco opens the season April 4 at Milwaukee and, not surprisingly, already has named Bumgarner as the starter. I probably don't need to tell you that the Giants have won the World Series in the past three even-numbered seasons. They were not favorites for any of those titles.
Giants 2016 Projected Lineup
This probably will never be a dynamic offensive team post-Barry Bonds because AT&T Park is one of the most pitcher-friendly in the majors and the team builds its roster that way. The Giants ranked 12th in MLB in runs last year and hit only 136 homers, which tied for 26th. Without a healthy Pence, the Giants had one of the worst offensive outfields in baseball and they said goodbye to slap-hitting Nori Aoki and late-season addition Marlon Byrd this offseason. No real losses there.
The main lineup addition was Denard Span, and he'll play center field and leadoff. Span's a very good player but largely languished on the free-agent market because he was injury-prone in 2015. He batted .301 with five homers, 22 RBIs and a .365 on-base percentage in 61 games. Span has averaged 9.34 plate appearances per strikeout the past five seasons, the fourth-best figure among big league outfielders. That's what the Giants want: contact hitters.
Second baseman Joe Panik (.312, 8 HRs, 37 RBIs) follows him. Good player. Then comes the team's most important guy, catcher Buster Posey (.318, 19 HRs, 95 RBIs). You wonder how much longer the Giants will keep him at catcher, the most physically grueling position in MLB, instead of moving him to first base full-time like the Twins did with Joe Mauer. Posey will be 29 later this month. He got 394 at-bats last year as a catcher and 146 at first. Expect similar splits.
Pence (.275, 9 HRs, 40 RBIs) will play right field and bat fourth. He broke his arm early last spring and kept getting hurt, playing in only 52 games. He already has some Achilles' issues this spring. I have little confidence he plays 100 games.
Few teams have a better left side of the infield than San Francisco, with Duffy (.295, 12 HRs, 77 RBIs) batting fifth and Crawford (.256, 21 HRs, 84 RBIs) in the No. 6 hole. Duffy would have been in the Rookie of the Year conversation many years but not with Kris Bryant around in 2015. Crawford, who won a Gold Glove last year, was rewarded with a big extension this offseason. First baseman Brandon Belt (.280, 18 HRs, 68 RBIs) and left fielder Angel Pagan (.262, 37 RBI) round out the lineup. Both those guys were unable to play 140 games last year due to injury.
This lineup is pretty solid 1-8 with no glaring holes. No guy who terrifies you except maybe Posey. And probably no one who hits 25 dingers unless Belt plays in 155 games. But it won't strike out a ton and will get on base -- a West Coast version of the Royals.
Giants 2016 Projected Rotation & Closer
Bumgarner and Heston were the only Giants pitchers to make more than 22 starts or qualify for the ERA title in 2015. The team has said goodbye to three members of that rotation in Tim Hudson, who retired, Mike Leake, a trade acquisition from Cincinnati last July, and Ryan Vogelsong. Tim Lincecum also has moved on, but he hasn't been good for a few years.
The lefty Bumgarner (18-9, 2.93) is one of the Top-10 pitchers on the planet and is a playoff marvel. He's also on a tremendously team-friendly contract and a very good hitter. The Giants spent big to fortify that rotation on free-agent right-handers Johnny Cueto (11-13, 3.44) and Jeff Samardzija (11-13, 4.96) to slot in at No. 2 and No. 3. Both took their lumps in the AL last season, especially Samardzija with the White Sox. Cueto had some regular-season struggles after being traded to the Royals but looked good in the playoffs. The Giants figure a return to the NL and pitching half their games in AT&T Park will return each to previous form. Cueto took a scary line drive off his head in Cactus League action on Monday. He escaped with just a contusion, but might he now wear one of those unique helmet/hats while pitching?
Jake Peavy (8-6, 3.58) slots in at No. 4 and he's just a six-inning guy at this point. The No. 5 will either be Heston (12-11, 3.95), who threw a no-hitter last year, or Matt Cain (2-4, 5.79). He has been a mega-bust since signing a huge contract a few years ago. Cain can't stay healthy and had surgery to remove a cyst from his right arm last month. He was expected to make his spring debut this weekend. Expecting anything from him at this point is not wise. He probably starts the year on the DL again.
The bullpen lost lefty setup man Jeremy Affeldt to free agency but still has stud righty Sergio Romo ahead of closer Santiago Casilla (38 saves, 2.79 ERA). It's not impossible the Giants bring back Lincecum, a fan favorite, for a bullpen role if he remains out there.
Giants Futures Odds & 2015 Trends
At BetOnline , San Francisco is +900 to win the World Series, +450 for the NL pennant, +125 in the NL West and has an "over/under" of 88.5 wins, with both at -115. Bumgarner is +1000 to win the Cy Young with Cueto at +2000 and Samardzija at +5000. That the Cy Young winner comes from the Giants is +500. Posey is +1200 to NL MVP. The Giants don't have any players on the prop to lead the majors in homers and they shouldn't.
Giants 2016 Predictions
FanGraphs projects San Francisco to finish 87-75 and second in the NL West, six games behind the Dodgers. Is there one World Series team more reliant on just two players -- Posey and Bumgarner -- than the Giants? I mean, the Cubs could lose Jon Lester and Anthony Rizzo, for example, and still be a contender. San Francisco 100 percent has to keep both those guys healthy. The infield is excellent, but the outfield is blah. Rotation looks pretty good 1-3. Bullpen very solid. I'm going under the wins, believe Giants finish third in the NL West and miss the playoffs. No individual awards.
Want free sports betting picks? Doc's Sports has you covered - get $60 worth of picks free from any of Doc's Sports expert handicappers. Click here for free picks (new clients only).
Read more articles by Alan Matthews