Super Bowl Handicapping: Carolina Panthers and the Cover-2 Defense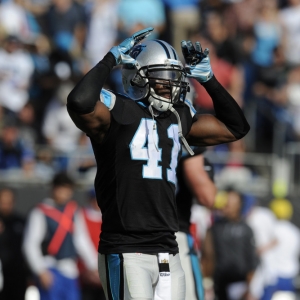 There are a million different angles to take leading into Super Bowl 50 between Carolina and Denver, which will kick off at 6:30 p.m. on Sunday near San Francisco. But for me, one of the most interesting subplots - which is interesting to exactly zero other people - is whether or not Carol ina's Cover-2 will finally get the best of Peyton Manning, and whether the Panthers' success in making it to Super Sunday will lead to a resurgence of the Cover-2 defense. I have written several times over the past three years that the Cover-2 is an antiquated system and ready to go the way of the Wishbone and the Run-and-Shoot. But could a Super Bowl win by the Panthers lead a revival for this dying approach?
The first thing to understand about the Cover-2 is that it isn't just a defensive scheme. True Cover-2 teams are banking on a football philosophy, and that's one of the reasons that it has failed in so many places recently, including the end of the Cover-2 era in Chicago and the most recent lackluster effort in Tampa Bay.
In oversimplified terms, the Cover-2 defense is a bend-but-don't-break approach. Teams play two-deep safeties, rarely blitz, and the goal is to sit back and try not to get beat by big plays. They allow checkdowns and underneath routes, and the soft spots in the Cover-2 are in a hollow spot about 12 to 15 yards down the field over the heads of the linebackers and in front of the safeties.
Cover-2 teams give up tons of first downs and can give up a lot of yardage because they play a little softer. But the idea is that it is difficult for a normal NFL offense to execute well enough to sustain eight-, 10- and 12-play drives that feature five, six or seven first downs. Cover-2 defenses are banking that the opposing offense will screw something up during that time: one holding call, one sack, one missed throw or dropped pass, one third down play that gets tackled in front of the sticks, or a failure in the red zone that leads to three points instead of seven. All of that leads to a win for the defense. It is simple. But it is effective. Because like it or not, discipline, competence and execution are in short order in the NFL these days.
The Cover-2 or "Tampa-2" defense is one of the two more successful and defining defensive schemes of the NFL over the last 20 years. The Tampa Bay Buccaneers and Baltimore Ravens around the turn of the century, the dominating Chicago Bear defenses of the aughts, and now the Carolina Panthers are all examples of the Cover-2 played at an elite level. And there have been a host of other teams who adopted the approach with the goal of copying that level of success. Kurt Warner's Rams and Peyton Manning's Colts were also Cover-2 teams that dominated the last decade. Granted, their success was based more around their offensive exploits. But the Rams and Colts were both Cover-2 teams that won because they said, "Our quarterback is going to be better and make less mistakes than your quarterback so we will tailor our defense to reflect that."
But that leads to a key point about Cover-2 as a team philosophy. If the crux of your defensive approach is, "They will make more mistakes than we will" then that seeps into the offensive side of the ball as well. The most successful pairing to a Cover-2 defense is a consistent, mistake-free, usually conservative offense. Again: don't make mistakes and sit back and wait for your opponent to implode. That is the overriding belief system in this style of football. Sit back, be patient, be fundamental, and make fewer mistakes than your opponent and you will win a lot more games than you lose. And it was devastatingly effective.
You can't be a Cover-2 team if your offense is turning the ball over, or your quarterback isn't accurate enough to sustain drives on your own. That's been the crippler for wannabe Cover-2 teams in recent years: their offenses stink. If your offense isn't playing physical, time-consuming, mistake-free football then eventually the soft spots in the Cover-2 will be exposed.
Basically, the Cover-2 falls apart when you make mistakes while playing a style that predicated on your opponent screwing up more than you do. (See: Cutler, Jay.) And teams that have tried to go to a Cover-2 in the last five years have, for the most part, been spectacular failures. If the Cover-2 has resurgence we will again see more failures than successes.
The yin to the Cover-2's yang can best be characterized as "Blitzburg", the blitz-heavy 3-4 schemes that have been employed with varying levels of success during the same 20 years. Where the Cover-2 is a more passive approach, the 3-4 Blitzburgh approach is obviously much more aggressive. Blitzburgh teams want to dictate to the offense rather than react to it. Those teams will play man-press, bring their safeties closer to the line of scrimmage, and will risk giving up a big play because they figure that they will make some big plays of their own, while also making the offense consistently uncomfortable.
The Steelers and early-aughts Patriots are the two paragon examples of this approach. The peak San Diego Charger teams, the Miami Dolphins, and the Dallas Cowboys (who actually shifted away from the 4-3 scheme they had used for 50 years when Bill Parcells came on in 2003) are other examples of teams that successfully utilized the 3-4 Blitzburgh approach in the last decade. For more recent examples, San Francisco and Arizona have relied on the "Blitzburg" philosophy for their success in the last few years.
(This is a fundamental philosophical reason why Tom Brady's Patriots dominated Peyton Manning's Colts in the past decade. There are two things that can shred the Cover-2. The first is supreme physical talent. Guys like Randy Moss or Darren Sproles, with skill sets that can't be accounted for, tear up Cover-2 defenses. The second is a supremely accurate quarterback and an offense that can operate efficiently in the red zone. See, the Colts never dictated to Brady. They sat back waiting for mistakes that never came, whereas the Patriots played a more aggressive style that was able to cause discomfort for Manning. The Colts dominated the regular season in the 2000's because they could simply play teams close, sit back, not make mistakes, and know that Manning was going to be better than your quarterback over 60 minutes and thus give Indy the edge. They couldn't do that with the Patriots because Brady was at least Manning's equal.
That is why Cover-2 teams often flamed out in the postseason: the further along they went the more elite players they ran into. And elite players are such not only because of the plays they are capable of making, but because they don't make mistakes.)
In the past 10 years teams have shifted more towards aggressive, attack-oriented defenses. Quarterbacks nowadays are too accurate in the short passing game. And rules restricting defensive backs have made it harder to get red zone stops. As a result, you see more and more teams talking about "attacking" on defense, playing for sacks and turnovers at the expense of giving up big plays.
Which leads us back to the Carolina Panthers. It's not a mistake that Ron Rivera has turned Carolina into a Cover-2 team. He was an assistant and eventually a coordinator in Chicago when the Bears were dominating the NFC with one of the best defenses of the past decade. If you compare player-for-player, this Panthers defense matches up almost perfectly with those Chicago teams. Here is the basic breakdown of how to build an ideal Cover-2 defense:
First, you need two beefy, hulking defensive tackles to stop the off-tackle running game and to also clog up offensive linemen so that the second thing you need, a fast, smart, playmaking middle linebacker, is free to roam and make plays. Third, you need to ultra-athletic pass rushing defensive ends. Because Cover-2 teams don't blitz it's a must that you generate a rush with your ends. Fourth, you need a strong side linebacker that is good against the rush and a weak side linebacker that can both rush the passer and cover tight ends (think Thomas Davis, Lance Briggs, or Derrick Brooks). In the secondary, tall corners that can play bump-and-run and that are excellent in run-support. And finally, you need smart safeties that are great tacklers that refuse to get beat deep. That's how you build a Cover-2 defense.
Now look at the Carolina roster and tell me that isn't them to a 'T'.
At its peak - the Bucs, Ravens and Bears defenses that I've mentioned - Cover-2 defenses move past being just fundamentally sound, no weakness defenses. When run to perfection, Cover-2 teams can dictate to an offense, forcing negative-yardage plays and forcing turnovers. The Cover-2 can be smothering the way the Panthers run it because there's simply nowhere to go with the ball to relieve pressure and get big chunks of yardage. They have high-end players - Kawann Short, Jared Allen, Luke Kuechly, Josh Norman, etc. - that are capable of extraordinary feats while also executing the basics. That's an unstoppable combination.
Further, the Panthers have Cam Newton. He can make plays on his own and do things that Brad Johnson, Trent Dilfer and Jim Miller could only dream about. Think about the rest of the Carolina offense. Their offensive line is rock solid. But their skill players are mediocre and execute well within a pretty basic system. Sound familiar? Name me some of the guys on the 2000 Ravens offense? It is the recipe that those other Peak Cover-2 teams used to win championships.
And that is why I feel that Carolina's success is an anomaly and doesn't mark a reversion back to a time when at least one-third of NFL teams were playing the Cover-2. If the Panthers do win on Sunday then you can bet there will be imitators. But those teams are setting themselves up for failure. It took years to build and nurture this Panthers team into what it is. And they are operating at the highest level of the philosophy, like Tom Cruise in Scientology. That's rare. And I think that the flaws and weaknesses in the Cover-2 just don't make it a well-suited approach in the current NFL, where quarterbacks are more accurate and offenses more diverse.
There is one final thought on Carolina's Cover-2. I think that it is fascinating that Peyton Manning is the quarterback going up against the Last Stand of the Cover-2 because Manning is making a Last Stand of his own. Manning's career was defined by his play on a Cover-2 team in his prime, and ultimately the failings of the Cover-2 philosophy mirrored Manning's own failings in terms of team accomplishments.
But no one knows the weak spots in the Cover-2 more than Manning does. And his one Super Bowl title came against one of the best Cover-2 teams of the last quarter-century when he beat Chicago in 2007. What people don't talk about is that the Colts beat the Bears in Super Bowl XLI not because Manning was too much for the Bears defense. Manning beat Chicago because the Bears offense - led by totally inept turnover machine Rex Grossman - strayed from the approach and made way too many mistakes.
Manning knows how to beat Carolina's Cover-2. But does he still have the physical ability to do so? And mark my words: if Denver does pull the upset it will be at least in part because of mistakes made by Newton and the Panthers offense, not because Manning goes out there and lights up the Panthers.
Either way, one of these relics will have a final moment of glory before shuffling off into the annals of history. And watch how that final chapter is written for two of the defining fixtures of this era of football - Manning and the Cover-2 - is, to me, one of the most interesting subplots in a Super Bowl full of them.
Read more articles by Robert Ferringo