2016 Super Bowl Prop Bets to Avoid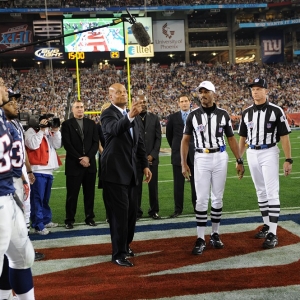 Super Bowl prop betting can be a fun and interesting way to wager on the game. And if trying to pick a side on this intriguing Carolina Panthers versus Denver Broncos matchup is giving you a headache, why not skip it all together? Prop bets are an excellent way to get action on the game and even find a little value if you do it right. However, prop bets can be tricky to wager on and many just fall into "sucker bet" territory. Let's take a closer look at Super Bowl prop betting and figure out which types of wagers to avoid and which offer the most value for the big game. The Super Bowl is scheduled for Sunday, February 7 at 6:30 p.m. EST on CBS.
Random Prop : when the general public hears about prop betting, they think about random prop bets that have little to do with the game. Many of those "entertainment props" get a lot of media attention, things like length of the "National Anthem", color of the Gatorade shower or the opening game coin toss. Those props can be fun, but they are all suckers' bets, particularly when you have to pay juice on each one. If you are looking to get a betting fix then go play blackjack or call your friends for a poker game. But betting on a coin toss isn't the correct way to make a profit on the Super Bowl. Here is a quick look at a few of the crazy and random entertainment props floating around:
Coin toss: heads or tails (-115 each)
How many times will "John Fox" be said during the broadcast? "Over/Under" 1
How many times will Archie Manning be shown on the broadcast? O/U 1.5
Will Peyton Manning announce his retirement in a post-game interview? No -1000
Who Will the Super Bowl MVP Mention first? Team +200, God +200, City/Fans +600
Cross-Sport Props : These props involve the Super Bowl and scores from other sports. You might find a bet comparing the number of points Carolina scores versus the number of points LeBron James will score the next night. Or the total of the game versus Kevin Durant's points, assists and rebounds during this next game. These cross-sport props can be fun, but they are too volatile to be serious money-making opportunities. However, I will not say they lack value, because if you follow sports closely and find a solid spot, why not bet it? The only warning is to no get caught up in these bets and only make one or two if you must. There is much better value actually wagering on the Super Bowl
Player and team Props : if you are looking to wager on prop bets, player or team props are the way to go. Most sportsbooks will have plenty of options and wagers to look at, and while all of them might not hold value, there are sure to be many excellent spots to wager on. Here is a quick look at a few player props for the big game:
Aqib Talib to record an interception: +250
Cam Newton over 100 rushing yards: +1000
Cam Newton 35 or more passes: -110
Panthers to score first: -145
Player props can tricky by nature because they require one specific thing to happen, so the key is to look for solid wagers with a positive payout. Taking Newton to go over 100 rushing yards during the game at +1000 is a solid bet with an excellent payout. However, try to avoid situation where you might have to pay too much juice. Carolina scoring first at -145 isn't necessarily a great prop to make since Denver can win the coin toss and march to the 35-yard line and kick a field goal.
Conclusion : props can be a fun way to wager, but if you are looking to make a profit on the game, skip the random props and go with situations that you can actually handicap to find solid value. Good luck, and may the spread be with you.
Want free sports betting picks? Doc's Sports has you covered - get $60 worth of picks free from any of Doc's Sports expert handicappers. Click here for free picks (new clients only).
Read more articles by George Monroy