Wild-Card Round MLB Betting Matchups & Odds with Expert Predictions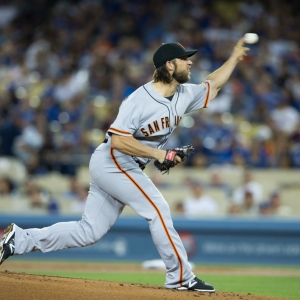 Want more proof that Major League Baseball is a "what have you done for me lately" sport when it comes to managers? Interesting story came out over the weekend that if the Mets had lost their game on Aug. 13 to the San Diego Padres that Manager Terry Collins would have been fired right then despite leading the team to the pennant last year. The Mets entered that Aug. 13 game on a four-game losing streak and had slipped one game below .500. But they overcame a blown save from Jeurys Familia with two outs in the ninth to win in 11 innings. Exactly one week later, the Mets won a game in San Francisco to end a three-game losing streak and they have the best record in baseball since. But I will be curious if Collins is in trouble should the Mets lose in the wild-card game on Wednesday. Check back here at Doc's on Wednesday for the ALDS Game 1 matchups on Thursday.
Orioles at Blue Jays (-150, 8.5)
This game is Tuesday with the winner getting the Texas Rangers in the AL Division Series. Both teams had to wait until Sunday to learn their fate. The Jays got in as the top wild-card team with a 2-1 win in Boston, while Baltimore beat the Yankees 5-2 behind a pair of two-run homers from catcher Matt Wieters. This could be his final game in an Orioles uniform as Wieters is set for free agency and is not likely to re-sign in Baltimore. He has been linked to the Braves as Wieters played his college ball at Georgia Tech and is from that area of the country. Could also be the final games in Blue Jays uniforms for sluggers Jose Bautista and Edwin Encarnacion as both are free agents and there's no way the team will sign both. I'd be surprised if either returns.
As of this writing, I have to speculate on the starting pitchers in the game as neither manager has said yet, but the line shouldn't change much as the Jays will be favored. It will either be Chris Tillman or Ubaldo Jimenez for the Orioles. Tillman (16-6, 3.77) last took the mound Wednesday in Toronto and gave up two runs (one earned) and six hits over 5.2 innings in a no-decision. Tillman went 13-1 over 17 starts from April 27 to July 21 but has struggled a bit to close the season. Overall, Tillman is 1-0 with a 3.63 ERA in four starts this year vs. the Jays and 8-3 with a 2.97 ERA on the road. Bautista is 12-for-25 career off him with three homers and 11 strikeouts. Encarnacion hits .293 against Tillman with three homers in 58 at-bats. Kevin Pillar is 8-for-23 off him with three dingers. Michael Saunders is 6-for-21 with two homers. Jimenez (8-12, 5.44) was maybe the worst starter in baseball in the first half of the season but has a 2.82 ERA after the break. He's 1-1 with a 6.43 ERA in 21 innings vs. the Jays this year.
Toronto will go with either Marcus Stroman or lefty Francisco Liriano. Stroman (9-10, 4.37) allowed four runs and nine hits over seven innings in a loss to the Orioles in his final regular-season start on Sept. 29. In four starts against Baltimore this year, he was 1-2 with an ugly 7.04 ERA. Stroman has pitched well since the beginning of August, posting a 3.28 ERA in his last 11 starts. Liriano (8-13, 4.69) was great in his final start, shutting out the Orioles on six hits with 10 strikeouts over 6.1 innings on Sept. 28. Since joining the Blue Jays at the trade deadline from Pittsburgh, he has a 2.66 ERA in eight starts and he has allowed just four earned runs in his last four starts. Liriano pitched great in the 2013 wild-card game for the Pirates in beating Cincinnati.
Key trends: The Orioles are 0-4 in their past four playoff games. The "over/under" has gone under in the past seven meetings. The under is 6-0 in Toronto's past six vs. the AL East.
Early lean: I think it will be Tillman vs. Stroman. The Jays won the season series 10-9 and hit 29 homers against the Orioles. I'll take them here. Go under.
Giants at Mets (-108, 6)
Game is Wednesday and the winner takes on the Chicago Cubs in the NLDS. I guarantee you that the Cubs are privately thrilled that each team's ace will go in this matchup and thus would likely only be available once in the NLDS. San Francisco clinched the second NL wild-card spot with Sunday's 7-1 home victory over the Los Angeles Dodgers. Of course the Giants have won the World Series each even-numbered year this decade.
This is probably the best wild-card game pitching matchup ever. It's lefty Madison Bumgarner (15-9, 2.74), the 2014 World Series MVP, for the Giants. He's pretty amazing in his postseason career, going 7-3 with a 2.14 ERA and a 0.88 WHIP with just 63 hits allowed in 88.1 innings. Bumgarner won his final start of the regular season, giving up three runs and eight hits over 7.1 innings on Friday against the Dodgers. He finished second in the NL in innings pitched (226.2) and complete games (four), third in strikeouts (251), fourth in ERA and WHIP (1.02). Bumgarner faced the Mets twice during the season. He won at home on Aug. 18, giving up four runs and six hits over five innings with six strikeouts. On May 1 at Citi Field, Bumgarner also won by throwing six shutout innings with seven strikeouts. Yoenis Cespedes is 3-for-10 career off him with three strikeouts. This could be Cespedes' final game as a Met as he is expected to opt out of his contract and become a free agent. Jay Bruce is 3-for-21 off Bumgarner with a homer and four RBIs. Kelly Johnson is 7-for-20.
It's Noah Syndergaard (14-9, 2.60) for New York. He finished third in the NL in ERA and fourth in strikeouts (218). Syndergaard most recently pitched last Tuesday at the Marlins and allowed a run and five hits over six innings with eight strikeouts. He was lined up to start Sunday if needed but the Mets had nothing to play for then. He pitched in San Francisco on Aug. 21 and dominated with eight shutout innings and 11 strikeouts in a victory. Syndergaard lost at home to the Giants on May 1 (5.2 IP, 4 ER). Hunter Pence is 1-for-5 off him with a homer. Buster Posey is 3-for-6. Brandon Belt is 0-for-6 with three strikeouts. The Giants are likely to try and run on Syndergaard when possible. Would-be base stealers were successful on 48 of 57 steal attempts against him this year. That's the most successful steals against a pitcher since Hideo Nomo allowed 52 for the Boston Red Sox in 2001.
Key trends: The Giants are 1-4 in Bumgarner's past five road starts vs. teams with a winning record. The Mets are 4-1 in Syndergaard's past five on seven or more days of rest. The Giants are 4-0 in Bumgarner's past four at the Mets. The under is 7-0 in Syndergaard's past seven vs. teams with a winning record.
Early lean: The Mets won the season series 4-3 -- that's why they are hosting this game -- and I like them here as hard as it is to go against Bumgarner. Go under.
Try $60 worth of member's baseball picks absolutely free with no obligation and no sales people. Your $60 in free MLB picks are here.
Read more articles by Alan Matthews