2017 AL East Picks and Expert MLB Betting Predictions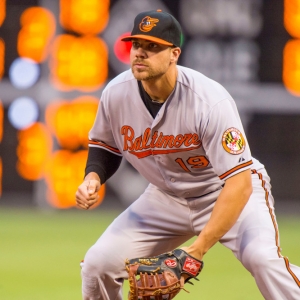 There are outstanding rivalries throughout every division in baseball. But the American League East still sets the standard for all-out war in terms of its division race. All five teams in the East are more than capable of putting together a playoff run, and there is absolutely zero margin for error with a group as stacked as this one. Throw in some good old-fashioned hatred and longstanding feuds, and this entire division is a powder keg.
Boston enters the season as the clear-cut favorite thanks to some savvy offseason moves to supplement one of the best lineups in the game. Toronto and Baltimore, who have spent this spring trading barbs regarding Jose Bautista, have two explosive offenses of their own to go along with some potentially dominating pitching (Toronto) and the league's best defense (Baltimore). The Yankees are still the Yankees and are looking for their 22 nd straight year above .500. And Tampa Bay is a group that many analysts have pegged for a bounce-back campaign.
Here is Doc's Sports 2017 AL East preview (with odds courtesy of 5Dimes ):
Boston Red Sox
2016 Record: 93-69 (+250)
2017 Wins Over/Under: 92.5
Odds To Win 2017 AL East: +180
Odds To Win 2017 AL Pennant: +250
2017 Boston Red Sox Odds To Win World Series : +500
Outlook : I will give the Red Sox credit: they didn't stay down for long. After winning just 71 games in 2014 (following a 2013 World Series title) and 78 games in 2015, the Red Sox rebounded with a 93-win campaign and division title last year. Boston then had a banner offseason and have positioned themselves as the clear-cut favorites in the American League this summer. How much of that expectation level is reality and how much is just good Boston bias and hype remains to be seen.
This Red Sox team boasts one of the most powerful and explosive lineups in baseball. Yes, Boston is going to miss heart-and-soul designated hitter David Ortiz on the field and in the clubhouse. But Mookie Betts, Xander Bogaerts and Jackie Bradley represent the next wave of hateable Boston stars, while Dustin Pedroia takes over the role of inspirational leader/grizzled veteran champ/clubhouse mascot. Add in erratic Hanley Ramirez, Pablo Sandoval and Mitch Moreland, and the Sox have bats to spare.
Boston's biggest move this winter was acquiring dominating lefty Chris Sale. Sale, who for my money has been the best left-handed pitcher in baseball the past four years (yes, including Clay Kershaw), should be devastating with Boston's offense backing him. Cy Young winner Rick Porcello (who I think will come back to earth) and Cy Young candidate David Price give Boston a rock solid 1-2-3. They key for this rotation may be the effort of back end lefties Eduardo Rodriguez and Drew Pomeranz, both of whom are pretty mediocre.
Boston comes into the season with as much hype as any team East of Wrigley. We've seen outside pressure crush other Sox teams in the past. But as long as this group gets off to a hot start and builds some momentum then their overwhelming talent should take over. I wouldn't expect to find much value betting this team - their moneylines will be through the roof - but they should be one of the best teams in the A.L.
Baltimore Orioles
2016 Record: 89-73 (+1610)
2017 Wins Over/Under: 80.5
Odds To Win 2017 AL East: +900
Odds To Win 2017 AL Pennant: +2100
2017 Baltimore Orioles Odds To Win World Series : +5000
Outlook: This is one of the most perpetually underrated teams in baseball. Baltimore has beaten its MLB season win total five straight seasons while posting one of the best records in baseball during that stretch (444-366, .548). They still have all the same dudes, and I see no reason why the Orioles won't remain a factor in the East this summer.
Baltimore isn't flashy - just ruthlessly efficient. Their strength starts with defense, which is the best in baseball. The Orioles have one of the best bullpens in the sport and an offense predicated on the long ball. It's simple baseball, and Buck Showalter is one of the best managers in baseball at executing his plan.
Adam Jones and Manny Machado are two of the best players in the game at their respective positions. And dual sluggers Mark Trumbo and Chris Davis give the O's a rare lineup with two 40-homer guys in the middle. J.J. Hardy and Jon Schoop are sneakily effective up the middle. And a key for this team will be how new catcher Wellington Castillo does taking over for Matt Wieters.
The frustrating thing about the Orioles is that their weakness has been exactly the same for five years and they've shown zero interest in addressing it. Baltimore doesn't have anything even close to resembling a No. 1 starter. They don't even really have a great No. 2. Instead they trot out five middle-tier guys - think Chris Tillman or Wade Miley - and hope to get five or six good innings before turning it over to the bullpen.
The Orioles have been really good. But they will never be great unless they wake up and get a top-tier starter. I don't see that happening. And that might relegate this team to good-but-not-good-enough again this year. Regardless, this team is a moneymaker for bettors and should pay out again this year while getting less press than the Yankees, Red Sox and Blue Jays.
Toronto Blue Jays
2016 Record: 89-73 (-920)
2017 Wins Over/Under: 85.5
Odds To Win 2017 AL East: +350
Odds To Win 2017 AL Pennant: +1150
2017 Toronto Blue Jays Odds To Win World Series : +3000
Outlook : In 2015 the Blue Jays had the best offense in baseball but not enough pitching to get over the hump and into the World Series. Then in 2016 the Jays benefitted from the best starting staff in the American League - by a lot - and watched in horror as their team batting average dropped from No. 2 to No. 23 and, again, they couldn't get over the hump while losing in the ALCS a second year in a row.
So is this the year where everything clicks and the Blue Jays surge forward? Or did Toronto miss its window?
It starts with the Jays lineup, which lost fulcrum Edwin Encarnacion to free agency but retained Jose Bautista. Bautista couldn't find a proper suitor after his unproductive, injury-plagued 2016. A bounce back from him is crucial now that Encarnacion's 40-plus homers have moved onto Cleveland. Josh Donaldson is one of the best in the business. And the key for this season will be consistent production from new addition Kendrys Morales as well as holdovers Troy Tulowitzki and Russell Martin.
The pitching staff is fully stocked and well balanced. Marcus Stroman dominated the WBC this spring and has ace's stuff. Lefties J.A. Happ and Francisco Liriano are solid. And Marco Estrada and Aaron Sanchez have shown the ability to dominate. Roberto Osuna is a talented young closer. But the most important thing for this pitching staff will be finding some consistency and reliability in middle relief.
If the Blue Jays can merge the hitting of 2015 and the pitching of 2016 then they could be the best team in baseball. Boston is getting all of the love heading into the year. But the Jays are capable of going stride for stride with them. It may be difficult to find value betting this team because there's still a healthy amount of hype around them. But I expect the Jays to find some consistency and pay out at a better rate than last year's money burner.
New York Yankees
2016 Record: 84-78 (+350)
2017 Wins Over/Under: 83.5
Odds To Win 2017 AL East: +500
Odds To Win 2017 AL Pennant: +1150
2017 New York Yankees Odds To Win World Series : +3000
Outlook: For the first time years the Yankees and their fans can be excited about their prospects for the future rather than simply pining for their glorious past. New York has completely overhauled its roster and bid adieu to the group that formed the foundation of their most recent dynasty. The result is the Baby Bombers.
Greg Bird, Gary Sanchez, Aaron Judge, Aaron Hicks and Starlin Castro are all 27 or younger and form the new core in the Bronx. They are short on experience but long on talent, and this lineup is just oozing with potential. Trading away their aging stars in exchange for prospects actually gave the Yankees a jolt last summer. And they are hoping that they can stay competitive this year while allowing their young players the room to grow.
The Yankees still have veteran arms to lean on in the rotation. They desperately need healthy, productive seasons out of C.C. Sabathia, Masahiro Tanaka and Michael Pineda. That's far from a given. The bullpen should be in good hands now that Aroldis Chapman is locked up, and one of the keys to this year's season will be how the middle relief holds together, especially against left-handed batters.
The Yankees are saying all the right things about remaining competitive through what is a clear rebuilding season. Their young players, especially Bird and Sanchez, look like potential superstars. But potential is a fickle mistress in baseball. And New York will only stay in the race if they can build on last year's second-half success. But in a division with three established powers there will be minimal margin for error.
Tampa Bay Rays
2016 Record: 68-94 (-3000)
2017 Wins Over/Under: 78.5
Odds To Win 2017 AL East: +1600
Odds To Win 2017 AL Pennant: +4000
2017 Tampa Bay Rays Odds To Win World Series : +11000
Outlook : I feel like this is a potentially franchise-defining season for the Rays. They have simply not been competitive since losing Joe Maddon and have posted three straight losing seasons following six consecutive years above .500. Is Tampa Bay capable of clawing its way back to the top tier of the East? Or was last year's feeble 68-win campaign a harbinger of lean years to come and a call back to the woeful first decade of this former expansion franchise?
Tampa Bay's rotation gives it some hope. Chris Archer has the stuff of an ace. But he needs to be better than last year's 9-19, 4.02 ERA campaign. The same goes for erratic Drew Smyly and oft-injured Alex Cobb. Jake Odorizzi quietly had a solid year, and young buck Blake Snell has promising stuff. Tampa desperately needs its bullpen, which has been a lead-blowing machine, to improve. Signing former Nationals catcher Wilson Ramos could be an underrated move.
If Tampa Bay is going to be anything more than a speed bump they need to find some offense. They scored the second-fewest runs in the American League and hit just .243 as a team, No. 28 in the Majors. Their only hope is if Brad Miller can rake 30 home runs this year and if Logan Morrison and Evan Longoria can give them big seasons from the corners.
Tampa Bay was shockingly bad in one-run games last year, going 13-27. That stat alone screams 'regression' and that tells me that they were better than their record last year. However, with such a deep and talented group of teams populating this division, I'm not sure that there is anywhere else on the ladder to climb.
2017 American League East Picks and Predictions: Predicted Order of Finish
1. Boston Red Sox
2. Toronto Blue Jays
3. Baltimore Orioles
4. New York Yankees
5. Tampa Bay Rays
Great offer! Try $60 worth of member's baseball picks absolutely free - no obligation, no sales people - you don't even have to enter credit card information. Get your winning baseball picks here now . Get free baseball picks today at Doc's Sports baseball predictions page .
Robert Ferringo is a professional sports handicapper for Doc's Sports. He is considered one of the top MLB cappers in the country and has turned a profit in three consecutive baseball seasons (and six of his last eight). Robert closed 2015 with an amazing $12,045 in earnings over the last four months and this summer will try for four straight profitable years. He is looking forward to a great upcoming season against the MLB odds. Click here for more information on his MLB picks .
Read more articles by Robert Ferringo