College Football National Championship Game Odds and Expert Picks Alabama vs. Clemson
by Trevor Whenham - 1/5/2017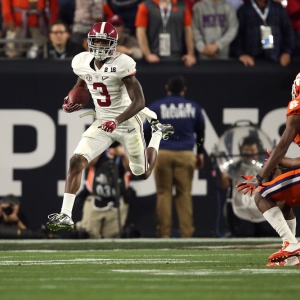 Alabama Crimson Tide vs. Clemson Tigers, Monday January 9, 8 p.m. ET
And here we go again. For the first time not just in the short history of the playoff but also in the entire history of title games and the BCS dating back to 1998 we have the same two teams meeting two years in a row for all of the marbles. Last year Alabama got the prize in the 45-40 classic, but Clemson made the bettors happy as seven-point underdogs. This year the teams are the same, the spread could be pretty much the same in the end, and one team again comes in off a shutout - Alabama beat Michigan State 38-0 in their semi last year. So, will the result be the same as well? Or will Clemson exact revenge?
You don't have to like Nick Saban or Alabama, but it only like makes sense for us to mention what Alabama is doing right now because it's just incredible. They are going not just for their second national title in a row but their fifth in the last eight years. When you think of how many teams there are that take football very seriously, and how small the margin for error is every year for a team to get this far this often, it's truly mind-boggling. And incredibly annoying if, like me, you are a fan of a program not based in Tuscaloosa.
CFP National Championship Betting Storylines
The obvious first storyline because it is so bizarre is the late coaching change at Alabama. Lane Kiffin was fired - dismissed early to start his new job as head coach at FAU full-time instead of splitting those duties with his offensive coordinator role at Alabama, really. It is a bizarre and chaotic move, and it has gained a lot of headlines this week. It's also an easy story to overestimate. The fact is that it just doesn't matter that much. The reasons are many. First, Kiffin is Kiffin, and not having him around has proven beneficial to teams in the past. He was dead man walking at Alabama no matter what, and his relationship with Saban had never been superb and had clearly deteriorated. With Steve Sarkisian on staff already the replacement was obvious and easy, and Sarkisian gives up nothing in competence or style - as long as he shows up to the game sober, anyway. Most significantly, it's not like Kiffin was coming off a gem of a game - the offense struggled against Washington. Let the betting public worry about this, and you should focus instead on things that really matter.
What we have here are two truly impressive defensive lines. Alabama's is better, but Clemson is one of only two or three in the country that are even in the same discussion. Both absolutely dominated their previous games - as they have all season - and were the biggest reasons why their teams are here. And both here face offensive lines that are solid but aren't the match of the unit they line up against in practice by any means. It would be naive to think that those defensive lines aren't going to set the tone and determine the outcome of this game as well. Alabama needs to get to Deshaun Watson early and make him as uncomfortable as you can a guy that experienced and poised. Last year Watson shredded them - 478 total yards and four touchdowns - and Alabama can't afford a repeat of that. Clemson needs to make freshman QB Jalen Hurts look as uncomfortable as he did last week and take away the deep threat that can make him dangerous. And then there is the run game. Among many other things, Clemson dominated Ohio State because they didn't let the Buckeyes move the ball on the ground. Ohio State had no running game, and it was the death of them. Alabama has a more diverse and generally effective ground attack, but they also need it to work in order to be near their best. The Alabama running game against the Clemson front could ultimately be the matchup that determines the outcome of the game.
Of all things, I am intrigued by Clemson's mental game here. We know Saban will have Alabama ready - it's just what he does. Clemson, though, is less certain. There are plenty of reasons for a potential letdown. They are intensely and openly focused on revenge from last year, and that has been the case all year. That can as easily backfire. They are also coming off a truly dominating performance, and it wouldn't be unique for them to let up somewhat after that. And then there is the fact that they know they have to face an Alabama team that is even better than the one that beat them last year. That could eat at their confidence. I expect the team to be ready and at their best, but I am far less confident of that than I am in the case of their opponent.
CFP National Championship Odds and Betting Trends
The line has been on a bit of a ride. It opened With Alabama favored by six, was quickly pushed up to the key number of seven, and even 7.5 in a spot or two, and then fell back down to the current level of 6.5. Nearly two-thirds of all bets have been on Clemson, so the line movement is as expected. We aren't likely to see significant further movement without news. The total opened at 53 and currently sits at 51.
The Tigers are 6-0 ATS in their last six bowl games and 8-1 ATS in their last nine neutral-site games. They are 5-2 ATS in their last seven nonconference games but just 2-5 ATS in their last seven against teams with winning records. The Tide are 7-2 ATS in their last nine overall and 14-4 ATS in their last 18 against teams with winning records. They are 4-1 ATS in their last five both against the ACC and on neutral sites.
Alabama vs. Clemson CFP National Championship Expert Picks & Predictions
There are several reasons to think Clemson can keep it close at the very least. They did it last year, their QB is more experienced, they are coming off a dominant performance, Alabama has faced more drama coming into this game than usual, and on and on. In the end, though, I just can't do it. It simply comes down to this - I think Alabama is solidly better. Their defense is in a different league. Their institutional experience is a massive edge. I trust their running game. And they have been more consistent. I don't like picking a lesser team and hoping they don't lose by too much, so the only choice I have is to take Alabama - something made much easier with the line moving off the key number.
Want free sports betting picks? Doc's Sports has you covered - get $60 worth of picks free from any of Doc's Sports expert handicappers. Click here for free picks (new clients only) .
Read more articles by Trevor Whenham