College Football Win Totals for the Season: Sucker Bet Predictions
by Trevor Whehman - 5/26/2017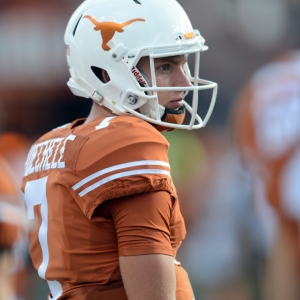 It's that time of year again already - college football season win totals have emerged for another season. It's the first sign that college football season is drawing nearer. CG Technology, as is often the case, was the first to post their numbers, which are used in some Nevada sportsbooks.
I love looking at the list of totals when they are posted. Every year there are a few in which books are clearly just begging the betting public to take a side. They throw these numbers out there knowing that one side will be irresistible for those casual bettors, and the books are totally okay with that. They aren't afraid of the action. Not surprisingly, these are all public teams, and in each case the total seems aggressive:
Texas "over/under" 7.5 wins: Tom Herman was an excellent hire, and I have no doubt that he will have success at Texas in time. The biggest single issue facing Texas the last several years, though, has been impatience, and this number sure doesn't suggest that supporters have gotten over that. Herman needs to rebuild this team in too many ways. There are some things to work with, and he started off by recruiting pretty well, but there will be a lot of changes for this team to absorb and a lot of questions in personnel that need to be answered. They have had lousy play at QB for too long, so a turnaround there in a hurry is no lock, and that is far from the only question area.
Herman found immediate success at Houston, but that was an entirely different challenge than this one. The Big 12 still has soft spots, but there is some quality on the top end. Herman may very well be able to win eight or nine games. That would be the result of a remarkable coaching job, though, and certainly isn't the kind of thing that you would want to bet on happening. Have patience, folks - in a couple of years this team will look a lot more like they are supposed to look like than they have any time since Colt McCoy was in town. Just don't get ahead of yourselves - especially not with your wallet.
Oregon over/under 8 wins: This team won four games last year, and their recruiting has been a mess the last couple of years. They can't find a lasting solution at QB, and that's far from the only issue. Willie Taggart was another strong hire, but he has a whole lot of work to do and a lot he has to dismantle before he can move forward. Again, I am optimistic in the longer term, but to expect this team to more than double their win total is just silly. I mean, it's not totally impossible, but if you look at where this team is at, how they played defense last year, what talent they have around, and how many changes there have been on the coaching staff - in personnel and philosophy - and you think you are willing to bet that they will do so then you are a far more optimistic person than I am.
USC over/under 9.5 wins: People love the Trojans. And people love a stud quarterback. So, you put a stud quarterback at the helm of the Trojans and you are going to get people throwing their money in one direction. My hunch is that the over has the most lopsided action on this whole board. I'm not saying that the over can't happen. In fact, it's certainly more likely than the first two on this list. It's just that it is all but impossible to argue that this isn't an inflated price due to the team involved. The real number should be a half a game or a full game lower, and at that price it would be much easier to stomach than it is here.
Penn State over/under 9.5 wins: Maybe I'm just grumpy, but this number is silly. Sure, they have a couple of stud players on offense. James Franklin is so badly outmatched as a coach in the Big Ten, though, that it's ridiculous, and the schedule is never going to be easy in his division. Given what this team faces, betting the over is just wildly optimistic. Everything needs to break just right for this team to win 10 games, and I don't want to be in a situation to bet something with so little cushion - not with Franklin making decisions. No thanks.
Clemson over/under 9 wins: There wasn't a team more defined by the leadership and excellence of a star player than Clemson the last couple of years. They are a deep and talented team, but Deshaun Watson defined them - and that's a compliment to him, not a criticism of the team. Now the team has to learn to live without him. That won't be easy - especially because his replacement is definitely not going to be seamlessly replacing him. The schedule has several tough games on it, and there are some other question marks on the roster - and the strong chance for a post-title letdown. I just can't justify jumping on board this team in this case at this number - though I will say that this is the most attractive of the five unattractive plays on this list.
Want free sports betting picks? Doc's Sports has you covered - get $60 worth of picks free from any of Doc's Sports expert handicappers. Click here for free picks (new clients only) .