Free NBA Picks: Saturday, March 11, 2017, Opening Line Report and Handicapping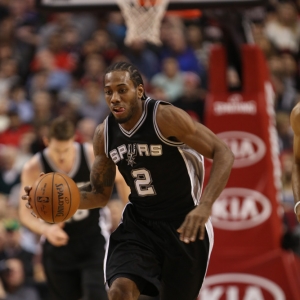 Sometimes the leads to these daily stories simply write themselves, and that's the case for Saturday's NBA schedule - frankly, the last Saturday some sports bettors might care much about the NBA until after the NCAA Tournament's Final Four. I believe the most important game the rest of the 2016-17 regular season is Golden State at San Antonio on Saturday night -- if the Spurs win. I'll be honest in that I didn't think the Spurs had a shot at catching the Warriors for the West's top seed even when Kevin Durant went down. But if Golden State were to lose Friday in Minnesota (very possible), the Spurs could tie the Warriors in the loss column with a victory. In addition, a win Saturday would give the Spurs the season series over the Warriors and thus a potentially crucial tiebreaker. The teams play once more, March 29, also in San Antonio, so a Golden State victory this time would tie the season series 1-1 and set up that game as incredibly big.
Free $60 in Member NBA Picks No Obligation Click Here
Jazz at Thunder (TBA)
A 3 p.m. ET early tipoff. Utah won its fourth in a row on Wednesday, 115-108 - the Rockets were the only good opponent in that run. Rudy Gobert and Gordon Hayward each scored 23 points. George Hill (toe) and Derrick Favors (knee) sat out; those guys are basically questionable for every game. Oklahoma City upset San Antonio 102-92 on Thursday to end a four-game losing streak. Russell Westbrook had 23 points, 13 rebounds and 13 assists to match Wilt Chamberlain's 1967-68 campaign for the second-most triple-doubles in a season with 31.Oklahoma City leads the series 2-1. Utah has dropped 10 straight at the Thunder.
Key trends: The Jazz are 2-5 against the spread in the past seven meetings. The "over/under" has gone under in nine of the past 11.
Early lean: TBA for those Jazz guys - likeThunder if they don't play (mainly Hill).
76ers at Clippers ( -12.5, 216.5)
A 3:30 p.m. ET tipoff. Philadelphia lost its third straight Thursday, 114-108 in OT at Portland. 76ers rookie Dario Saric had a season-best 28 points, while Robert Covington scored 24 and hit the tying layup at the buzzer. Jahlil Okafor (16 points) returned from a two-game injury absence. After playing terrible in Minnesota on Wednesday, the Clippers won in Memphis 114-98 on Thursday. Blake Griffin had 14 points, 12 rebounds and eight assists. Los Angeles was upset in Philadelphia 121-110 on Jan. 24 but has won the past four meetings at home.
Key trends: The 76ers are 2-8 ATS in the past 10 meetings. The over is 4-1 in the previous five.
Early lean: 76ers and over.
Knicks at Pistons (-6, 211)
This one tips at 5 p.m. ET. Is Saturday a holiday I don't know about? New York lost for the third time in four games Wednesday, 104-93 in Milwaukee. The Knicks were up 12 in the third quarter. Carmelo Anthony scored 16 points in his return after a one-game absence but had just six points in the second half. Detroit won for the third time in four games, upsetting Cleveland 106-101 on Thursday. Andre Drummond had 20 points and 16 rebounds. New York and Detroit have split two meetings. The Pistons have won five of the last six games at home against the Knicks.
Key trends: The home team is 5-0 ATS in the past five meetings. The over is 5-2 in the previous seven.
Early lean: Knicks and over.
Pelicans at Hornets (-2, 202.5)
Charlotte hosted Orlando on Friday. New Orleans lost a second straight Wednesday, 94-87 to Toronto. It's now quite clear the DeMarcus Cousins acquisition isn't getting the Pelicans into the playoffs. Anthony Davis had to leave that game with a left wrist injury. X-rays were negative and Davis is expected to play Saturday. New Orleans beat Charlotte back in November 121-116 in OT behind 38 points and 16 rebounds from Davis. The Hornets have never won a season series against the Pelicans. Of course the Pelicans used to be called the Hornets.
Key trends: The home team is 7-1-1 ATS in the past nine meetings. The over is 5-0 in the previous five.
Early lean: Pelicans and over.
Cavaliers at Magic (TBA)
Orlando was in Charlotte on Friday with Nik Vucevic a game-time call after missing the past three with an Achilles issue. Cleveland lost its third in a row Thursday, 106-101 in Detroit. LeBron James had 29 points, 13 rebounds and 10 assists, but the Cavs were outscored by 23 when he was on the bench resting. J.R. Smith played for the first time since December and had three points in 19 minutes. Cleveland won the first meeting 105-99 with Orlando and has won 15 straight in the series.
Key trends: The Cavs are 7-1 ATS in their past eight in Orlando. The over is 6-2 in those.
Early lean: Cavs regardless of Vucevic.
Timberwolves at Bucks (-2.5, 203)
Minnesota hosted Golden State on Friday and Milwaukee hosted Indiana. So a huge edge to the Bucks in terms of the opponent 24 hours previous and the fact they don't have to travel.Minnesota beat Milwaukee 116-99 on Dec. 30 to end a four-game skid in the series.Andrew Wiggins scored 31 points and Karl-Anthony Towns had 18 points and 16 rebounds. The Wolves still had Zach LaVine then and he had 24 points. Then again, the Bucks had Jabari Parker then and he had 20 points.
Key trends: The Wolves are 1-5 ATS in the past six meetings. The under is 5-2 in the Bucks' past seven vs. teams with a losing record.
Early lean: Bucks and under.
Raptors at Heat (-5, 203)
Toronto was in Atlanta on Friday. Miami won a third straight Wednesday, 108-101 over Charlotte. Dion Waiters, who has been great this season and could have been signed by anyone for a song, had 24 points. Hassan Whiteside had 10 points and 15 rebounds for the Heat, who have won 20 of 24. Toronto beat the Heat 96-87 on Nov. 4, but Miami has won 11 of the past 13 in the series at home.
Key trends: The home team is 5-0 ATS in the past five meetings. The over is 6-1 in the Heat's past seven at home.
Early lean: Heat and over.
Warriors at Spurs (TBA)
This is the ABC Saturday showcase, as it should be. As noted above, Golden State was at surging Minnesota on Friday. San Antonio might have been looking ahead to this one as it had a nine-game winning streak end in a 102-92 loss in Oklahoma City on Thursday. Tony Parker and Manu Ginobili sat out the second of a back-to-back. They will play here. These teams had a much-hyped season opener against another as Durant made his Golden State debut. It was a stunning 129-100 Spurs win in Oakland. Duranthad 27 points and 10 rebounds. Leonard had 35 points, then a career high, and LaMarcus Aldridge 26 points and 14 rebounds. The Spurs destroyed the Warriors on the boards. Golden State handed the Spurs their only regular-season home loss of 2015-16 in the last meeting in San Antonio. That was record-tying victory No. 72 the Warriors.
Key trends: The home team is 5-2 ATS in the past seven meetings. The under is 5-2 in those.
Early lean: TBA I guess because of Parker, but I like Spurs regardless.
Hawks at Grizzlies (-5, 201.5)
Atlanta hosted Toronto on Friday. Memphis dropped a fourth in a row and third straight by double digits Thursday, 114-98 to the Clippers. Marc Gasol led Memphis with 20 points, and Zach Randolph had 18 points and 11 rebounds. Coach David Fizdale is experimenting with starting lineups to shake his team out of its funk. Chandler Parsons sat vs. the Clips for rest. First meeting of the season between Atlanta and Memphis. The Hawks swept in 2015-16.
Key trends: The Hawks are 1-4 ATS in their past five vs. the West. The under is 4-1 in theprevious five meetings.
Early lean: Grizzlies and under.
Suns at Mavericks (-7, 215)
Dallas hosted Brooklyn on Friday. Phoenix dropped its second in a row Thursday, 122-110 to the Lakers. L.A. had lost 11 straight road games against the Suns, including a 137-101 blowout in their previous game in Phoenix on Feb. 15. Phoenix and Dallas have split two meetings. They both won on the road, although the Mavs' victory was in Mexico City.
Key trends: The Suns are 1-4 ATS in the past five meetings. The over is 5-1 in their previous six overall.
Early lean: Mavericks and over.
Wizards at Trail Blazers (-2.5, 226)
Washington was in Sacramento on Friday. Portland won its fourth straight Thursday, 114-108 in OT against Philadelphia. That Jusuf Nurkic trade with Denver is looking like a heist as Nurkic had career-high 28 points and 20 rebounds to go with eight assists and six blocks for the Blazers. He became the first NBA player to post at least 28 points, 20 rebounds, eight assists and six blocks in a game since Charles Barkley in November 1986.Great backcourt matchup here between John Wall and Bradley Beal and Damian Lillard and CJ McCollum. Think I'd take Washington's if you promised me Beal would stay healthy.Washington defeated Portland 120-101 on Jan. 16. The Blazers have taken nine of the past 11 at home in the series.
Key trends: The home team is 6-1 ATS in the past seven meetings. The over is 5-1 in the previous six.
Early lean: Blazers and over.
Nuggets at Kings (TBA)
Sacramento hosted Washington on Friday, while Denver hosted Boston with Nikola Jokic and Danilo Gallinari questionable. Both were sick, and it sounded like Jokic was going to be out again. Final meeting between these teams with the Kings leading 2-1. The Nuggets won last Monday, however, 108-96. Gallinari had 18, but Jokic missed that one too.
Key trends: The Nuggets are 1-5 ATS in the past six meetings. The over is 4-1 in the previous five in Sacramento.
Get free picks from any Doc's Sports handicapper - there is no obligation for this offer and no credit card required. Just sign up for an account, and you can use the $60 in free picks for any Doc's Sports Advisory Board handicapper and any sport. Click here to get started now .
Read more articles by Alan Matthews