2017 Houston Astros Predictions and Odds to Win the World Series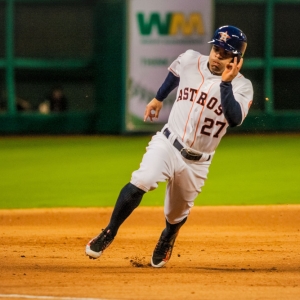 Will this finally be the year for the Astros? It felt like last year was going to be it. After winning 86 games, making the playoffs, beating the Yankees in the wild card, and giving the Royals a bigger test than anyone else did in their run to the World Series in 2015, it seemed like last year they would be ready to take a huge step forward. Instead, a bad start crippled them, and they wound up with two fewer wins than the year before - and well out of playoff contention. This team has been built for a run, though, and they were aggressive in the offseason to complement the pieces they had. They should be good. Potentially very good. And, thankfully, they are also going to be a whole lot of fun to watch.
Free $60 in Member MLB Picks No Obligation Click Here
One change of note in Houston has to do more with landscaping than anything. That crazy hill in center field has been taken out for this year, and the outfield fence is now where the base of the hill was. That makes an already hitter-friendly park even more accommodating for batters. For a lineup like this one that could pay dividends.
Teams like the Reds, Twins, Braves and White Sox will be watching the Astros closely this year. Houston sunk to the true depths of lousiness as they rebuilt, and now the process looks like it could really start to pay off. They are built around a stellar young core - a core they only have because they were bad enough to draft well and patient enough to develop them. Like the Royals and others before them, then, this team hopes to stand his year as proof of how a good process, well run, can pay off. Houston has to hope they can take it all the way and not come up frustratingly short like the Pirates and others have recently.
Astros 2017 Projected Lineup
This team is going to be absolutely terrifying for opposing hitters. Jose Altuve is an all-world performer already, and he's only going to get better. Carlos Correa looks like a guy who could be an MVP, and he's only 22. Alex Bregman at third base is only 22 as well, and his upside seems almost limitless. George Springer is a comparative old man at 27, so he has power to burn and is still getting better. The core of this team is scary good and is still improving.
Another guy who will be very interesting to watch in 32-year-old first baseman Yuli Gurriel. He defected from Cuba last winter, and it took quite a while for him to land with Houston and then sharpen up in the minors. He showed only mediocre numbers in limited appearances last year but will have the opportunity to be an everyday player this year, and the upside is high.
Management made some astute moves this offseason. They recognized that young teams need veteran leadership to show the way and that perhaps that was somewhat in short supply last year. To remedy that they brought Carlos Beltran back to town as a free agent to DH, added Josh Reddick to play right field as a free agent, and traded with the Yankees to get Brian McCann to be the primary catcher. All three moves not only improve the roster but should have a significant impact on how the team plays and their general mental game. This is a roster that is brilliantly well constructed. They can do a little bit of everything, and they are deep - backup catcher/DH Evan Gattis had 32 home runs last year.
Astros 2017 Projected Rotation and Closer
If there is a fault with this team it is that the depth and development of their starting pitching hasn't nearly kept up with their bats. They have a lineup that is ferocious offensively and decent defensively, but the pitchers are much more of a question. Dallas Keuchel is the ace, and he obviously can get the job done - the guy won the Cy Young two years ago. He was far less impressive last year, though, and didn't stay healthy through the entire season. He needs to have a bounce-back year for this team to shine. Lance McCullers had a very solid year last year, and is only 23, so there is plenty of room for him to improve. He dealt with a couple of injuries last year that limited his availability, so he also needs to work on staying healthy. Beyond that there are even more concerns. Collin McHugh had shown strong flashes, but last year he was decidedly ordinary, and home run hitters feasted on him. Mike Fiers also put balls on tees for deep-ball hitters and just isn't that good. Charlie Morton was signed to add to the rotation this year, but last year he managed to last just four games in Philadelphia before a season-ending hamstring injury. This is an A+ lineup supported by a C- rotation.
The bullpen, fortunately, should be better. Ken Giles isn't a marquee closer but he is solid, and behind him is a very deep bullpen that quietly was among the most effective in baseball last season. With the rotation the Astros have, this bullpen could be the difference between the promised land and disappointment.
Astros Futures Odds
The AL West is very competitive, but the Astros are the clear favorite - at +120 to win the division at BetOnline they have a significant edge on the Mariners and the Rangers, both at +300. At +500 they are the third choice to win the American League pennant behind the Red Sox and Indians. They are seen as a legitimate World Series contender , as well - their +1200 price puts them behind the same AL foes as well as the Cubs, Dodgers and Nationals.
Houston has two fringe contenders for the home run crown according to futures odds - George Springer is at +6600, and Carlos Correa at +8000, which puts them far behind the top contenders. Correa (+1000), Jose Altuve (+1200) and Springer (+4000) are all among the 21 players listed as AL MVP contenders, though Mike Trout at +125 is a nearly prohibitive favorite. Dallas Keuchel (+2000) joins Lance McCullers (+3300) as mid-tier contenders for the Cy Young.
Astros 2017 Predictions
The season win total is set aggressively at 91.5. I like this team quite a bit, but I wouldn't bet the over at that level, and I am not as in love with them as oddsmakers and public bettors are. The issue is the rotation. I love their bats, I like the leadership, and the bullpen is strong. I think that Keuchel's Cy Young was one of the bigger flukes of our time, though - not like R.A. Dickey's, but still pretty fluky. I don't trust him to return to top-level form, and I have serious reservations about each of the other pitchers in the rotation. I think the AL West will be closer than the oddsmakers think. Houston is still probably the best all-around team, but their margin for error is slim. I think 89-91 wins feels about right. That makes them a playoff team, and anything can happen then.
$60 worth of member's baseball picks absolutely free - no obligation - Free MLB picks here. Doc's Sports offers free MLB predictions every day from Opening Day through the playoffs and World Series .
Read more articles by Trevor Whenham