2017 Missouri Valley Conference Tournament Predictions with NCAA Basketball Betting Odds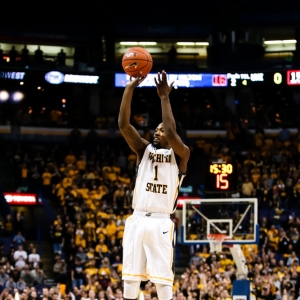 Despite what the Missouri Valley Conference standings say, I believe that this is as wide-open as I have seen the league championship in several years and I think that we could be headed for an upset or two at Arch Madness.
Arch Madness, also known as the Missouri Valley Conference Tournament, is one of the first conference tournaments to be played and kind of an unofficial indicator that The Madness of March has begun. Like most recent seasons, there are two powerhouse teams at the top of the league and then a bunch of also-rans. However, I feel like the gap between those top two clubs is shorter than the win-loss records suggest.
The Missouri Valley Conference Tournament will take place from March 2-5 at the Scottrade Center in St. Louis, Mo. Northern Iowa is the two-time defending tournament champions and last year they became the fourth different school to win the title in the last six years. It was the third title for the Panthers since 2009.
Here is Doc's Sports Missouri Valley Conference Tournament preview and predictions (with odds courtesy of Robert Ferringo):
The Favorite: Wichita State (+150)
The Shockers had won the regular season title three straight years and finished in a tie with Illinois State for the regular season crown. But the Redbirds earned the top seed via a tiebreaker. Wichita State's 27-4 overall mark and 17-1 league mark - peppered with a copious amount of total blowouts - simply looks like a continuation of their five-year reign of terror in the MVC. However, the Shockers lack the experience and the high-end guard play that we've seen from them over the past several seasons. The forward trio of Darral Willis, Shaq Morris and Markis McDuffie are tough to handle on the interior. But this team doesn't have a single senior in the rotation and their guard play can be spotty. For as dominating as Wichita State has been in recent seasons, they have only won Arch Madness one time in the last 15 years.
The Contender: Illinois State (+180)
The Redbirds rattled Wichita's cage during the regular season and the they are the real deal. Illinois State has played its way onto the NCAA Tournament bubble as a potential at-large team and I definitely think that this team could make some noise in The Big Dance. This team runs an extremely deliberate, methodical offense. They get the shots where they want them. Senior point guard Paris Lee is the straw that stirs the drink and wing players Deontae Hawkins and MiKyle McIntosh are legit go-to guys. All three contributed on the Illinois State that nearly pulled a major upset by winning the MWC tournament in 2015. Illinois State is also outstanding defensively and they are one of the few teams that has the size to match up with the Shockers. If they have a weakness, though, it is on the free throw line. That could haunt them.
The Sleeper: Northern Iowa (+650)
It's been an uncharacteristically terrible season for Northern Iowa, which has simply lost too much talent and experience over the last two offseasons. But don't count coach Ben Jacobson out. He has thrived in St. Louis and before a final week swoon the Panthers had put together a 9-1 run. Northern Iowa likely isn't going to any postseason tournament. So they are going to max out this weekend. That - along with their team depth - makes them dangerous as they go for a third straight league title.
The Spoiler: Loyola-Chicago (+1000)
I actually think that there are several potential spoilers lurking in this field, including Missouri State and Southern Illinois. But I am going to go with Loyola. They have the highest overall ranking beyond the two top teams in the league and Loyola had a very strong nonconference season, starting the year 10-2 before slogging through league play. But they have Milton Doyle. And the star-crossed senior is one of the better players in the league. He could carry this team to a signature upset over Illinois State and Loyola has won at least one MWC tourney game in each of his first three seasons. Loyola went 0-4 against Southern Illinois and Illinois State, their two impediments to the finals. However, they lost the last three of those games by a combined 10 points. And you know what they say: it is tough to beat a team three times in one season.
Early Round Matchup To Watch:
No. 8 Evansville (-2) vs. No. 9 Indiana State (6 p.m., Thursday, March 2)
Evansville is the shell of the team that took Northern Iowa down to the wire in a 56-54 loss in last year's tournament championship game. But the Purple Aces do have a few seniors knocking around that are very familiar with this system and playing their best ball at the right time. Evansville has won five of its last seven games and closed the regular season with a home win over Indiana State. That was one of 19 losses the Sycamores have suffered this season and these guys have been a mess all year. But they have revenge for a blowout loss in last year's tournament and the two games this year were decided by a combined three points.
No. 7 Bradley (-3.5) vs. No. 10 Drake (8:30 p.m., Thursday, March 2)
Regardless of what the seeds say, these are the two worst teams in The Valley. Drake is perpetually the No. 10 seed in this tournament and are among the worst offensive (No. 317) and defensive (No. 291) teams in the country. Drake has won just one game off its home court this year. Bradley tried to slow games down and grind teams down defensively. They don't shoot the ball that much better than Drake (No. 273) and the Braves average just 65.8 points per game. The Braves are on a 7-0 ATS run and they have covered the spread in five straight against Drake.
No. 4 Southern Illinois (+3) vs. No. 5 Loyola-Chicago (2:30 p.m., Friday, March 3)
I expect this game to be a battle between two in-state rivals. They have alternated wins in this series each of the past three seasons. And since Loyola joined The Valley four years ago six of the last eight matchups between these two have been decided by seven points or less. Not surprisingly, the underdog has gone 7-1 ATS in this series. Southern Illinois doesn't do anything particularly well. But they are a big-time 'effort' team that relies on up-and-down point guard Mikey Rodriguez. Loyola has six losses this year by a single basket or less, including that 72-70 loss in Carbondale last weekend on a last-second three-pointer.
No. 3 Northern Iowa (-1) vs. No. 6 Missouri State (8:30 p.m., Friday, March 3)
Missouri State is another team that started off the season promisingly, winning 11 of their last 15 and taking Illinois State into overtime on the road near the start of league play. But the Bears have tailed off in a big way and come to St. Louis as losers of six of seven and eight of 10. However, a closer look shows that two of those last eight losses came in overtime and two more came by a combined four points to Northern Iowa and Illinois State. Northern Iowa has dumped three straight games and is still a team in search of a go-to guy. Wes Washspun took every big shot for them the past two seasons. And if UNI is going to advance here, and threaten Wichita State in the next round, they desperately need someone to step up and knock down some shots to support this moribund offense.
Missouri Valley Conference Tournament Predictions: I feel like every year I pick Wichita State. And every year the Shockers let me down. However, I think they got a gift by losing the tiebreaker and being placed in the bottom of the bracket. The No. 1 seed in the conference tournament has only cut down the nets twice in the last six years. And I think that either Southern Illinois or Loyola will be a tougher semifinal opponent than UNI or Missouri State. Wichita State has been too good for too long to only have one title. I think they will find a way to get a second title for Greg Marshall and I will once again call for the Shockers to do the deed.
Robert Ferringo is a member of the Basketball Writer's Association of America and a professional sports handicapper for Doc's Sports. He is considered one of the best college basketball handicappers in the country and had an unmatched streak of 10 straight winning college basketball regular seasons. Robert's $100-per-Unit clients have taken home over $40,000 win winnings so far this decade. There is no better moneymaker in the nation and Robert is looking forward to another amazing March Madness. Click here to get two days of college basketball picks for free - no hassle and no credit card needed.
Read more articles by Robert Ferringo