MLB Betting Advice: Potential Surprise Teams to Help Your Bankroll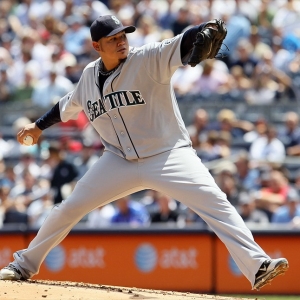 This is the hardest time of year to be a baseball bettor and fan. Pitchers and catchers are starting to report, so the season is tantalizingly close to getting started, but there is still a whole lot of time between now and meaningful games. To fill the time, and hopefully to make it pass more quickly, let's look at teams that could be a surprise this year - squads that could exceed the expectations for them (and, by necessity, go "over" their season win totals , which are posted here from Atlantis Casino in Reno):
AL West - Seattle (85.5): I am always high on Seattle - and it rarely goes well for me. They are the closest team to me, so I got into them as a kid and have never quite shaken the belief that "this year will be different". That being said, there is a lot to like this year. They have a strong pitching staff, led by King Felix. The bullpen is solid. Robinson Cano and Nelson Cruz have been excellent lately, and there are some other very good players in the lineup. They were very aggressive as they retooled in the offseason, and I like what they did.
The AL West is brutally tough this year with the two teams from Texas ready to shine, but there is no reason that Seattle can't be right in that mix as well. They won 86 games last year, and they are better than that now. Scott Servais is a good manager, and he should be able to take a step forward in his second season here. Everything lines up - or at least that's the theory.
AL East - Toronto (86.5): It is easy to be pretty negative about the Jays right now. They made a bad front office change last year, and the new crew hasn't found their stride yet. The offseason was brutal - they didn't sign Edwin Encarnacion when they desperately needed to, their bats aren't as strong, and they didn't make anything close to a big splash anywhere.
I hope that people are negative, though, because this team isn't as bad as some think. The rotation is still elite, and the bullpen could be the best it has been in a while. The bats are still solid, and there is upside in a couple of positions. The Red Sox are a problem, but I don't like Baltimore much, the Yankees are a mess, and the Rays are awful, so there is a chance to make some noise in the division. This is a very legitimate wild-card contender.
AL Central - Kansas City (80.5): The Royals were darlings just a couple of years ago, but after a disappointing season last year they are an afterthought now. They have a lot of guys approaching free agency who should be playing hard for a new contract, though, and the level of talent is fairly solid. I don't think they will beat the Indians by any means, but they have a chance to be part of the wild-card scenario.
NL West - Colorado (79.5): Ian Desmond is really good and is a nice addition to this team. They have some other solid talent and a pitching staff that should be improved from last year - not that that is hard. They should be able to hit, and they have the advantage that few people expect anything from them. They have the chance to be dangerous and to wind up north of .500. The path to the wild card is very tough in the NL, and this team likely isn't good enough to get in that mix, but if they could win more than they lose then they could make bettors a lot of money.
NL Central - St. Louis (87.5): The Cardinals wind up here only because there has to be a team from the NL Central. The Cubs aren't going to surprise anyone, I don't like Pittsburgh much, and the Brewers and Reds are awful. That means that it's all St. Louis here.
Their season win total is 87.5, so expectations are already high. They have the potential, though, to go eight or 10 games over that total - as they always do because of how well run they are as an organization.
NL East - Philadelphia (72.5): The Phillies have been so bad for so long now that it's tough to remember that it wasn't that long ago that they were the class of the major leagues. They have been working on a rebuild, though, and this could be the year that they finally start to see some progress.
They have been doing things the right way, even though it has been painful. They still aren't going to be good enough to get into the playoff mix by any means - that is still a couple of years off. If they stay the course and stay healthy, though, they could easily see their win total increase by a significant margin from the 71 they had last year. Like Colorado, that kind of improvement could lead for big money for bettors.
Get free picks from any Doc's Sports handicapper - there is no obligation for this offer and no credit card required. Just sign up for an account, and you can use the $60 in free picks for any Doc's Sports Advisory Board handicapper and any sport. Click here to get started now .
Read more articles by Trevor Whenham