MLB Expert Baseball Handicapping: Reasons for San Francisco Giants Struggles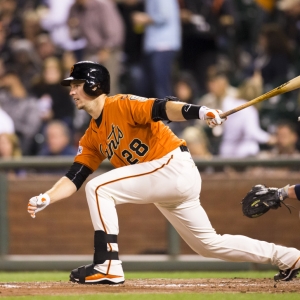 The biggest thing the San Francisco Giants have had going for them lately is that no one in the Bay area has cared about them at all up to this point. The Warriors have been making their run, and that's far more compelling than early-season baseball in a long season. The NBA season has ended, though, so once the victory parade is over the focus can return to the Giants - and it won't be a pretty sight. This is a really, really bad team right now. And the big problem is that this snuck up on people.
They were not an elite contender heading into the season, but at +1200 they were a very justifiable value pick. It was pretty easy to see them as a wild-card team - I know because I picked them. But here they sit at 26-39, 14.5 games out of the division lead. There is not a single thing left to play for here, and it's not even Father's Day yet. There are plenty of disappointing teams this year, but none can come even remotely close to the Giants. Just a mess.
Free $60 in Member MLB Picks No Obligation Click Here
For bettors there are three questions to consider - how did they get here, is there any hope for improvement in the short term, and how do we deal with them to maximize value and profits? Here are four factors to consider when pondering those questions:
Offensive ineptitude: 28, 28, 28, 30. That is where the Giants rank in the league in runs scored, batting average, on base percentage, and slugging percentage, respectively. Needless to say, that's not good. You can't win when you don't score, and only the Padres and Royals, two teams completely lacking rudders at the moment, have scored less. That is not something to be proud of. What makes those numbers even more dismal is that Buster Posey is hitting .347 with an OPS of .958. Those are obviously very strong numbers, which means that for the overall average of this team to be so bad there are a lot of guys in the midst of really horrible seasons. This wasn't a roster that was going to overwhelm at the best of times, but when most of the roster underachieves you wind up in a spot like this - and it's not a good place to be.
Pitching: Defensively this team isn't great - their 300 runs allowed is 20th in the league. They have taken an odd route to get there, though. One stat is very odd - they rank second in the league in quality starts with 36. And they have 26 wins. So they are getting a solid number of decent outings from their starters, but the offense can't do enough to make a quality start count. Only Washington has more quality starts, and their 42 have turned into 38 wins - a much better ratio. So, the rotation isn't going to get anyone excited - especially with Madison Bumgarner still on the sideline because he can't ride a dirt bike properly. While guys like Jeff Samardzija, Johnny Cueto, Matt Moore, and Matt Cain haven't overwhelmed with excellence, they have been decent enough that the team could be winning a lot more games if they could just score runs.
You might think you could blame the bullpen, but that isn't really the case, either. They haven't been the best in baseball, but they are Top 10 in ERA, have a 10-8 combined record with 14 saves, and have had to throw only the fifth fewest innings in baseball this year, so it's not like they are being asked to do too much. Like the rotation, this bullpen would be good enough to be a decent team if the offense wasn't such a traveling tire fire. Mark Melancon was brought in to be the anchor of the bullpen in the offseason, and he has done very well considering. He's pitched well, and it's not his fault that you can't get a save when you don't have a lead.
Consistency: If you are desperate to give this team credit for something, you can say that they are consistent. They are bad in pretty much every scenario. They have a losing record against every division and against the AL. They have struggled against righties and lefties. They have losing records both in day games and night games. The struggle pretty much regardless of the circumstances. The only area in which they have done surprisingly well is in extra inning games - they are 6-2 there.
Betting performance: I hope it goes without saying, but as a fairly popular team that can't do anything right this year the Giants are an epic disaster to bet on. Only the terrible Phillies and the terribly disappointing Cubs have cost bettors more money on the moneyline on the year. They have burned money at home and done it at a far more aggressive rate on the road. And, sadly, oddsmakers have adjusted to their ineptitude offensively well - they have gone "under" the total 29 times and "over" 31, so there are no profits to be made there, either.
The handicappers at Doc's Sports are offering $60 worth of member's baseball picks absolutely free - no obligation, no sales people - Sign up here for free baseball picks . Also, for a limited time only get three MLB handicappers for the price of one. Click here for details . Get free baseball picks today at Doc's Sports baseball predictions page .
Read more articles by Trevor Whenham