NBA Betting Advice and Handicapping: Cleveland Rolling Towards NBA Finals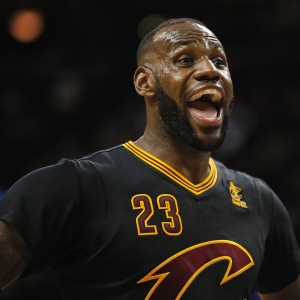 I just finished writing about the Golden State Warriors. And now it's time to write about the Cleveland Cavaliers. And what is so striking is just how similar the stories are right now for the two teams. There are subtleties, but the broad strokes are the same in so many ways. So, it's only fitting that I ask the same questions about this team as I did about Golden State. Where are they at? How have they gotten here? What does it mean for bettors? And on a scale from 'obviously' to 'unquestionably', what are their chances of making it to the finals? Here are five factors to consider when pondering those questions:
Free $60 in Member NBA Picks No Obligation Click Here
Path to here: The first game of the playoffs was very tense for the Cavs. They won by only one and really deserved to lose. And all four games were decided by six points or less in the first round against Indiana. It was a sort-of-tight series, though it was never at doubt at any point. And then the second round was a total joke. Toronto was terrible - like they were having an existential crisis right in front of our eyes and realizing that there was just no way for them to ever be a meaningful team on the path they are on. Toronto barely tried, and as a result Cleveland barely had to. They get credit for having been more tested getting this far than Golden State has, but only barely.
Up next: For both Cleveland and Golden State the third round was where things were supposed to really get interesting. And for both teams it is looking less and less like that will be the case. Boston is likely to beat Washington, but that's no guarantee. And neither of those teams has played so far like a team that is ready to be a serious contender. The biggest issue the NBA has is obviously how tiered their league is - how few teams legitimately can contend when things really matter. Boston isn't there yet. Washington is further away. The only way Cleveland is losing to either team is if LeBron is injured. That, sadly, is that.
Coaching: I'm not afraid to say it - Ty Lue is an idiot. More than once in these playoffs - and countless times before - he has let the world know that coaching the Cavs is really hard. Cry me a freaking river. Like we are supposed to feel sorry for him. Like sitting there and being told what to do by LeBron is the toughest job on the planet. Like he really has to work to keep things so dysfunctional in the locker room. How many times have you ever heard Gregg Popovich complain about how hard his job is? Or Phil Jackson - and right now he's showing that his current job is basically impossible for him, and still he doesn't whine. It's tiresome. And ridiculous. And it probably doesn't matter. He won a title last year, and it would be a shock if he doesn't play for another one this year. He's the coach this organization deserves.
The core: LeBron is averaging 34.4 points per game and playing as well as ever. He is the core. And the coach. If you want to be negative then you could be concerned that he is playing far too much - more than 42 minutes per game against outmatched opponents. Or that he is doing too much instead of letting others do it and saving himself. That's all true. But who is going to tell him that, or make him do it any differently? Certainly not Lue. James hasn't gotten any mellower or less demanding as he has aged, so he is going to do everything he feels he has to do to win - because he certainly doesn't trust anyone else to do it. So, if he stays healthy the Cavs win the East and give Golden State an interesting test. And if he doesn't then the house of cards collapses. It almost seems like oversimplifying to say that, but really it's not.
Betting performance: For a wildly-public team playing outmatched opponents, it's very impressive that the Cavs have gone a nicely profitable 5-2-1 ATS in these playoffs. Even more impressive, the two games they didn't cover were the first two of the playoffs, so they have been making money like crazy for bettors willing to do something as boring as bet Cleveland to win. The profits have been even better against the total - the "over" is 6-2 to date. Not surprisingly, oddsmakers are wildly optimistic about the future -- at least in the short term. The team is a ridiculous -650 to win the Eastern Conference -- and you could even argue that there is a little value there in that there obviously isn't any value in betting against them.
Doc's NBA handicapping team is offering $60 of member's picks free - no obligation, no sales people - you don't even have to enter credit card information. You can use this $60 credit on any of our top NBA handicappers. Get your NBA winning picks for free now.
Read more articles by Trevor Whenham