NBA Expert Betting Predictions: Playoff Picks and Preview Houston Rockets vs. Oklahoma City
by Chris Vasile - 4/12/2017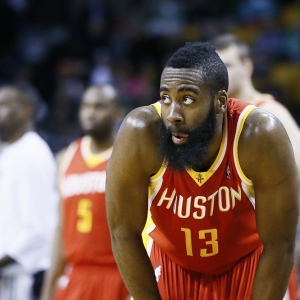 This series gets my vote as the most watchable and highly-anticipated first-round series in recent memory. In one corner, we have a 55-win team that boasts a legitimate MVP candidate on one of the highest-scoring teams in the league. In the other corner, we have Russell Westbrook, aka Mr. Triple-Double aka Brodie, who singlehandedly carried his team to the postseason. This series is going to be high-scoring and about as fun a playoff series as you will see outside of the NBA Finals.
As of this very moment, the Rockets are third-favorites to win the Western Conference with odds of +750 and fourth-favorites to win the NBA Championship at +1600. If Houston came out of the east, I would like their chances a hell of a lot more than their current situation. They will likely have to beat out both San Antonio and Golden State just to set up a date with Cleveland (likely) in the Finals. That's a tall task. Their opponent, Oklahoma City, checks in at +6600 to win the West and +12500 to reign supreme. Despite all of Westbrook's historic accomplishments so far this year, I believe his dominance comes to a screeching halt during this series. All odds are courtesy of Bovada .
Free $60 in Member NBA Picks No Obligation Click Here
In past seasons, when you thought of the Houston Rockets you usually thought of an underachieving team that loved to take nights off and that hardly played any defense. However, this year the script is different. The effort on defense has been increased drastically, and they own the third-best record in the entire league, which means they got over the "night off" mantra. Even the common fan would know who the star player is of this team. James Harden, has taken his game to a whole new level and is in the running (potential front-runner) for the MVP award. He not only scores the basketball, but he gets his teammates involved and raises the level of their play. Postseason success will be looked upon closely in regards to Harden's legacy in the NBA, and as of right now he doesn't have much success to speak of. He will be eager to change that.
The Thunder, on the other hand, have their own MVP candidate in Russell Westbrook. Westbrook's utter dominance on a team that has very few talented players otherwise has been both a blessing and a curse. Some would say that what Russ is doing is not only historic but also a feat that only he could have accomplished because of his great shooting, passing and athleticism. The contrarians would call Westbrook's historic season "stat-padding" on a weak team. When Kevin Durant left for Golden State, this became Russ' team, and the organization didn't do much to replace the vacant spot with talent. Is Victor Oladipo, Steven Adams and Enes Kanter really the kind of supporting cast a superstar can rely on? Probably not. The MVP can go either way this season, but Russ is simply doing what he's doing because nobody else can help him out.
Offense
The Houston Rockets rank in the top 10 in all major offensive categories. They are second in points per game, behind only the Golden State Warriors, averaging a whopping 115.3 points per game. They are eighth in rebounds per game at 44.6, fourth in assists per game at 25.1, first in three-pointers made per game (14.2) and attempts per game (39.9). They also average 26.1 free throw attempts, which is good enough for second, one spot better than the Thunder.
This year's Rockets' squad is well-rounded and has the ability to hurt you both inside the paint and from the perimeter, which makes them a very dangerous team come playoff time. Individually, the Rockets boast six players that average double-digits in points. They are led by (obviously) Harden, who is turning in 29.1 points per night on 43.8 percent shooting from the floor and 34.5 percent from beyond the arc. He also averages 11.2 assists per game, which is a direct cause of his teammates' production. Harden's supporting cast of Lou Williams (17.7), Eric Gordon (16.3), Ryan Anderson (13.5), Clint Capela (12.4) and Trevor Ariza (11.7) all contribute in big ways to the team's success. Three other players; Patrick Beverley, Nene and Montrezl Harrell; average more than nine points per game. To put it lightly, this team is stacked.
The Thunder's offense goes through Westbrook, and when he isn't putting up big numbers (rare occurrences) the team often falls flat on its face. The Thunder average 106.6 points per game, which has them ranked ninth, just ahead of my beloved Toronto Raptors. They also rank first in the league in rebounds per game, hauling down a shade more than 46. For a team void of talent around Westbrook, the Thunder struggle to accumulate assists, averaging just 21 per game, which leaves them ranked 25th out of 30 teams. A big problem the Thunder face in this series is the fact that they make only 8.4 three-pointers per game, which could have them trailing for the majority of the series. Individually, we already know about Westbrook's triple-double average of 31.9/10.7/104. Behind him, four other players average double figures. Oladipo leads the way with 16, while Kanter averages 14.4, Adams averages 11.4 and Taj Gibson chips in with 10.8.
Defense
As I touched on earlier, past Rockets' teams thought playing defense was a joke, especially Harden. While they may not be a defensive power like the Jazz or Spurs, they are still better than last year, if you can believe it, despite giving up 109.5 points per game. I guess the old adage stands correct with the Rockets - the best defense is a great offense.
On the other hand, the Thunder allow their opponents to put up 106.4 points per game, which has them smack-dab in the middle of the NBA. I fully expect this series to be a track meet and full of fast-break points for both teams. Neither team has a legitimate shutdown defender, so expect Harden and Westbrook to get theirs. The question then begs to be asked - which supporting cast wins the series?
Prediction
The Thunder have the best shot of any lower-seeded team in the Western Conference to pull off the upset. I'm not including the 4/5 matchup because those teams are dead even in terms of record. Westbrook is playing with a chip on his shoulder the size of Russia, so anything he does or manages to accomplish in this series wouldn't surprise me for a second.
The only reason I'm picking the Rockets to win this series is the supporting cast. The Rockets boast a plethora of options on the offensive half of the court, and the Thunder simple won't be able to keep up. Not to mention the Rockets are the best three-point shooting team in the association, which means OKC will have to score two buckets for every Houston bucket just to keep pace. Rockets in six, but not before Westbrook goes off for 50/15/12.
How about $60 worth of member's picks absolutely free? No obligation, no sales people, no credit card. You can use you $60 credit on any of our top NBA handicappers. Get your free daily NBA predictions today!