NBA Wagering Advice: Teams that Could Be Hot Bets Down the Stretch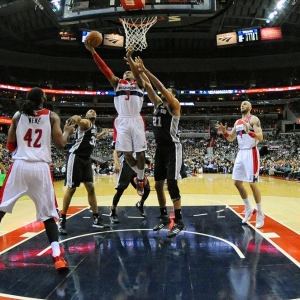 We are not quite at the midpoint of the NBA season, but we are close enough. The turn of the calendar to the New Year is significant in the NBA. We have seen enough games played that, for the most part, we have a sense of which teams are for real and which ones aren't. We know, for example, that the Warriors and Cavs are likely heading to yet another rematch, with the Spurs and Rockets the biggest threats to Golden State in the West and no one in the East seeming quite good enough to really threaten the champs.
While we can be confident in those opinions, what is more interesting for bettors are teams that are likely to be quite different in 2017 than they were in 2016. If they change faster than the public adapts to then there can be some nice value to be had.
Here are the five teams with the best chances of closing strong after early disappointment (odds to win the NBA championship are from BetOnline ):
New Orleans Pelicans (15-24, +50,000): The Pelicans are in the midst of their second straight season of being a disgrace. After dipping from 45 wins to 30 last year they are currently only on pace for a slight improvement this year. They have been better of late, though. They lost 10 of their first 12 games with Jrue Holiday sadly absent to care for his wife who has a brain tumor. Holiday is back, and he is playing well and providing stability. The team is just one game under .500 at 13-14 since he returned. That's not great, but it is better than their record indicates. They still lack an identity, and Anthony Davis is still not what he should be at this point in his career, but the signs are there that this team could be well over .500 in the second half. They have the potential incentive of a playoff spot to drive them - the Trail Blazers currently hold down the final spot at just 17-23, so the gap is small.
Philadelphia 76ers (10-25, +100,000): The Sixers are still a long way from good, but they are better than they have been. Joel Embiid has been excellent and will only get better as he gets fully healthy and his minute limits are eased. Nerlens Noel is getting healthy, too, and there is a chance that Ben Simmons could be ready to play at some point in the second half. The team still has some personnel issues to deal with - most significantly, how to deal with the excess of big men. If they can handle that better than they have so far, though, then there is a good chance that they can be better in the second half. Remember, they have already matched their win total from last year, so they can only go up from here. They obviously aren't a playoff threat yet, but it is easier than ever to believe that they are on the road to that success.
Washington Wizards (19-18, +10,000): Like the Pelicans, we can be reasonably confident that the Wizards will be stronger in the second half of the season because those that are paying attention know that the team is already playing a fair bit better than their record. The team lost nine of 12 out of the gate. That means that they are 16-9 since then. New coach Scott Brooks is no slouch, so it only makes sense that the team was going to make some progress once he got his systems installed and the players got comfortable with what he was asking. I expect a dramatically better record the rest of the way than they have had so far.
Minnesota Timberwolves (12-26, +50,000): I am more disappointed in what we have seen from this team than any other in the league right now. They are loaded with young talent, led by Karl-Anthony Towns, who has true superstar potential. And they hired the best available coach in Tom Thibodeau in the offseason. I was very bullish about the team this year, but I clearly shouldn't have been. Most strikingly, despite Thibodeau's defensive mindset and success, the team has struggled when they don't have the ball. There is slight improvement defensively of late, though, and I just can't shake the faith that the team has too much talent to be this bad. I don't expect dramatic improvement just yet - patience is clearly needed here. It seems that much closer to average would be possible going forward, though.
Milwaukee Bucks (19-18, +10,000): Giannis Antetokounmpo is growing before our eyes, evolving into not only a true superstar but a player unlike we have seen before. He truly is a freak. Jabari Parker is more than serviceable, too. This team is growing into themselves with every outing, and I expect them to continue moving forward this year. In another year or maybe two this team is going to be a viable threat to so some real damage, and we should see them move closer to that down the stretch.
How about $60 worth of member's picks absolutely free? No obligation, no sales people, no credit card. You can use you $60 credit on any of our top NBA handicappers. Get your free daily NBA predictions today!
Read more articles by Trevor Whenham