2017 San Francisco Giants Predictions and Odds to Win the World Series
by Chris Vasile - 3/27/2017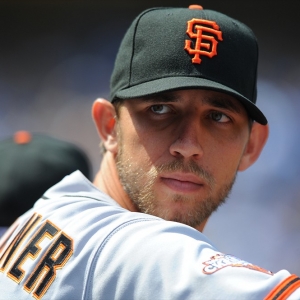 The San Francisco Giants enter the 2017 season hoping to get a chance to extract some revenge on the Chicago Cubs. The Cubs knocked them out of the postseason with a 6-5 win in Game 4 of the NLDS. That was a game the Giants were in complete control of, before five shaky relievers proceeded to blow a 5-2 lead late in the ballgame. To a man, the Giants are unconvinced that the Cubs were a better team than them, and it'll be very interesting to see if they can back up that talk considering the year we are in.
Free $60 in Member MLB Picks No Obligation Click Here
The Giants have been known to be one of the streakiest teams around the Major Leagues. They have tasted glory in 2010, 2012 and 2014, while missing the playoffs in the odd numbered years such as 2011, 2013 and 2015. If anything good came out of that blown lead last year, is that the so called "even/odd year trend" seems to have been broken.
The Giants had a terrible finish last season and ended up with a record of 87-75, four games back of their in-state rivals from Los Angeles. They held a 6.5-game division lead at the all-Star break before posting a 30-42 record in the final 72 games. The Giants have finished second to the Dodgers in three straight seasons and will be desperate to buck the trend this season.
This year's version of the Giants looks stronger on paper than previous years, and nobody is better at getting the best out of his lineup than manager Bruce Bochy. Unfortunately for Giants' fans, Bochy is prone to make a few bonehead decisions, so you just need to cross your fingers and pray that these costly errors don't result in losses.
The Giants will open the regular season with a seven-game road trip that commences on April 2 in Arizona. That series is followed by three at Petco Park in San Diego before they return home to take part in the home-opening festivities. Madison Bumgarner gets the opening day nod and will likely be opposed by Zack Greinke. I expect the Giants to be the clear betting favorite . The overall outlook of the Giants season is 87.5 wins, with both the "over/under" set at -115. They are also +1100 (sixth favorite) to win the World Series , +600 to win the NL Pennant, and +240 to win the NL West. Bumgarner is +1000 to win the NL Cy Young, while Buster Posey is +3300 to win the NL MVP. All odds are courtesy of Bovada.
Giants 2017 Projected Lineup
The Giants lineup is getting old in a hurry, but Giants' fans hope that with age comes the experience needed to get into the playoffs and a chance to once again taste glory. The Giants return the core of their infield players with the likes of Brandon Belt, Joe Panik, Brandon Crawford and Eduardo Nunez. They also believe that this quartet will be able offer up more production than they did last season. Panik was injured for the majority of the season last year, so if he can find a way to get his .239 average last season back up to .312 from 2015 then the Giants would benefit greatly. Nunez played only 50 games for the Giants last year and was able to hit for .288 and steal 40 bases over the course of the year. Any line similar to that over a full season would mean the Giants would get more production out of the third base position than they did in 2016. The Brandons (Belt and Crawford) had good seasons last year and will be looked upon to continue producing. Crawford batted .275 with 12 HRs, 84 RBIs and 67 runs scored, while Belt pitched in with a line that reads .275/17/82/77.
While those four players will have a tremendous impact on how the season shapes up, the key player for the Giants is catcher Buster Posey. Posey struggled down the stretch of last season, hitting just 2 home runs in the final 64 games. His slugging percentage dropped to .368, which is fine if you're a catcher not named Buster Posey. Posey is projected to bat third in the lineup behind leadoff man Denard Span and Brandon Belt. He will bat in front of clean up man Hunter Pence, who, at 34 year of age and coming off two injury-plagued season, will be hard-pressed to produce like a No.4 hitter is supposed to. The rest of the lineup sees Crawford batting fifth, Nunez sixth, Panik seventh and Jarret Parker batting eighth and playing left field.
The Giants added Nick Hundley as a backup catcher from Colorado as well as veterans such as Jimmy Rollins, Aaron Hill and Michael Morse. But with additions come subtractions. The Giants lost veterans Angel Pagan and Gregor Blanco, which leaves Mac Williamson and Jarrett Parker as the lone left field options.
Giants 2017 Projected Rotation & Closer
The Giants will once again have the luxury of trotting out two bonifide aces in Bumgarner and Johnny Cueto. These two pitchers finished fourth and sixth, respectively, in last season's Cy Young voting. Bumgarner finished last year with a record of 15-9 and a 2.74 ERA. Cueto, on the other hand, finished with a record of 18-5 and a 2.79 ERA. I'd be confident in penciling both in for similar, if not a higher, win record and a lower ERA.

What I'm not confident in is the rotation behind them. Jeff Samardzija, Matt Moore and Matt Cain don't exactly strike fear in the eyes of opposing lineups. Samardzija closed last season strong, but prior to those final seven games he was a train wreck. He boasted a 3.81 ERA after posting a 4.96 ERA in 2015 with the White Sox. He's had just one season since 2011 with an ERA under 2.90, and I believe this won't be the season he changes that. He was heavily recruited by the Giants and signed a 5-year, $90 million contract, so don't expect him to go anywhere anytime soon. One positive with him is that he will eat up at least 200 innings, barring injury.
Moore was brought in from the Tampa Bay Rays last season at the deadline to strengthen the pitching staff and see if he could be the answer to breaking the team out of the second-half slump. Moore pitched well but was only able to put up a 6-5 record with a ERA just over four. He pitched 198.1 innings, which is his most since coming off Tommy John surgery in 2015.
And lastly, Cain. He is the longest-tenured Giant on the team, but he remains a huge question mark. He went just 4-8 last season with a 5.64 ERA in 17 starts. He hasn't had an ERA less than four since 2012, and anyone who thinks he will be better this season is just silly. Cain might be given the fifth spot in the rotation courtesy his resume (three World Series rings, a perfect game and three all-star appearances), but he will be on a very short leash with Ty Bach and Albert Suarez ready to jump in at a moment's notice.
The Giants bullpen trouble was a major concern last year, which is why they went out and spent big to bring in closer Mark Melancon from Washington. Melancon has been putting up very solid numbers over the last four years. He has a 1.80 ERA, a 0.91 WHIP and just 42 walks in 290 innings. What has he done lately? In the past two seasons he's converted 98-of-104 save opportunities. However, he can only save games the Giants have a lead in. It will be up to the likes of Will Smith, Derek Law and Hunter Strickland to preserve the lead until the ninth inning.
Giants 2017 Predictions
FanGraphs projects the Giants to finish 87-75 and finish second in the NL West (again), seven games back of the LA Dodgers. Out of all the teams in the NL, I always find myself cheering for the Giants to do well because I enjoyed watching Barry Bonds play and I love AT&T Park. However, this season could be a tough one for Giants fans to swallow. They might have a solid one-two pitching combination in Bumgarner and Cueto, but the bullpen is shaky and there is absolutely no depth beyond the starting position players. If any starter - pitcher or position player- misses any extend period of time, the Giants will be hard pressed to crack the top five teams in the NL t hat will be playoff bound.
Doc's Sports has a great offer for new clients. You can get $60 worth of picks from any Advisory Board handicapper for any sport he handicaps. All with no obligation and no credit card needed. Claim your free picks today . Doc's Sports offers free MLB predictions every day from Opening Day through the playoffs and World Series .