2017 Super Bowl Totals Betting: Expert Picks and Predictions
by Alan Matthews - 2/2/2017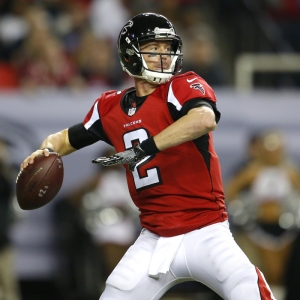 Hard to believe it's already the end of the 2016 NFL season this Sunday at Super Bowl LI - yep, we're unfortunately back to Roman Numerals this year. I highly doubt anyone bet on every game I previewed, but it was a productive season overall with a record solidly above break-even on both the sides and the totals.
As I'm sure you have heard by now, the total for Sunday's game between the AFC champion New England Patriots and NFC champion Atlanta Falcons is the highest in Super Bowl history . It's currently 58.5 at just about every sportsbook listed by Doc's , but it's quite possible it could rise by kickoff. Any quotes I have seen out of Las Vegas by those books are that the public was hammering the over in early action. You could see the sharps swoop in on Saturday and early Sunday and perhaps get the total moved down slightly.
I see no way it gets below 57, which was the previous high. That was in Super Bowl XLIV in Miami when Drew Brees and the New Orleans Saints won their only title, 31-17 over Peyton Manning and the Indianapolis Colts. I would argue that was the best quarterback matchup in terms of star power and regular-season numbers this century - until perhaps Sunday.
What About The Roof?
I suppose I need to talk about the weather - it won't be an issue. There's probably no team in the NFL built more to play in a dome than the Falcons were at their Georgia Dome. They are an offense built for perfect weather conditions and a fast track much like the "Greatest Show On Turf" Rams were. Those Rams were 1-1 in Super Bowls. In XXXIV in Atlanta, St. Louis beat Tennessee 23-16. That total was 45 so obviously under. Two years later in New Orleans, the Rams were upset 20-17 by New England and some young quarterback named Tom Brady. The total in that game was 53. So that's two under totals in those Super Bowls, and this Falcons offense has often been compared to that Rams group led by Kurt Warner.
The NFL would like to have the roof open at Houston's NRG Stadium on Sunday evening if possible. A final decision is expected to be made no sooner than Saturday and possibly the morning of the game. The roof wasn't opened once for a Texans game this season. The team's guidelines call for it to be open if the temperature is below 78 degrees and above 65 with no chance of rain in the forecast. It looks like the temperature won't be an issue Sunday, just a matter of any chance of brief showers.
When that stadium - then called Reliant - hosted the Super Bowl 13 years ago, the roof was closed with rain in the forecast. New England happened to beat an NFC South team that evening, Carolina, 32-29.
I do think having the roof closed matters with the total - especially when it comes to any field-goal props. For example, there's one I've seen asking whether the record of a 54-yard make will be broken. A closed roof is better for kickers, obviously assuming no huge winds in either direction with it open. Incidentally, the Falcons' new Mercedes-Benz Stadium also has a retractable roof.
Super Bowl LI Betting Trends
Of course, the Falcons led the NFL by a mile in scoring this season at 33.8 points per game, and their 540 points were tied for the seventh-most in history with the 2000 Rams. Matt Ryan is going to be named NFL MVP for the first time at the league's awards show Saturday. Ryan is scorching-hot during his team's six-game winning streak in throwing for 18 TDs and no picks. Ryan is also the first player to ever throw at least three TD passes in four straight playoff games - that statistic surprised me. Bit of an asterisk there as two games were this postseason and two in 2012.
New England led the NFL in scoring defense at 15.6 points per game. I happen to believe that unit is overrated. The Pats haven't faced a quarterback all season who finished in the Top 10 in passer rating. To their credit, they allowed just one QB to throw for three TDs, and it was the best guy the Pats saw in the regular season: Seattle's Russell Wilson. That was also the only game New England lost with Brady under center. Brady wasn't particularly sharp in the divisional round against Houston's No. 1 defense but was stellar against Pittsburgh in the AFC title game. Brady holds several Super Bowl records, including attempts (247), completions (164), yards (1,605) and touchdown passes (13). He's good.
Super Bowl LI Totals Betting Picks and Predictions
This is the 10th Super Bowl to have a total of at least 50. Only three of the first nine have gone over, and two of those were by half a point: San Francisco 38, Miami 16 with a total of 53.5 in XIX; and Denver 34, Atlanta 19 with a total of 52.5 in XXXIII. That was the Falcons' only previous Super Bowl berth.
This is the seventh time in Super Bowl history that the No. 1 scoring offense and top-ranked scoring defense have faced off in the title game. It last happened two years ago, when the Seahawks' No. 1 defense shut down the Broncos' No. 1 offense in a 43-8 win. That game had a total of 47.5. The weather was a factor then as it was played outdoors at MetLife Stadium in New Jersey. It wasn't brutally cold or anything (a bit windy), but I believe that helped Seattle and hurt Denver.
Bill Belichick is a defensive genius, and the more time you give him to game plan an offense, the worse for the opponent. The Falcons are an astounding 15-2-1 "over/under" this season. Their three games that didn't go over were played outdoors, for what that's worth (Denver, Philadelphia and Carolina). The Falcons are the 22nd team to reach the Super Bowl with the league's top-scoring offense. The previous 21 teams went 10-11.
I recommend the under here. I can see each team scoring in the high 20s but not into the 30s. Maybe one in the 30s, not both. You can get any number of alternate totals at books like 5Dimes. I might go up to 61.5 (in case I am wrong and it ends 31-30) and go under there at -151.
Get free picks from any of Doc's Sports Advisory Board of expert handicappers - and with no obligation or credit card. You can use these free picks for any sport, and you will never deal with a salesman. Click here for your free Doc's Sports picks .
Read more articles by Alan Matthews