Updated NBA Championship Futures Odds with Expert Betting Predictions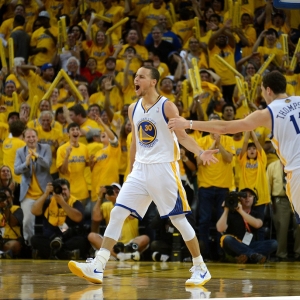 We have less than a week to go. On April 12 the NBA regular season comes to an end. And soon after the playoffs get under way. There will be 16 teams in the postseason. Let's not kid ourselves, though - the list of real contenders is much, much shorter. I'll be totally honest and say that I don't see a lot of point right now in betting NBA futures. It's just not where the value is. If you do like having some longer term action heading into the postseason, though, then let's look at the numbers posted at BetOnline to see what we can see:
Golden State Warriors (-200): The Warriors have won 13 straight games, including a win at San Antonio and two wins against the Rockets. And Kevin Durant, perhaps their most important player in the playoffs if things go according to plan, is finally returning to action for the next game. They have been smarter about easing up on players down the stretch than last year, and they have the wisdom earned from last year's disappointments to grow from.
It's not going to be easy, of course, because they will likely have two elite opponents standing between them and the title, but it's hard to be anything other than optimistic about this team and their chances. An injury could get in the way, but it's tough to imagine a whole lot else derailing them at this point. I mean, take a team that has won 13 in a row and add a Top-3 talent to them for the playoffs. It's not even fair.
Of course, you'd have to be a bit of an idiot to tie your money up for a couple of months for a shot at a payout this pitiful. If you really want to bet the Warriors bet on them to win a game, parlay the results and repeat until you are happy with the return - no more real risk and a much better potential return.
Cleveland Cavaliers (+250): Well, it sure got a lot easier to trust the Cavs after Wednesday night. In a battle for first place with the Celtics - the one team that you could potentially convince yourself had a chance to beat the Cavs - Cleveland toyed with them for the first quarter, but then they flipped a switch, opened up a big lead in the second quarter and never looked back.
There are reasons to be concerned, of course - the coach is a puppet, the team chemistry is horrifying, the bench isn't super, LeBron James has an ego the size of Ohio, and so on. But James has played in six straight NBA Finals, so he's not just another guy on another team. I don't think Cleveland can beat Golden State again, but you have to get to the finals to have a chance to win the finals, and the Cavs have the second-best chance of making that happen. I wouldn't bet them myself, but at least in relative terms this price probably makes more sense than Golden State's.
San Antonio Spurs (+600): You take the best coach on the planet - in any sport - and give him a team that always finds ways to be great, and of course you have a contender. The biggest issue the Spurs face, though, is their likely path. They are set up, if things go as expected, to face Houston then Golden State then Cleveland. That's a whole lot to ask of any team. Kawhi Leonard is a machine and all, but I don't see how he leads this team all the way to the promised land through that. I don't see how they beat the Warriors, and you have to beat them to win it all.
Boston Celtics (+1200): This team is shockingly dependent on Isaiah Thomas. Put bluntly, they don't have an offense when he is on the bench. That's a major concern - especially in the playoffs when an opponent can focus all of their attention on mentally and physically exhausting a guy who is just 5-foot-9. I wanted to believe that this team could knock down the big, bad giant in Cleveland. I'm sick of the LeBron show. I no longer believe that.
Houston Rockets (+1600): James Harden is special. But no one in history has ever turned it over like he does. And few guys in the league are as central to everything their team does. He's not going to be an easy out, but when opponents are deeper than they are then it's going to cause trouble. This is just not the year.
Washington Wizards (+3300): No. Just no. There are things to like. But not nearly enough.
L.A. Clippers (+4000): Remember how I didn't believe in the Wizards a few seconds ago? I think they're as dominant as the Globetrotters compared to these Clippers.
Toronto Raptors (+4000): I'm not at all enthusiastic about it, but if I were going to make an argument for any long shot it would be Toronto. They have won nine of their last 11, and Kyle Lowry, their most important player, just returned from an extended absence. He's fresh and looks good. The team added more than most contenders at the deadline, and the changes are gaining traction. The path is going to be brutal - potentially Boston, Cleveland and the Western champ. At this point, though, I guess I like them against the Cavs as much as anyone.
How about $60 worth of member's picks absolutely free? No obligation, no sales people, no credit card. You can use you $60 credit on any of our top NBA handicappers. Get your free daily NBA predictions today!
Read more articles by Trevor Whenham