Who Will be Inducted into 2017 Video Game Hall of Fame? Odds and Predictions
by Raphael Esparza - 4/5/2017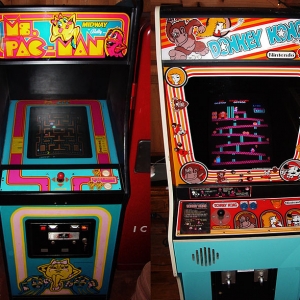 In 2015 the Strong Museum's World Video Game Hall of Fame in Rochester, N.Y., was established, and next month the third annual Video Game Hall of Fame will be announced. Iconic games that everybody knows such as Pac-Man, Super Mario Bros, Space Invaders, Sonic the Hedgehog, The Sims, The Legend of Zelda, and many more have already been inducted, but this year the finalists are legendary.
The World Video Game Hall of Fame's 2017 finalists were recently announced, and these games span decades of fun and Carpal Tunnel Syndrome all over the world. Iconic 1981 arcade classic Donkey Kong is a big favorite to get in the Hall, and this game launched Mario's plumbing career and Hall of Fame inductee Super Mario Bros. A long shot to be inducted this year is the 2006 family living room hit Wii Sports that made gamers out of our parents, grandparents, and created tons of fun at the Senior Citizen Center.
A museum spokeperson said, "Finalists were chosen from thousands of nominations from more than 100 countries," and that the winners will be inducted May 4. I'm hearing no more than six games will be inducted this year, and I'm shocked that Donkey Kong was not inducted the last two years and why Myst even on this list. Offshore website Paddy Power just put out odds on who be inducted, and I have broken down the odds on each game and I will tell you if it's a good bet or a bad bet.
Odds To Be Inducted
Donkey Kong -450
(1981): Donkey Kong launched the success of Super Mario Bros, and I'm completely shocked that the Kong is not in the Hall. I don't like to use the word 'lock' when it comes to gambling but on May 4it will be a lock that Donkey Kong will hear its name called. I know -450 is a high price, but this number should be -1000 or higher.
Pokemon Red and Green -450
(1996): Since appearing on the Nintendo Game Boy, the Pokemon phenomenon has produced more than 260 million copies of its games, 21.5 billion trading cards, and is still popular today. Just the name Pokemon alone will get this video game in the Hall of Fame.


Final Fantasy VII 4-11
(1997): The Sony Playstation's second-most-popular game should hear its name announced, and the betting line agrees with me. Final Fantasy VII also introduced 3-D computer graphics, and I believe the computer graphics are probably the main reason why this game is getting into the Hall this early.
Tomb Raider 4-9
(1996): Tomb Raider will be the first female video game in the Hall of Fame, and yes Tomb Raider will get in May 4. Lara Croft, the face of the franchise, needs to say thank you to Angelina Jolie for playing Ms. Croft in the movie "Tomb Raider". Tomb Raider should be in the Hall, but why Miss Pac Man isn't in the Hall of Fame is the bigger question. Little shocked that this number is still 4-9 because the closer May 4 comes to the calendar the higher I see Tomb Raider getting bet up.
Microsoft Windows Solitaire -110
(1991): Solitaire fans don't email me hate mail, but I'm sorry this is not a real video game in my eyes. This is based on a centuries-old card game that was plugged in when computers were invented. So many other video games in my eyes should go in before Microsoft Windows Solitaire. What's next 'Go Fish'?
Mortal Kombat +150
(1992): Not only was this game so much fun to play when I was in high school, but Mortal Kombat had huge controversy when this game was released. Mortal Kombat's realistic violence was debated all over the world, and parents were outraged over the violence and graphics. Even the US Congress was a factor in the 1994 creation of the Entertainment Software Rating Board, and it all started because of this game. Mortal Kombat gets in, and grab this plus-money now!
Street Fighter II +170
(1991): One of the top-selling arcade games ever, and Street Fighter II not only made millions but made huge successful sequels. I'm not saying Street Fighter II doesn't deserve a Hall of Fame induction, but this list right here is tough and I believe Street Fighter II might have to wait another year.
Resident Evil +210
(1996): Resident Evil is the reason why I don't see Street Fighter II getting into the Hall this year. Resident Evil popularized the "survival horror" generations of games, and if you throw in the success of the movies this game has produced $1.2 billion worldwide. Getting Resident Evil at +210 I believe is a steal, and I see this number coming off the betting board quickly. Resident Evil gets in the Hall May 4!
Halo: Combat Evolved 3-1
(2001): Halo: Combat Evolved will be in the Hall of Fame, but not in 2017. I know Halo: Combat Evolved launched Microsoft's Xbox system and has made millions of dollars on the game, novels, comics, and action figures, but the list above Halo will get in this year and maybe next year Halo will be a Hall of Famer.
Portal 4-1
(2007): Not going to lie but I have never heard of this game until I started doing research for this article. Portal was launched by Valve Corporation and became an unexpected breakout hit because of its unique game play. One year Portal will get into the Video Game Hall of Fame, but not this year. This number should be around 10-1 or higher!
Wii Sports 4-1
(2006): Wii Sports was launched with Nintendo Wii home video game system, and this system let all players hit a baseball, bowl a 300, and throw a knockout punch. So many other video games ahead of Wii Sports and wouldn't shock me to see Wii Sports take a couple of years to get in. I just don't see Wii Sports being the first sports video game getting into the Video Game Hall of Fame.


Myst 5-1
(1993): Ok here is another game that I never heard of or played! I heard this game was a slow-paced game and was one of the best-selling computer games in the 1990s. Sorry, Myst, but you have no chance this year getting into the Video Game Hall of Fame.
Raphael Esparza is one of the best handicappers in all sports. This weekend Esparza has plays from NBA, NHL, MLB, Soccer, Golf, UFC, Frozen Four Hockey, and yes three big Road to the Kentucky Derby prep horse races . Get his One Day MLB Picks for only $30, or new clients can take advantage of Doc's no-hassle $60 free picks offer and get Esparza's MLB picks and still have a $30 credit to use for any picks from any handicapper on the site.