2018 AL West Expert Predictions with Odds and MLB Betting Picks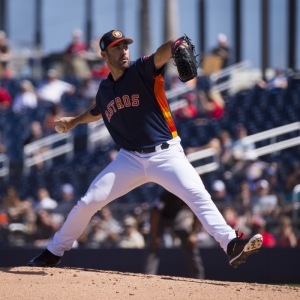 Last year the Houston Astros overcame hell and high water, along with two powerhouse teams from the largest markets in baseball, to win the franchise's first-ever world championship. Now the Astros enter the season as reigning champions and favorites to maintain their spot on the throne again this season.
Their division rivals, on the other hand, start the 2018 season with decidedly more modest goals. The Angels used an offseason spending spree to position themselves as postseason hopefuls. The A's received a glimmer of hope last September from some of their young prospects. And the Rangers are Mariners are hoping that their aging stars have enough left in the tank to make one final playoff push.
Here is a look at Doc's Sports 2018 AL West picks and some betting predictions:
Houston Astros
2017 Record: 101-61 (+1200)
2018 Wins Over/Under: 96.5
Odds To Win 2018 AL West: -500
Odds To Win 2018 AL Pennant: +225
Odds To Win 2018 World Series: +525
Outlook: The Houston Astros are the defending World Series champions, and, unlike last year's defending champs, the Cubs, Houston does not look poised for a letdown heading into this spring.
Houston boasts the best core of young talent in baseball. Carlos Correa, Jose Altuve, George Springer and Alex Bregman are all younger than 28 years old. And that youth is supported by proven veteran talent like 30-somethings Josh Reddick, Evan Gattis and Brian McCann. This lineup scored almost 900 runs and garnered nearly 1,600 hits last season. And they could be even better this time around.
The same can be said about Houston's pitching. They will now get a full season of Justin Verlander at the top of the rotation, pairing with Dallas Kuechel to give the Astros a devastating one-two punch. The bullpen is solid and flush with confidence after last year's championship.
There is no weakness on this team. They are the defending champions, and they are clearly the best team in baseball. But there hasn't been a repeat champion since 2000, and betting this team is going to come at an almost comically high price.
Seattle Mariners
2017 Record: 78-84 (-1100)
2018 Wins Over/Under: 81.5
Odds To Win 2018 AL West: +275
Odds To Win 2018 AL Pennant: +2000
Odds To Win 2018 World Series: +4000
Outlook: Everything about the Mariners is mediocre. Their pitching staff? Meh. Their lineup? Meh. Defense? Bullpen? Base running? Intangibles? Meh to the meh.
Seattle made the move to bring back fan favorite Ichiro Suzuki this offseason. That deal reeks of a move made by a team that knows it won't be competing but still wants to sell tickets. They also grabbed Dee Gordon from the Miami fire sale and are hoping that some speed at the top of the order will help make up for a lineup that A) was in the bottom half of the league in home runs and slugging and B) is still relying on Nelson Cruz and Robinson Cano, two guys that will be 38 and 36, respectively, by the end of the season.
Felix Hernandez is only 32 years old but feels like he's been pitching for decades. He has a lot of innings on his sensational arm and is not the dominating ace he once was. James Paxton is a capable No. 2. But the rest of the rotation and the bullpen are, well, mediocre at best. Same goes for their nondescript bullpen.
A big metric in baseball is Wins Above Replacement. Well, consider the Mariners a Replacement-Level Team. I don't think that their aging core has enough left in the tank to carry this team to the playoffs. And they don't have enough young stars to pick up the slack. I think the best-case scenario is that Seattle plays .500 ball and squeaks out a profit. A more likely scenario has them around last year's 78 wins and a non-factor in the West.
Texas Rangers
2017 Record: 78-84 (-120)
2018 Wins Over/Under: 76.5
Odds To Win 2018 AL West: +2000
Odds To Win 2018 AL Pennant: +3500
Odds To Win 2018 World Series: +6500
Outlook: It's safe to say that the Rangers' window for competing for the American League pennant is closed. Last year's injury-plagued season is behind them. But they head into 2018 well behind in-state rival Houston in the division, behind a handful of teams in the AL, and in that awkward stage of not knowing whether to start a full-blown rebuild or not.
The Rangers are still going to be able to hit. Joey Gallo busted out last season, and when Adrian Beltre is healthy he's still able to crank. They need a bounce-back season from Rougned Odor and one or two young players to raise their level of play. Throw in Elvis Andrus and Shin-Soo Choo, and health is going to be more a question than ability.
But, as always, Texas' pitching is still a mess. Cole Hamels is past his prime and will be 35 in May. The rest of the rotation is low-ceiling retreads like Doug Fister and Mike Minor. The bullpen had the third-worst ERA in baseball last season. And they didn't really upgrade. So look for plenty of blown leads and softball scores in Arlington again this summer.
Texas won 95 games just two seasons ago. It's easy to think last year's 75-win campaign was a blip on the radar. But this roster simply doesn't have the punch that it did when they made the playoffs five times in seven years. I think they will be better than they were last season. But if they aren't showing signs by midseason then the front office might blow this roster up and sink this team down even further.
Los Angeles Angels
2017 Record: 80-82 (+200)
2018 Wins Over/Under: 84.5
Odds To Win 2018 AL West: +500
Odds To Win 2018 AL Pennant: +1000
Odds To Win 2018 World Series: +1800
Outlook: When you have the best player in baseball, you always have a chance. And the Angels are looking for super stud Mike Trout to carry an improved roster into the postseason for the first time since 2014 and just the second time this decade.
The Angels were one of the rare active organizations this offseason. They signed exciting two-way player Shohei Ohtani from Japan, locked up Justin Upton, and grabbed Ian Kinsler and Zack Cozart. On paper this team has a lineup and defensive capabilities - led by Trout and shortstop Andy Simmons - to threaten the Astros.
Starting pitching is going to be a major question mark for this group, though. Guys like Garrett Richards and Matt Shoemaker have shown flashes of being MLB-capable starters. But this rotation has been racked by injuries. They may even go with a six-man rotation in an attempt to keep their arms fresh and healthy.
Los Angeles came up five games short of the Wild Card last year despite playing without Trout for two months. If Trout, and their starting pitchers, can stay healthy, and if the new additions can pay dividends, then this team will definitely be in the playoff mix and could be a solid value play for bettors all season long.
Oakland Athletics
2017 Record: 75-87 (-270)
2018 Wins Over/Under: 75.0
Odds To Win 2018 AL West: +5000
Odds To Win 2018 AL Pennant: +7000
Odds To Win 2018 World Series: +15000
Outlook: The A's are definitely the X-factor in the AL West this summer. On the surface they don't look much different than the group that has finished in last place the past three years. But upon deeper inspection this is a team with the potential to do some serious damage and serve as a solid sleeper pick.
It starts with Oakland's young bats. Matt Olson and Matt Chapman showed flashes of brilliance in their late-season call-ups and helped the A's to a 17-7 mark in September. The A's also added former top St. Louis prospect Steve Piscotty. If he can tap into his potential then this roster is pretty young and pretty exciting. Throw in some pop from guys like Khris Davis, Jed Lowrie, Marcus Semien and Matt Joyce, and this could turn into one of the better lineups in the AL
The problem, like with so many other teams in this division, is the starting pitching. Oakland doesn't have much of it. At all. Kendall Graveman and Sean Manaea are solid No. 3 and No. 4 starters. But they are the two best arms Oakland has. The hope for this group is that a rejiggered bullpen will be able to win games. And by moving the burden to the relievers they can limit the innings of their below-average starting staff.
I like this Oakland team. I think their lineup has the potential to be outstanding. And hopefully that can take some pressure off their overmatched rotation. I think this team will have some solid value for bettors, and I expect them to be a streaky play throughout the season.
2018 American League West Picks and Predictions: Predicted Order of Finish
1. Houston Astros
2. Los Angeles Angels
3. Oakland A's
4. Texas Rangers
5. Seattle Mariners
Doc's Sports is offering $60 worth of member's baseball picks absolutely free - no obligation, no sales people - you don't even have to enter credit card information. You can use this $60 credit any way you please on any of our top MLB handicappers. Click here for more details and take advantage of this free $60 picks credit today .
Robert Ferringo is a professional sports handicapper for Doc's Sports. He is considered one of the top MLB cappers in the country and has turned a profit in three consecutive baseball seasons (and six of his last eight). Robert exploded for an incredible +$13,100 profit run last year from mid-April to late July and he plans on doing it again this year. Robert has posted four of five winning years on the diamond and is looking for another big season. Click here for more information on his MLB picks .
Read more articles by Robert Ferringo