Betting Odds and Predictions for LeBron James Next Team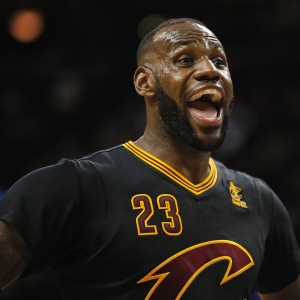 We learned two things watching the NBA Playoffs this year - LeBron James is an incredible freak still able to play at an impossibly high level despite so many years of play, and he stands no chance of beating Golden State or other super teams in Cleveland given where they currently sit. The fate of James after this season was a big story before the season began, and that certainly hasn't faded since. And obviously a story this compelling and significant is going to have a big betting interest. Futures odds about where he will wind up are plentiful, and that is what we are going to look at first.
Before we look at where he could wind up, we have to look at what went wrong in Cleveland. It's not the most charitable conclusion, but you can't help but believe that James and his control freak tendencies got in the way of true success. He doesn't develop young players, and he struggles to get along with star players - Kyrie Irving couldn't get out of town fast enough, Kevin Love has never really fully worked in Cleveland or, I'm sure, felt particularly welcomed, and Isaiah Thomas was just a disaster. He supports a coach he can control and a front office that he can mold. He has strong views of what it takes to succeed - which he has absolutely earned - but putting those into action hasn't always been smooth. And that strong desire to have control will make his decision of where to go next even more difficult. The odds currently suggest that this will not be as tough of a decision as you might guess, though. Let's take a look:
L.A. Lakers (-110): This has always been the most logical spot from a personal level. James owns two houses in the area and has clear interest in the movie industry. And with rumors that his son has committed to play at a high school in L.A. next year, the rumors have heated up - and the odds have fallen. So, it makes sense on a personal level. But does it make sense on the court? I sure don't think so. It feels like he is just falling into the same trap that he was in with the Cavs. They have Lonzo Ball, who is talented but carries far too much baggage for James. And they have a couple of other very nice players, but they are young. James doesn't do great with young. They have plenty of cap space, but they have to get guys to use it. Paul George is the obvious choice, but he has never played with James, and there is no guarantee that they can thrive. And are they really good enough by themselves with the other pieces around to beat Golden State? The two guys plus nice pieces model wasn't totally successful in Houston. Plus, James would need to work with a younger coach, and that has risks. James would have to build a whole team around him to succeed, and he frankly didn't do much of a job of that the last couple of years in Cleveland. I think this is his most likely landing spot, but I don't think it is the best one.
Philadelphia (+450): If James is serious about winning then this is where he should go. They have two superstar-caliber players, some decent depth, and a good coach. And they are in the East where the travel is better and the competition is much more manageable. He would have to keep his ego in check, though, because Ben Simmons is also a ball-dominant player, so they would have to find a way to coexist. But the upside is so massive with this core, and James could step right in and take it to a team that will perhaps be the best in the East anyway to one that is a stone-cold lock to be. It would be great to watch - and it would be successful. But the chances of it happening feel smaller than these odds suggest.
Cleveland (+450): James promised in writing the last time he returned to Cleveland that he wasn't leaving again. And he probably believed it at the time. But the team isn't competitive and doesn't have the flexibility to become competitive. And his relationship with owner Dan Gilbert obviously isn't rosy. James will stay where he is if he decides that his relationship with the city of Cleveland and the state of Ohio are more important to him than winning. But they obviously aren't, so he's gone. And as long as he doesn't do another bad TV special to announce his decision then you can't really blame him for leaving - aside from the inevitable reality that he is kind of the most to blame for where the team is at.
Houston (+700): When I think of James Harden and Lebron James playing together, a scene keeps flashing in my mind. There are just a couple of seconds left in a key game - time for the winning shot at the buzzer. And Harden and James are down on the ground wrestling each other for the ball as the clock expires. Both of these guys have climbed to their high heights by having the absolute certainty that they are the best option when a game is on the line. And most of the times leading up to that point as well. I just don't see how they could work together without changing significantly - and I don't see that happening. And Houston has some cash issues, too, which would make it tough to make it happen and to add enough talent around them. Surely James has figured out by now how important depth is, and depth could be tough here. I don't see it happening - unless they could agree to put things aside and go for it for one year.
Celtics (+1000): I would pay a lot to see Irving and James back on the same team - it would be hilarious. And James would benefit from working under a coach as brilliant as Stevens is. And there is no shortage of talent on this team - especially if they can get healthy. In my eyes this is clearly the second-best spot after Philadelphia, but I am not holding my breath.
Spurs (+1000): If going to San Antonio could get Kawhi Leonard to stay then this could be really interesting, However, an aging core is a concern, and Leonard doesn't seem the most stable right now, so hitching to his wagon in a place that hasn't been working for him could be risky. It makes sense in some ways, but not enough to make San Antonio make sense.
Get free picks from any Doc's Sports handicapper - there is no obligation for this offer and no credit card required. Just sign up for an account, and you can use the $60 in free picks for any Doc's Sports expert handicapper and any sport. Get $60 worth of premium members' picks free .
Read more articles by Trevor Whenham