Expert March Madness Bracket Predictions: East Region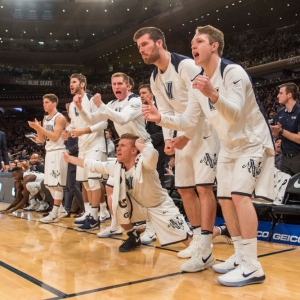 The plight of the Villanova Wildcats is a pretty perfect avatar of this year's NCAA Tournament. The Wildcats went 30-4 and won the Big East Tournament title last week. They are easily one of the two or three best teams in the country and one of the favorites to win the national title this season.
Yet, looking at the rest of the East Region, can you really say that you feel great about their chances of making the Final Four?
Me neither.
The East Region may be the most dangerous region in the NCAA Tournament. There are a host of teams that rely on basketball's great equalizer, the 3-point shot. And any one of these teams is capable of getting hot from the outside and going on a surprise run through this field. Better teams than Villanova have been taken out in March by bombing squads. And the firepower available in this bracket is second to none.
The East Region semifinals and finals will take place on Friday, March 23, and Sunday, March 25, in Boston. Here are Doc's Sports March Madness bracket predictions for the East Region:
No. 1 Seed: Villanova Wildcats (+130 to win East Region)
I don't care what the rankings are; the Wildcats are the best team in the country. Villanova is a No. 1 seed for the third time in four years, and they will be fighting to win their second National Championship in the past three seasons. The Wildcats are coming off a convincing Big East championship, winning their three league tournament games by an average of 18 points per game. Jalen Brunson is one of the best point guards in the country, and the other six players in this short rotation can all shoot, defend, handle the ball, rebound and do everything else that winning teams do.
Villanova Tournament Predictions: It really does take an obscene amount of effort to beat this team. This program has lost only 16 games over the course of the last four years, posting an absurd 130-16 record in that time. They have a favorable path to the Elite Eight, and I know I won't be betting against them making it to the Final Four.
No. 2 Seed: Purdue Boilermakers (+300 to win East Region)
Purdue is one of the most physically-imposing teams in the country, boasting two centers that are 7-foot-2 or taller. Isaac Haas (7-2, 290 pounds) and Matt Haarms (7-3, 250) are not stiffs, either. Both can score and pass out of a double-team, creating open looks for the Boilermakers' bevy of shooters. They key for this team will be finding a late-game go-to guy between young, talented Carsen Edwards and reliable veteran Vincent Edwards.
Purdue Tournament Predictions: The only thing keeping Purdue from a deep tournament run is themselves. This team has not played well in March under Matt Painter. No one in this region can match their size and experience. And it's really on the Boilermakers how far they can go.
No. 3 Seed: Texas Tech Red Raiders (+1100)
The Red Raiders have enjoyed one of the best seasons in school history, climbing to No. 6 in the country and nearly dethroning Kansas as the Big 12 regular-season champions. But injuries sapped them of some of their strength late in the season, and the result was a sloppy 2-5 close to the year. Texas Tech is excellent defensively, they have a superb scorer in Keenan Evans, and, when healthy, they have a bunch athletes that can play above the rim. They also have a core of five seniors that will be playing for their careers.
Texas Tech Tournament Predictions: This team has all the tools. But I never trust programs that aren't used to playing at this level and that aren't used to handling a high seed. Until I see this team win a big game on a stage like this, I refuse to believe that they can. And I think they have too tough of a draw - with Florida and Purdue lurking - to make much of a run.
No. 4 Seed: Wichita State Shockers (+1100)
Over the course of this season I have heard at least 12,000 commentators say that they "have Wichita State in their Final Four". I wonder how many of those commentators have the stones to pull the trigger now. Wichita State is rock solid. They can score inside and out. They defend well. They have depth and experience. But they have not lived up to the hype this year, and I don't know that they will. If they are going to make a move it should be on the back of their outstanding frontcourt of Shaq Morris, Darral Willis, Markis McDuffie and Rashard Kelly.
Wichita State Tournament Predictions: If you look back, over the last two years, this team hasn't really beaten anyone. It's not that I don't think they are capable of beating top-tier teams. I'm just staying that I haven't really seen it. So I think any talk of a Final Four run is way optimistic, and a second weekend showing would be a major win.
No. 5 Seed: West Virginia Mountaineers (+750)
Huggy Bear's squad is just a carbon copy of what we've seen from the Mountaineers the last several years. They press, they harass, and they win with defense. At one point this year they won 15 straight games. But they've been just a .500 team since and came up short in the Big 12 title game. Jevon Carter and Daxter Miles make up a stellar senior backcourt. And WVU has plenty of rugged athletes to surround them with, including center Sagaba Konate. But WVU struggles to execute its half-court offense, and they don't have enough options to go to for a tough bucket. Like I said: a carbon copy of what we've already seen.
West Virginia Tournament Predictions: The Mountaineers are fodder. Maybe they can win a game. Maybe they can even win two. But as soon as the Mountaineers run up against anyone decent they are going to lose because this team simply can't score enough to be taken seriously.
No. 6 Seed: Florida Gators (+1900)
The Gators fit the profile of the quintessential boom-or-bust NCAA Tournament team. Florida is one of the most prolific 3-point shooting teams in The Big Dance. But they have a severe lack of size in the post, and they struggle to defend the post and rebound. Chris Chiozza is a winner, and perimeter scorers KeVaughn Allen and Jalen Hudson are both capable of erupting for 30. Throw in Egor Koulechov's bombing from deep, and there are a lot of options here. But unless this team ratchets up the defense then they could be ripe for an upset.
Florida Tournament Predictions: I actually think that Florida will shoot its way through to the second weekend. And if Purdue stumbles then a path could open up for a run to the Elite Eight. But be wary of trusting teams that live-and-die with the 3-point shot.
Best first-round matchup: No. 4 Wichita State (-3.5) vs. No. 13 Marshall
This one isn't going to lead to a spike in the ratings or anything, but it could turn out to be an excellent, entertaining game. Marshall has one defining characteristic: they can score. They are No. 12 in the nation in scoring (84.3 points per game), and the Thundering Herd have five guys shooting better than 35 percent from 3-point range. Conference USA was really, really good this year, and Marshall took it down. They won't back down from a fight. And I think that Wichita State, No. 20 in the country in scoring (83.0), will take the bait and play an up-tempo game here. That could lead to some really entertaining basketball.
Best potential second-round matchup: No. 3 Texas Tech vs. No. 6 Florida
These are two sleeper teams from major conferences, and both teams have a load of athletic, talented, veteran talent. There is no love lost between the SEC and the Big 12 (the teams meet annually on a conference vs. conference showdown), and both teams will not just be playing for a chance to extend their season and a trip to the Sweet 16 but also bragging rights for their conference.
Upset Alert (first round): No. 3 Texas Tech (-11.5) vs. No. 14 Stephen F. Austin
It was just two years ago that Stephen F. Austin took out West Virginia in a 3-14 matchup, and they could do it again here. SFA beat LSU this year and lost to Missouri and Mississippi State by only a combined six points, so they can play with teams from major conferences. The Lumberjacks press, trap and push the tempo and will do so against a Red Raiders team that doesn't have a lot of ball handlers. Finally, you know this game might as well be the National Championship for SFA. They are getting a chance to pull a major upset against a much bigger in-state school, and they get to do so playing even closer to home than Texas Tech will be. The Red Raiders should be ready for a 40-minute fight.
Upset Alert (second round): No. 2 Purdue vs. No. 7 Arkansas/No. 10 Butler
Butler will not have an easy trip to the Sweet 16. If they have to face Arkansas it will be the proverbial "contrast in styles", with the Razorbacks press trying to negate Purdue's massive size advantage. If the Boilermakers have to face Butler then it would be a rematch of a game that Butler actually won on a neutral court back on Dec. 19. If the Bulldogs beat Purdue once, they could do it again.
Dark Horse team: No. 6 Florida Gators
I feel pretty confident that Florida can beat - or lose to - any team in the field. They've proven it, scoring wins over teams like Gonzaga and Cincinnati on neutral courts, while also losing at home to Loyola-Chicago. I have a little more faith in Florida, a team that played in the Elite Eight, putting together a run than a neophyte like Texas Tech. And because of how the Gators play, bombing threes from all over the place, if they get hot then they can go on a savage run.
Team That Makes Me Nervous: No. 2 Purdue Boilermakers
I really like this Purdue team. More than half of their wins this year were by double-digits. They just dominate people because of their size. But this group has been a dud in the last two tourneys, getting upset in the first round in 2016 and getting blown out by 32 in the Sweet 16 last year. Are they a real threat in this tournament, which I think they should be, or is this group setting up for another flop?
2018 East Region Predictions: There is no way that I'm betting against Villanova winning this region. Most of the teams in the East are one-dimension, whereas the Wildcats can beat teams on both ends of the court. I think Villanova has a clear path to the Elite Eight, and they would likely be a solid favorite over anyone from the bottom of the bracket. I still think that while this isn't the most talented bracket that it is the most dangerous. There are a lot of combustible elements here. And any number of teams - Virginia Tech, Wichita State, Florida, and Butler - are capable of getting hot for a few games and wreaking some havoc.
Robert Ferringo is a member of the Basketball Writer's Association of America and a professional sports handicapper for Doc's Sports. He is considered one of the best college basketball handicappers in the country and has posted 10 of 11 winning seasons. He is looking for a monster March run and will have his 8-Unit NCAA Tournament Game of the Year Thursday after nailing his 8-Unit Conference Tournament GOTY last Friday (Arizona). You can sign up for his college basketball picks and get more information here .
Want free March Madness betting picks? Doc's Sports has you covered - get $60 worth of March Madness picks free from any of Doc's Sports expert handicappers. Get $60 worth of premium members' picks free . Doc's Sports offers free college basketball picks every day of the tournament on our homepage.
Read more articles by Robert Ferringo
---
Most Recent March Madness Betting